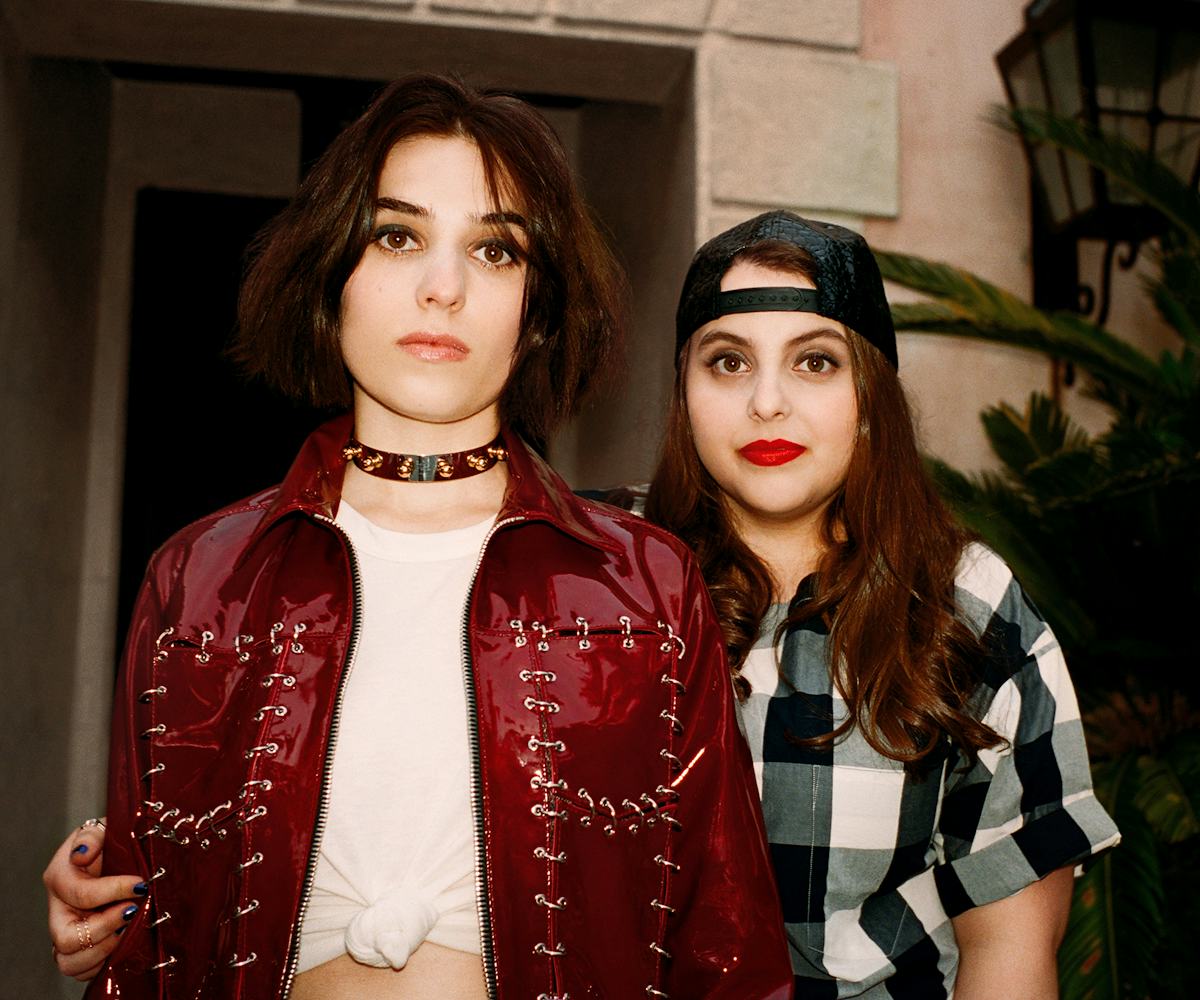 Photographed by Felisha Tolentino. Styled by Dani Michelle. From left: on Mamet: jacket by The Kooples, top by Alternative Apparel, choker by Joomi Lim. On Feldstein: shirt by Paul Smith, hat by Missguided, rings by Adornmonde.
Get To Know Two Of The Funniest Stars Of 'Neighbors 2'
Clara Mamet and Beanie Feldstein are our latest Young Hollywood faves
The following feature appears in the May 2016 issue of NYLON. 
Every year, we round up the brightest rising stars in film for our Young Hollywood Issue. Check in every day to get to know the actors and actresses who are set to take over the industry.
CLARA MAMET
A conversation with Clara Mamet is like an exercise in highbrow/lowbrow. She name-checks 20th-century frontier novelist Willa Cather and Mikhail Bulgakov's Soviet satire The Master and Margarita as readily as she expounds on American Crime Story: The People v. O.J. Simpson ("Sarah Paulson, I die"). Perhaps her family has something to do with that. The 21-year-old's dad is famed playwright David Mamet, her mom is actress Rebecca Pidgeon; Girls' Zosia Mamet is her half-sister. The Venice, California resident's career also runs the gamut: She played ennui to perfection in the sitcom The Neighbors and wrote, directed, and starred in her own semi-autobiographical film, Two-Bit Waltz, which premiered at the Tribeca Film Festival in 2014. Next up is this month's Neighbors 2: Sorority Rising (out May 20), where she'll join Kappa Nu as a sorority girl who is "sarcastic, but good-hearted," which seems like an apt description of Mamet as well. 
I imagine college is a great experience. And a nice security blanket, which I wish I had sometimes. 'Cause now if this all goes to shit, it's not like I can get a job as a lawyer. I do love a good pantsuit, but that's about it.
Acting is a lot easier than writing. You're not trying to fashion something out of thin air. [With writing] you've got to create the whole world, and that's difficult. When it's going well it builds itself, and when it's not going well, then you're fucked.
It's important not to beat yourself up, which I do a lot. You have to be gentle with your creative brain and, you know, not smoke weed. I'll be like, "I'll smoke a little weed and it'll make me more creative!" Five pints of ice cream later, I'm asleep on the couch. 
BEANIE FELDSTEIN
In the trailer for Neighbors 2, we see Beanie Feldstein chest-bump her co-star Chloë Grace Moretz, pound vodka to chase pills, and flip Seth Rogen the double bird before hilariously crashing through the windshield of his character's car. The display couldn't be further from the real-life self-proclaimed "goodie-goodie," who waxes poetic on everything from Stephen Sondheim (the L.A. native moved to New York after graduating from Wesleyan to be closer to Broadway) to Gilmore Girls ("I am deeply obsessed"). Natural comedic timing seems to run in the 22-year-old Feldstein's family, though: Jonah Hill is her older brother. The multi-talented theater buff can also sing—Google her rendition of Funny Girl's "Don't Rain on My Parade" for proof—so even though Neighbors 2 might be her first starring role in a feature film, it certainly won't be her last. 
I was babysitting when I got the call that I was cast in Neighbors 2. My manager was like, "I can't hear you." And I whispered, "I just put a one-year-old to sleep and I don't care what part I got, she is not waking up!" 
The best years of my life were spent at summer camp. I try to make all normal, real-life experiences as close to summer camp as possible. My parents met at camp on the East Coast. So, even though I grew up in L.A., they were very dedicated to sending me to East Coast camp. They would rather spend their money on summer camp than SAT tutoring. 
I am dying to work with Melissa McCarthy. In my dream world, we would play mother and daughter in some outrageous comedy. She is my idol.
Hair: Johnnie Sapong for Leonor Greyl at Jed Root. Makeup: Tamah at The Wall Group. Manicurists: Reina Santos for Formula X at Nailing Hollywood and Brittni Rae for Formula X at Nailing Hollywood.