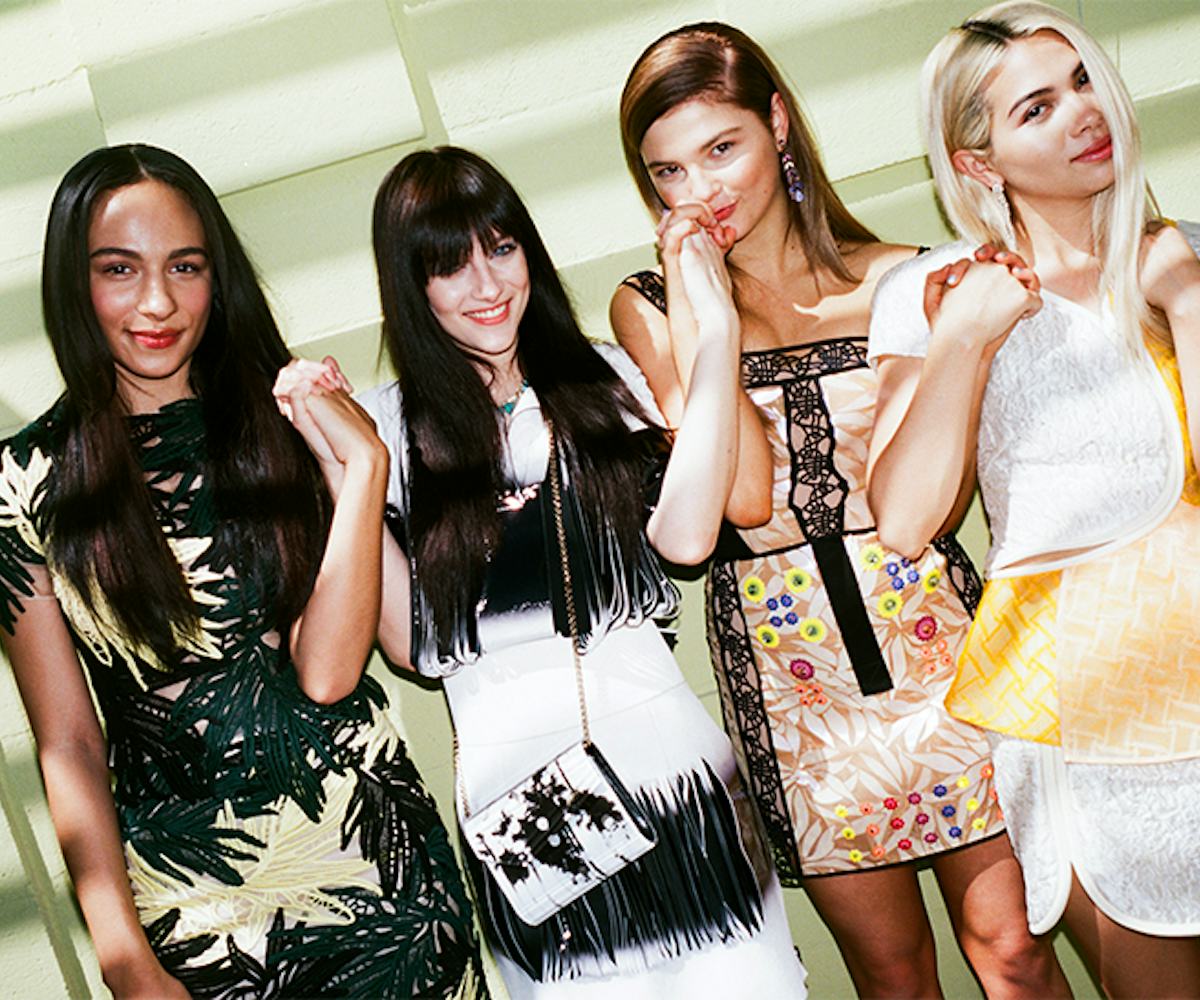 photo by Bella Howard, styled by Sean Knight
meet the jem & the holograms crew
aurora, aubrey, stefanie + hayley
This fall, Aurora Perrineau, Aubrey Peeples, Stefanie Scott, and Hayley Kiyoko star as big-screen embodiments of '80s cartoon rockers Jem and the Holograms. But that's only the beginning of this quartet's moment in the spotlight.
Aurora Perrineau
Aurora Perrineau may still be getting introduced as the daughter of Lost and Oz star Harold Perrineau, but not for long. This year, the budding 20-year-old actress will appear alongside Vanessa Hudgens in the vampire-meets-zombie flick Kitchen Sink, and with Kristen Stewart in the futuristic love story Equals. She'll also keep the beat as Shana, Jem's adopted sister and the Holograms' resident drummer.
I was terrified of playing the drums.
I am not coordinated at all. The whole idea of drumming and using your foot at the same time made no sense to me. I had never sung before, either, but it ended up being really fun.
If I could work with any actor, it would be my dad.
We still haven't worked together and I would really like to do something with him. But aside from him, definitely Christian Bale.
I'm obsessed with horror films.
My favorites are the original versions of Psycho, Texas Chainsaw Massacre, and Friday the 13th.
Aubrey Peeples
Los Angeles transplant Aubrey Peeples may be best known as Nashville's star-in-the-making Layla Grant, but the 21-year-old actress's musical roots go even deeper. She grew up playing guitar in Lake Mary, FL, worships blues artists like Bonnie Raitt and Lonnie Johnson, and has even performed onstage at the Grand Ole Opry—all great experience for the actress tapped to play Jem.
Jem and Layla are so different.
Jem at 16 is already so much more mature than Layla is at 20. I feel like Layla is the epitome of a young girl growing up in the entertainment business. She's really impulsive and fiery.
I kind of had a punk phase.
When I was 10, I decided I was only going to wear boys' clothes, learn how to skateboard, and listen to Good Charlotte.
I have always loved tap dancing.
I tapped for like 10 years. I also used to be a really good pogo-sticker. I could do like 300 hops in a row.
Stefanie Scott
There's no denying this is Stefanie Scott's breakout year. Since turning 18 last December, the former Disney Channel star has announced roles in four feature films, including Insidious: Chapter 3, the latest installment of the creepy-good franchise which comes out in June, and playing Jem's keytar-toting kid sister Kimber in the Holograms movie.
I wanted to steal everything in Kimber's wardrobe.
We were all conspiring the entire time to try and keep things after filming was over. The clothes were awesome.
I definitely got pranked a lot while making Insidious.
The director Leigh Whannell kind of acts like my big brothers do. If there was a really intense scene, he would be the one jumping out of corners. I would get so pissed at him, but it was so funny.
I like to knit.
I feel like such a grandma saying that. I'm working on this blanket. It's an ongoing project that I'm going to finish whenever I get tired of looking at the color blue.
Hayley Kiyoko
"I was in Toys "R" Us when I was five and I saw this shiny cherry red drum set," recalls Hayley Kiyoko. "I fell in love with it, got it for Christmas, and that was when the passion of rhythm infused my body." Now at age 23, Kiyoko is still making good use of those early days on the kit; The Fosters actress released her debut solo EP in February. And this fall, her double-threat talents will be combined onscreen when she plays bassist Aja in Jem and the Holograms.
The hair thing was probably the highlight of booking the movie.
I always wanted an excuse to dye my hair crazy colors. We made the movie right before the whole blue hair dye thing blew up, but by the time it comes out we're going to look like such posers.
I fell in love with performing when I saw *NSYNC.
It was the No Strings Attached tour. I was dancing my ass off in the Staples Center and just jamming out. I remember having the best time and thinking, "Oh my god, I want to do this."
I'm a really great eater.
I'll clear my plate really quickly. Food has kind of always been a second passion of mine. Ask anyone—they always say I'm the happiest when I'm eating.
PHOTOGRAPHY CREDITS
Photographer: Bella Howard
Stylist: Sean Knight