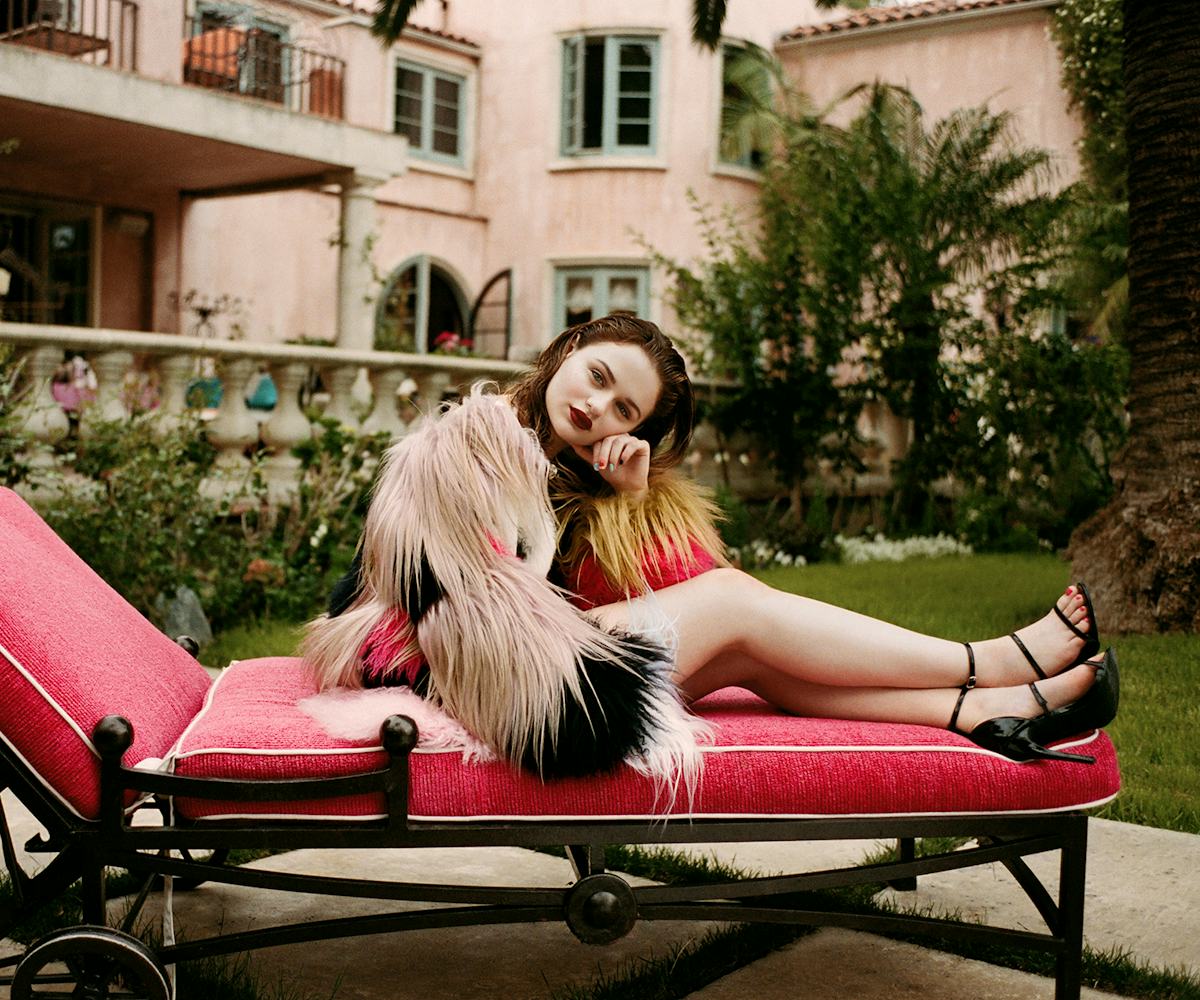 Photographed by Felisha Tolentino. Styled by Dani Michelle. Jacket by MSGM, shoes by Missguided.
Joey King On Having Her First Kiss On The Set Of A James Franco Film
Get to know the actress behind 'Independence Day: Resurgence'
The following feature appears in the May 2016 issue of NYLON. 
Every year, we round up the brightest rising stars in film for our Young Hollywood Issue. Check in every day to get to know the actors and actresses who are set to take over the industry.
When you first meet Joey King, you forget she's famous, because she complains about L.A. traffic ("my hand hovers over my horn") and talks about how she spent her 16th birthday playing bingo with drag queens ("so much fun"). But then she mentions that one of her first life memories is starring in a cereal commercial, and that her pet pig is named Jay-Jay after the former Tonight Show host who gave it to her, and you remember that she is anything but typical. She made her lead debut at age 10 as Ramona Quimby in Ramona and Beezus, and will play another beloved book character, Stargirl, in the highly anticipated Catherine Hardwicke-directed adaptation. In the meantime, she'll be facing an alien invasion in next month's Independence Day: Resurgence. 
Click through the gallery to continue the feature.
Hair: Johnnie Sapong for Leonor Greyl at Jed Root. Makeup: Tamah at The Wall Group. Manicurists: Reina Santos for Formula X at Nailing Hollywood and Brittni Rae for Formula X at Nailing Hollywood. 
"My Instagram is an absolute mess of whatever I feel like putting on there. It could be totally self-deprecating and I really don't care. I have no filter."
"I'm either five years old or I'm 80 years old—there's no in-between. I go to bed early, I really love to knit. I live with my older sisters, and they're just so loud. I'm like, 'Shhh! Kids, be quiet!' [Laughs]" 
"I had my first kiss on the set of James Franco's The Sound and the Fury. It was with Keegan Allen. I told James [the director], 'You're not gonna tell Keegan that this is my first kiss.' And he's like, 'I won't say anything.' So we get on set and James goes, 'Hey everyone, I have a big announcement. This is Joey King's first kiss in life and on camera—ever! And it's with one of the Pretty Little Liars! So Keegan, don't screw it up!' I was like, 'Oh…oh God.'"