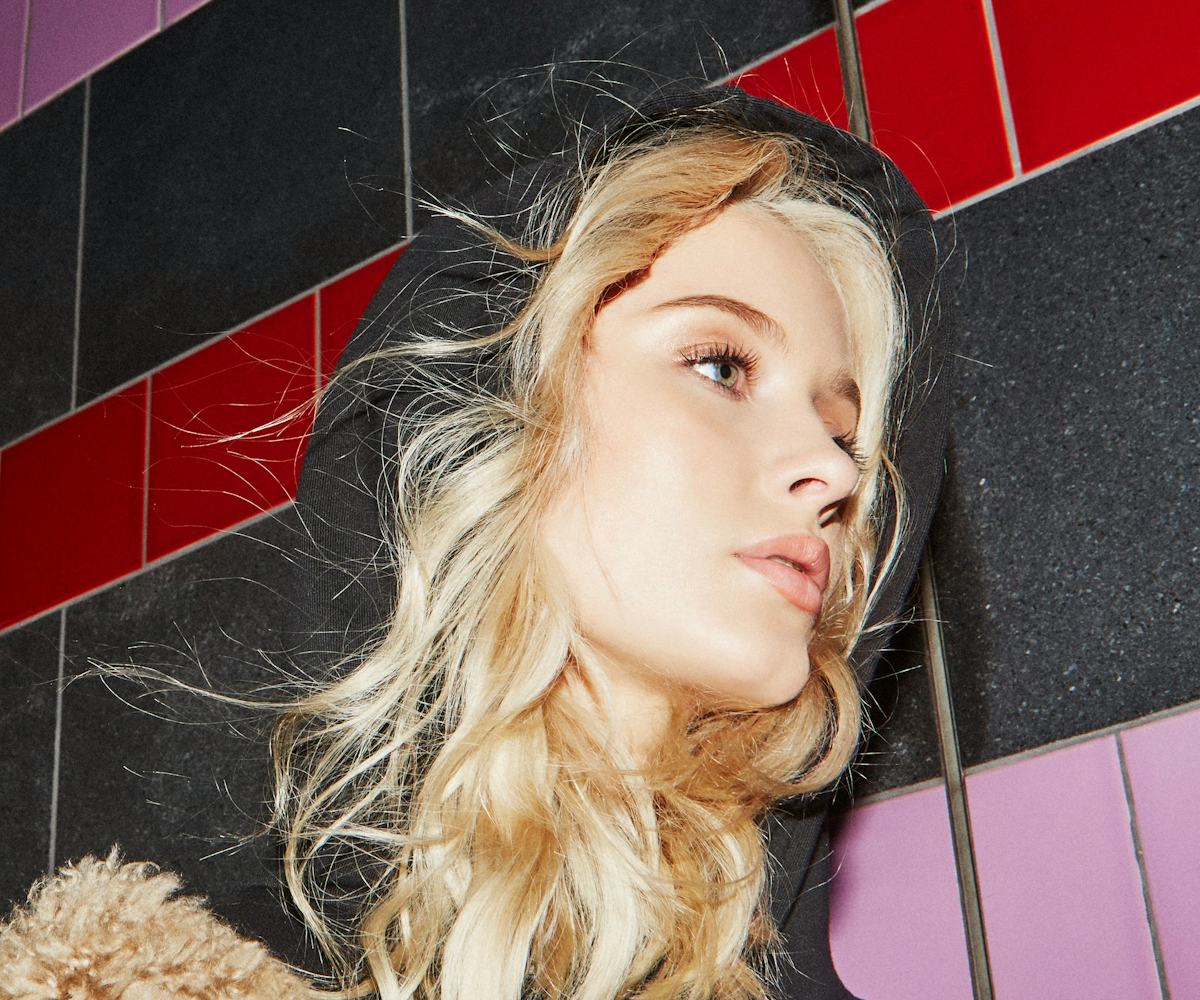 Photographed by Marc Regas. Styled by Julia Sanchis. Jacket by Eckhaus Latta, vintage sweatshirt from Search and Destroy.
Zara Larsson Is Ready For Superstardom
…and her upcoming album is proof that it's not too far away
The following feature appears in the December/January 2017 issue of NYLON.
Despite her chart-topping singles and millions of Instagram followers, Zara Larsson is somewhat unimpressed by her own success. "When people ask me, 'What would you do if I told you five years ago you would be here?' my answer is, 'Honestly, I thought I would be way bigger,'" the Swedish singer tells me. "I thought I would be selling out arenas by now."
As we sit in her manager's backyard for breakfast, overlooking the little neighborhoods that make up East Los Angeles, Larsson, who turns 19 this December, is all candor, and self-aware well beyond her years. She picks the raisins out of her pastry as she relays stories from her childhood in Stockholm, where her mother and father—a nurse and a military man, respectively—raised Larsson and her sister, Hanna. Both girls loved music as kids (Hanna now plays in the band Hanna & Andrea), but Zara was always the more extroverted one. "Every chance I got, I wanted to be onstage," she says. "I wanted to sing, I wanted people to look at me performing."
At age 10, Larsson convinced her parents to let her audition for the Swedish version of America's Got Talent, where she took home the top prize, thanks to her powerhouse rendition of Celine Dion's "My Heart Will Go On." Even back then, she saw her role on reality TV as a means to an end, so after the show wrapped and record labels refused to sign her because of her young age, she was crushed. "I thought people were going to throw contracts at me and ask me to do a world tour, and then I just didn't get anything," she recalls. "I thought it was over, that that was it for me. I thought I wasn't going to be a singer."
Still, Larsson continued to pursue her dream of making it in the music industry, and finally got her big break at age 14, when she signed to Ten Music Group in 2012. The next year, she released her debut EP, Introducing (the lead single, "Uncover," went on to become her first No. 1 single in Sweden), and dropped a second one shortly after. In 2014, she debuted her first full-length album, 1, which was certified platinum in Sweden. But it was her 2015 single "Lush Life" that catapulted her to international It Girl status, and her duet with MNEK, "Never Forget You," that ultimately cemented her position among pop music's rising stars. Since then, she has been in and out of studios and writing rooms all over the world, slowly chipping away at her new LP.
Continue reading below.
"I've been working on this album for three years," says Larsson, explaining her desire to get more hands-on with the writing process. "'Never Forget You' was the first song I actually wrote, and I feel like in the past year I just involved myself a lot more. I'm still not writing everything—it's more like 60 percent—but if I'm not writing I'm choosing the song. On the next one I want to be writing on every track."
Much like Larsson herself, her songs are self-assured, bracingly candid, and playful, and they're totally capable of conquering every corner of the music world. "It's not really super pop, or super R&B, or super ballady," Larsson says of the album, which features contributions from MNEK, Charlie Puth, and Ty Dolla $ign. "It's a little bit of everything, which is exactly what I'm listening to." While her taste and style run the gamut, Larsson's quick to acknowledge the influence of Beyoncé, whom she's been listening to and worshipping since she was six. "She's really one of a kind," Larsson gushes. "I feel like she is definitely the biggest inspiration in my life right now, if not the only person I really idolize. I look up to a lot of people, and I'm inspired by a lot of people, but I think she is just the best role model."
Larsson credits both Beyoncé and her liberal Swedish upbringing for instilling in her strong feminist values, which she is proudly vocal about. Larsson's Twitter and Instagram feeds are filled with filter-free messages of empowerment about issues ranging from abortion and equal rights to her ongoing takedowns of slut-shamers. ("You really think a dick will stretch someone out?" she posted in an Instagram caption directed at people who oppose promiscuity in women.) "The radical side of feminism—I don't fucking mind it, honestly," she says. "I get why women hate men. It all comes from a feeling of being so frustrated toward a powerful group. And I feel like that's OK. If people can just realize that there's some inequality in the world, I think we could all go so much further. And if there's one young girl who can become aware of what's going on because of something I said on social media, that to me is the greatest thing."
Larsson's IRL following is poised to skyrocket in the coming months. And it's about time. "I've been working for a long time," she laughs. "I bet it looks like I just blew up…. But that's not really how it works. When I was younger I tried out for Disney and Nickelodeon, but looking back I'm very happy that didn't happen, just because it's kind of far away from what I want to do as an artist. Now I'm very happy that it's worked out—or I think it's going to work out—just by me doing my music."
Hair: Patrick Kyle at Jump Management using Bumble and Bumble. Makeup: Colby Smith at Jed Root using Kevyn Aucoin Beauty. Special thanks to Refinery Hotel.