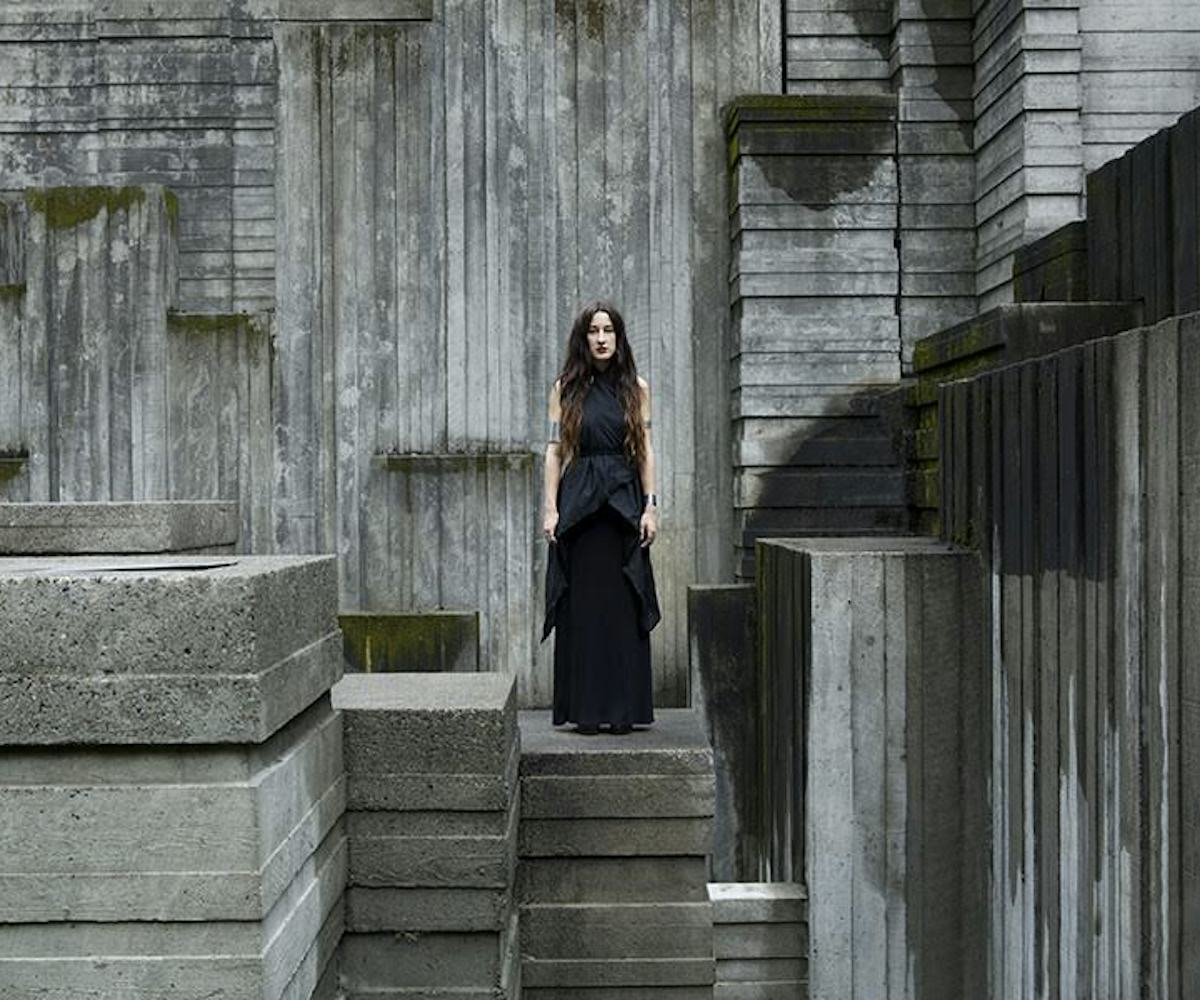 Photo courtesy of Zola Jesus
zola jesus' new fragrance is otherworldly
Taking a brief interlude from her musical focus, Nika Rosa Danilova's latest venture is a full-sensory experience. After releasing her latest album, Taiga, in October, the goth-pop artist known as Zola Jesus has created a fragrance of the same name that encapsulates the entrancing and ethereal vibes of her dark, earthy sound. Teaming up with Seattle-based fragrance company Blackbird, the singer developed a perfume and incense that reflect a movement back to nature and its primal sensuality echoed in her music. 
Zola Jesus spoke to us about her latest creation, her inspirations, and her foray into the world of fragrance.
How would you describe the aesthetic of your latest album and fragrance?
Taiga—both the album and fragrance—is about humanity's relationship with the natural world. As if looking at our landscapes through alien eyes. Aesthetically, I was fascinated by a collision of man and nature—big mountains met with futuristic, human elements. 
You wrote the album on Vashon Island off of Seattle—were there any sensory experiences there that influenced your music and the fragrance? 
The Pacific Northwest is full of moss, and it gets so much rain that everything becomes vividly green. There is a freshness to the land that is unmistakably unique. Not to mention being near the water and smelling the sea even from miles away.
Since the fragrance and album are both very inspired by the woods, how do you connect with nature?
I hike very often, as it's the most direct way I can interact with natural world. I also try to visit my childhood home often—my parents live on 200 acres of raw forest. Being there makes you feel like you're the only person that exists in the world. It's freeing, and in some ways makes you feel very small.
Are there any specific scents in nature you're drawn to?
Firewood. I hope I die in a fire, so I can go out smelling wood burn! I think it's just such a familiar scent to me, that whenever I smell it, I feel whole. 
What was the first fragrance you fell in love with?
Diptyque's Feu de Bois candle. It completely transports you.
What kinds of notes do you find yourself most drawn to in perfumes? 
I actually like scents that are typically more masculine. Earthy, woodsy, herbal, even kind of musky. I'm not really drawn to light, flowery scents.
What are some other perfumes, oils, or fragrances you like to wear?
I like to wear Byredo's Encens Chembur. They are one of my favorite perfumers, other than Blackbird. I also have Hinoki oil I picked up in Taiwan.
Do you frequently burn incense in your home? Besides Taiga, what other types of incense are you drawn to? 
I mostly burn the Taiga incense, otherwise it's always some sort of Blackbird incense. Even before collaborating, I was a huge fan of their incense. I love Blood Countess and Gorgo.
Is there anything else you do besides burn incense to make your home smell amazing? Do you burn candles or have any home rituals for making a space aromatic?
I have a Diptyque Feu de Bois candle and the Byredo Apocalyptic candle…both of which I cherish and only burn on very special occasions because they're so expensive! But if I could burn them 24/7, I would. And then I'm constantly burning Blackbird incense.
What was the process like developing the fragrance?
It was actually very easy. The collaborative process with Blackbird was almost seamless because they knew exactly what I wanted. We sent samples back and forth, and just chipped away until we both felt like the scent evoked the essence of Taiga.
Taiga the scent captures the essence of Taiga the album—how would you describe that essence?
Primal, environmental, ancestral, of earth.
Taiga incense pyres ($28) and eau de parfum ($38) are available at Blackbird.