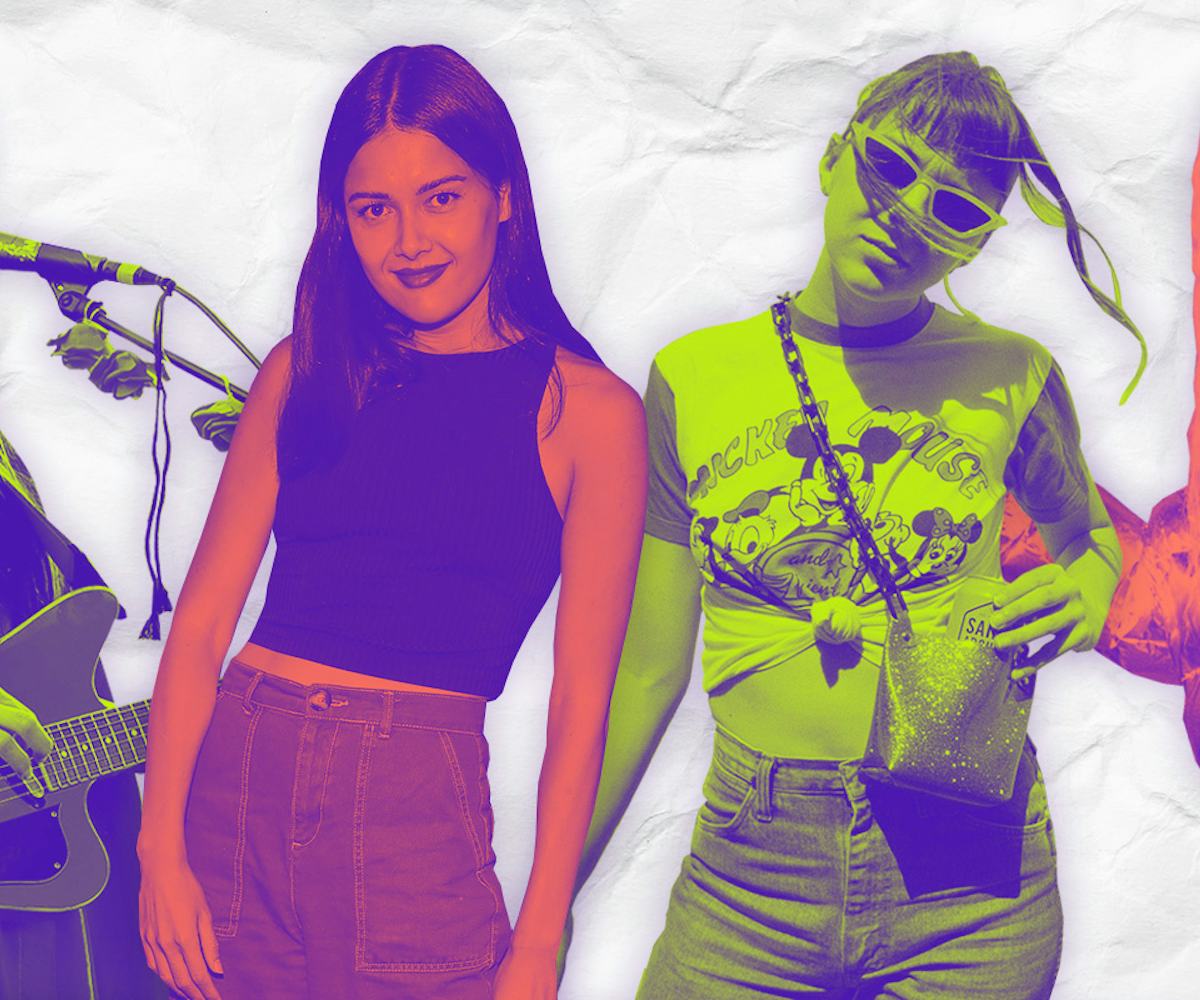 Photos by Tim Mosenfelder/Getty Images, Astrid Stawiarz/Getty Images, Gr8DaneWorld, Yung Baby Tate
8 Up-And-Coming Artists To Watch In 2020
The only New Year's resolution worth making this year? Investing some time in exploring the best artists on the rise in 2020. This is the time to get about pining over Rihanna and Sky Ferreira's never-really-coming albums — at least just for a moment — to learn about fresh talents that you'll want to keep tabs on across *all* artistic mediums, from fashion and music to memes (and more). There's no time like the final lazy days of winter vacation to dive into the depths of the internet to find the next best thing.
To aid in your search, NYLON staffers are sharing their favorite up-and-comers that will bless your IG feeds, wardrobes, and playlists. From Havva's photoshoot-ready strappy sandals and boots that will have your footwear game on fire and MUA Mollie Gloss' glittery disco glam, to Patti Harrison's ultimate internet-brain humor and Yung Baby Tate's addictive rap lyricism; there's a little something for everyone here. It's only right that you step into the new year and new decade with the buzziest artists on your radar.
Get to know all of our favorite up-and-coming artists that we expect to pop off in the new decade below. Thank us later, when you're inevitably bragging to your friends that you knew them before they were big.
Quil Lemons - Photographer
"This photographer to know (and recent college graduate) has received a steady stream of attention since the debut of his 'Glitterboy' photo series a few years back, but his work has really picked up steam this year, shooting for both indie magazines and commercial clients alike, including Google Pixel, Calvin Klein, Valentino, and Opening Ceremony. I have a feeling that the world will be seeing much more of his dreamy imagery in 2020 and beyond."
- Alyssa Vingan Klein, Editorial Director
Havva - Footwear Designer
"Designer Havva Mustafa's 'Texas' flames boots have been on my must-have list for quite some time now, but it's the Turkish brand's latest iteration of the motif that will surely catapult them to the next level. I have a feeling that we'll be seeing plenty of the 'Flames' sandal — a strappy number with flames on the bed of the shoe, now available for pre-order — come next fashion month."
- Lauren McCarthy, Executive Editor
Patti Harrison - Comedian/Actress
"Throughout 2019, Patti Harrison killed it: she caught the country's attention with her response to President Trump's transgender military ban on The Tonight Show; had a co-starring role on Aidy Bryant's Shrill series on Hulu, along with a web series called Unsend on Comedy Central; and landed a writing gig for Big Mouth's newest season. Her humor is dark, a little twisted, and always weird, like when she performed a self-produced song she claims was submitted to and rejected by Dua Lipa and her team. ('There won't be a lot of choreography in this because I have asthma,' she admits.) I can't wait to see where 2020 will take her next, and for more people to feel awkwardly delightful from her jokes."
- Maria Bobila, Fashion Editor
Yung Baby Tate - Rapper/Singer
"Mid-year, Tate found viral fame on Tik-Tok and beyond with her verse on Ashnikko's "Stupid", but it was her full-length release Girlsthat first had me forcing everyone I love to give her a listen. She explored her own multi-faceted definition of womanhood across the project, and in the process gifted us cocky-cool anthems like "That Girl" and delicious quips across each track. Hearing Tate boast in her "Mean Girl" chorus, "You say I'm a Butthead, bitch you must be Beavis" with such nonchalant swagger is the energy I'm trying to manifest throughout 2020. I can't wait for everyone else to follow suit and stan Yung Baby Tate as she deserves."
- Allison Stubblebine, Editorial Coordinator
@sighswoon - Digital Artist
"Gabi Abrão, the artist behind the popular account @sighswoon, has a knack for capturing the malaise of the very online generation in a way that's both startling and soothing in its empathy for both artist and consumer. What started as mostly memes has morphed into a community of creative young people searching for meaning together in the banality of digital life. Keep an eye on @sighswoon for what's sure to be a transformative and at the very least, interesting year for the artist."
- Claire Valentine, Entertainment Editor
Gr8dane World - Accessories Designer
"Want to know what the next It-bag for 2020 is? Look no further than Gr8dane World, the one woman company founded by Dana Pich. All of her chunky-chained bags are handmade to order using recyclable, dead stock and one-of a-kind materials. Using neon acrylic, animal print, and retro silhouettes, Pich combines trends to create totally unique bags bound to add flair to any outfit. Gr8dane World has already started to pop off with a coveted spot on retailer Lisa Says Gah. 2020 is all about going ethical and sustainable, and the designers with those values, like Gr8dane World, will be the ones to prosper."
- Lindsay Hattrick, Designer
Mollie Gloss - Makeup Artist
"Based in NYC, Mollie has been responsible for some of my favorite editorial makeup of the year — from Megan Thee Stallion's light beat for Allure, stunning looks for Teen Vogue, and even the mystical makeup for Brooke Candy's NYLON shoot. There are so many talented folks in the makeup world right now, but Mollie's work always feels fresh, and alive, as if it's jumping off of the face of whatever model or celebrity she's working on. She's also mastered working with gloss and glitter and dewy skin in cool new ways that don't feel like Glossier or Euphoria cosplay, which I imagine is extremely (!) difficult today. I'm looking forward to watching her boom in 2020."
- Tanisha Pina, Beauty Editor
Girl in Red - Musician
"Through poignant lyrics and beautiful melodies, Marie Ulven, better known as girl in red, is making music like no other artist right now. With some of the most loyal fans in the world (just look at her YouTube channel), I have no doubt that this is only the beginning for girl in red."
- Willa Bennett, Audience Development Manager