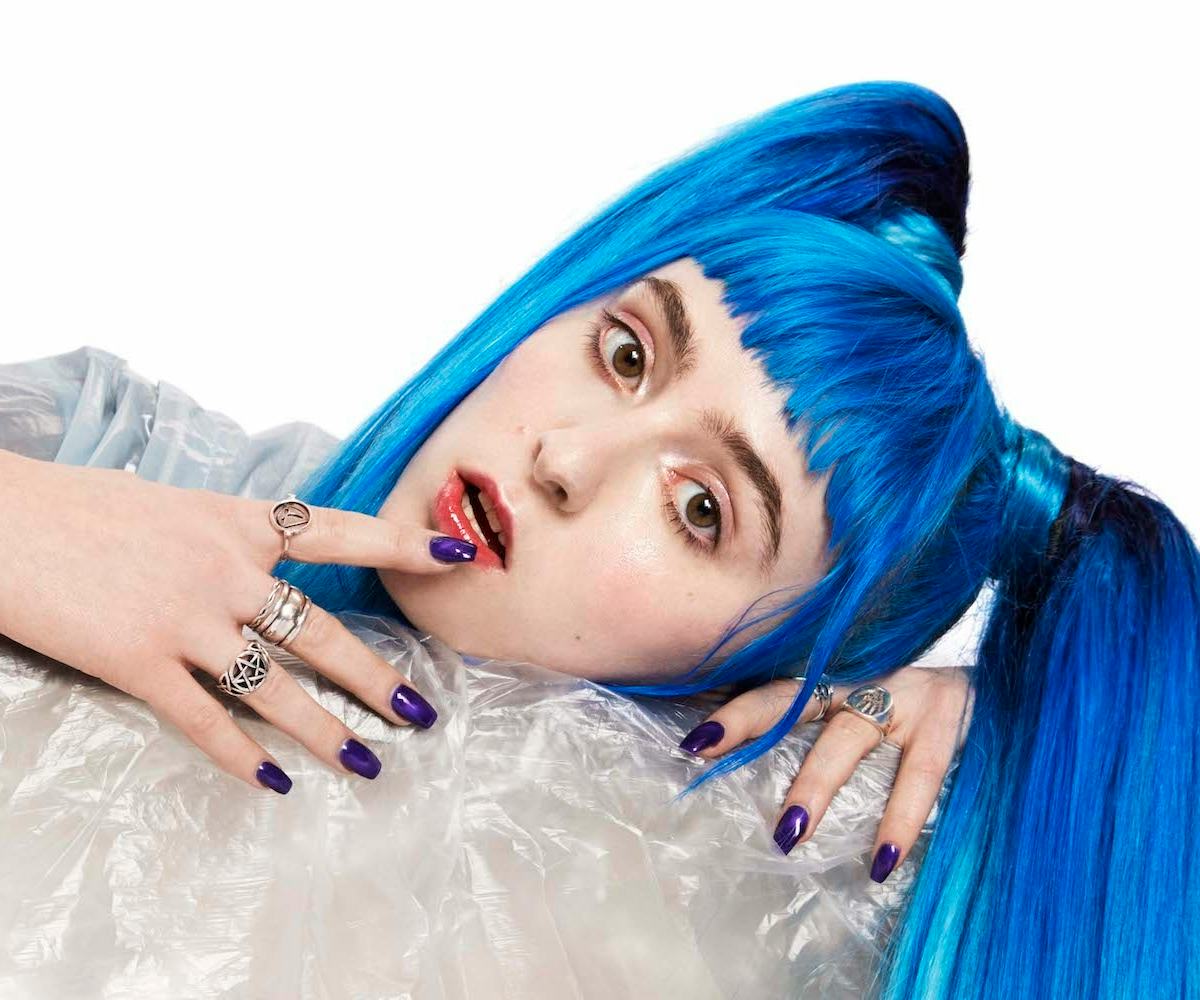 Photo by Melanie Lehmann
Ashnikko Didn't Have TikTok Before She Found Viral Fame With "Stupid"
Even Miley Cyrus knows it's a banger
Maybe you don't know Ashnikko by name, but anyone with a healthy social media habit should know her music. With her song "Stupid," she's provided the masses with a raging hype song—and TikTok with one of its most pervasive trends. The song is inescapable; its digital saturation point could probably be marked by Miley Cyrus and Cody Simpson's dalliance with the app as a couple, lip-synching to Ashnikko's maniacal laugh before breaking into the simplistic, hip-swaying dance that became synonymous with the track.
Based on the viral nature of "Stupid", many might think the song is emblematic of Ashnikko's talent as a rapper, but the rest of the songs that bookend it on her Hi, It's Me EP tell another story. "That was the anomaly on the EP," Ashnikko admitted, adding, "I had to convince my label it was a good option." The success of "Stupid" came as a surprise to her — she had never even been on TikTok until her song's success forced her to give it a go — and as the viral phase dwindles for this singular track, the rest of her music proves she's more than just another meme-y blip in the online soundscape.
TikTok has blown up Ashnikko's online presence for better or for worse — she can no longer freely interact with fans in her DMs without encountering trolls. But it's something she's learning to deal with through trial and error. While on tour with Danny Brown and ZelooperZ, she's started to provide TikTok with her own original content, and has quickly amassed nearly 400,000 followers — her whip-smart sense of humor and nonchalant delivery were made for the app's audience — but she's still figuring out how to exist comfortably with her new online fame.
What was the inspiration behind the track before it went completely viral?
It was kind of a letter to myself: "Stupid boy think that I need him." Basically I don't [need him]. I think he thinks that I'm depending on him; he's just smug, I've had to have seen my ex once. He's just very smug, acting like, Oh my God, I'm going to punch the smug smile off his face. And I made that a song. So I think [the song is] just being very fed up with stupid boys; boys who take advantage and use me as an emotional crutch instead of seeking out their own fucking therapy. Just stopping my shine and forcing me to be smaller for their egos and I really don't have time for that shit anymore.
I think as a teenager, I used to do that. I would look down on my own achievements and make myself smaller for boyfriends and I'll say it's fucking exhausting and I have no time for that. I've been kind of embracing my own power and really getting in touch with my inner goddess. I've been doing really fucking well and I have decided to never be small for a man again. So yeah, that's the whole theme of what I did. But this song is so angry, you can hear from the beginning. We're all just screaming.
Has the song going viral on TikTok made you think differently about how you write music now?
I wasn't [initially] thinking about it cause I didn't make a TikTok [until after I went viral], because I was just starting to write songs before I'd ever seen a TikTok. And I don't think I've cracked it just yet. I realized that a lot of the "why does something goes viral?" thinking is relatively silly. So, I think maybe some artists are studying it to create, funnier lyrics or songs for the purpose of TikTok using it. But I think, no it hasn't changed my writing process. But also I've been on tour for every TikTok famous song.And I mean just sort of touching on what you said about Tik Tok before.
How your relationship with social media has changed since going viral?
Well, yesterday I cried at Popeye's chicken. So I don't know. Are folks this fucking mean? There are truly, truly nasty-ass people out there. I'm dealing with [the hate] as it comes. But social media for me, [is a] tool for me to connect with my fans and build a relationship with them.
It makes me sad I can't do that anymore, because 10 percent of messages are people just telling me to go fucking kill myself and that I'm an ugly bitch and I don't really need to hear that. It makes me sad; I had to stop seeing my fans. It is like mental self harm to go and read my DMs. Sometimes it's hard not to [read], especially with the video coming out. I'm like really really struggling with not checking on any of the apps.
But I'm working on my own [on it]. The good definitely outweighs the bad, but my relationship with social media has really changed. A complete 180 in just the last few days. I think I have to come up with new coping mechanisms and just address it in a totally different way than how it was before.