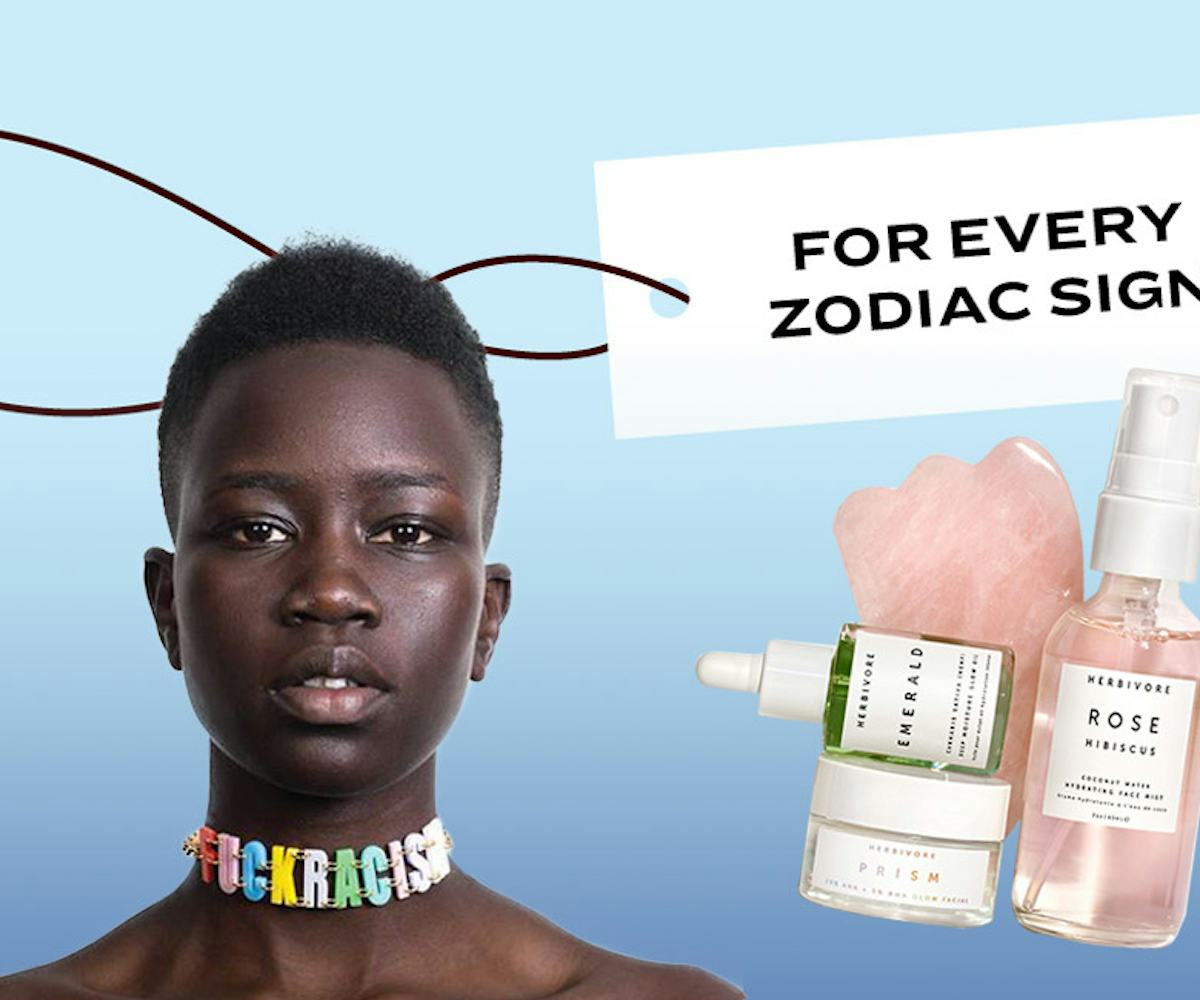 The Ultimate Astrology Gift Guide For Every Zodiac Sign
The perfect gift is written in the stars
'Tis officially the season for gift-giving. For us, that's a full month in which we'll be providing gift ideas for everyone on your list with our Unwrapped holiday gift guides. So make your holiday shopping a breeze this season, and let us help you find gifts for all the people in your life.
The gift-giving season is upon us, and even those of us who do not celebrate a December holiday inevitably cave to the pressure of holiday parties. Whether you're looking to casually return the favors offered to you this month with a little gift of your own or you're fully devoted to being the Santa Claus of your friend group, these astrology gift ideas for every zodiac sign will help you figure out what to get that hard-to-pin loved one.
If you're not a rich man (Yubby dibby dibby dibby dibby dibby dibby dum), and you find yourself and your wallet exhausted by even the thought of buying one more thing, consider saving this list for future birthdays and anniversaries. Plus, remember, when all else fails, chocolate will suffice. And, if you can find the elusive, sold-out everywhere in the US!?, slave-free Tony's Chocolonely Mulled Wine Xmas tree-shaped chocolate bar in the wild, you will be a wizard among mortals.
Aries
1. Consider getting your Aries a bottle of Aries Bitters from Sassafras Healing Arts ($20). Bitters are a great way to keep your Aries powerful in the winter months and taste great when added to seltzer or bourbon. What's more, these bitters are "attuned to each of the astrological zodiac signs" with astro-correspondent herbs and gems that protect, balance, and support them.
2. Aries is considered the child of the zodiac, and, in many ways, their hearts are full of youthful fire. If your Aries isn't the toy-joy kind though, consider a different kind of bold, colorful gift, like this Melody Ehsani "Fuck Racism" choker ($54)?
3. Aries are curious people who like their information sharp and succinct. Annabel Gat, Aries Supreme, provides just that with her new astro-compatibility book, The Astrology of Love & Sex ($19.95).
4. Ruled by Mars, Aries is a sign that loves to buck gender norms. Noto's Agender Oil ($40) will make sure no matter how your ram identifies, they smell good and stay soft.
5. Why not give the child-at-heart Aries who does like toys some playful joy and gift them a train track? Not a regular train track of course, but an Intelino Smart Train Track ($89.95).
Taurus
1. Taurus might be the sign of the bull, but their ruling heavenly body is Venus. Why not gift them an elegant pair of Inamorata Venusian earrings ($135)?
2. Your Earth-bound Taurus might enjoy sporting this Urban Native Era "You Are on Native Land" dad cap ($29.95). They don't forget, and neither should you.
3. While Venus is on the table, a great gift that combines Taurean love for excess, practicality, texture, and beauty is the Three Graces Flask ($22) from the Metropolitan Museum.
4. Perhaps your Taurus would like to spend time in the woods. You think they want to lie around in squalor? No. They want to unfurl their new Pendleton roll-up travel blanket ($149) and lounge around warm and dry. Pendleton is a company that uses the proceeds of Indian-designed blankets to make donations to the American Indian College fund and our National Parks.
5. Of course, no Taurus gift list is complete without a food-related item. Consider this Compact Swivel Cheese and Tapas Board ($85), a perfect way for your Taurus to display all the over-priced cheeses and olives they bought for you to try together.
Gemini
1. Geminis might strike you as the kind of people that like to be out with the crowd, but they're just as much cerebral home-bodies as they are party-goers. Words Doing As They Want To Do ($30), an LP of various famed writers reading Gertrude Stein aloud is a brain-party any Gemini will enjoy.
2. Gemini rules the hands, which is why you might notice they injure their hands often. Protect their precious paws with these Lunar oven mitts ($19) from Urban Outfitters.
3. Geminis are ruled by Mercury — they love information, the internet, and a good meme. They are also the first to deny having any relation to someone they find unsavory. That's why Keke Palmer's "Sorry To This Man" cap ($25) really stands out as a stocking stuffer opportunity.
4. When they're done organizing, cooking, and cleaning their homes for the holiday party, your Gemini will love opening up Olive & June's Everything nail kit box ($80) and having all they could need to dress up their nails just the way they want to.
5. What winter-cozy brain party would be complete without a lovely cup of tea? I have yet to meet a Gemini-heavy person that doesn't enjoy a loose-leaf potion. This sweet Earl Grey Gold Gift Set from Etsy ($29) features an earl grey candle, two teas, and a golden strainer.
Cancer
1. There are few things Cancers love more than the moon, but I'd say rich foods are a close second. Any Cancer would probably lose their shit over a Box of Assorted Ghee Jars from Full Moon Ghee (from $29.99). And when they say full moon ghee, they really mean it: "Ghee is traditionally made on the waxing or full moon because according to ancient Vedic texts in India, this is an expansive time during the lunar cycle when the essences of plants and animals are drawn upward. Remaining connected to ancient traditions while honoring the cycles of the moon is important to us, so we offer our respect to the cycles of nature by crafting our ghee on the full moon."
2. For the Cancer who just wants to stay at home being cozy and sentimental, an Immersive-Sound Sonos System ($1,776) might just be the beautiful aural bow that ties the whole room together.
3. This is a very moon-heavy list, and honestly, I'm not sorry. Cancers love the moon, and that is just a fact. Consider the December Box from Goddess Provisions (from $33), which includes big and small moon-themed delights in the forms of a necklace, a bath bomb, a tea towel, and a diffuser!
4. The hottest and fastest-selling gift set you could possibly give your Cancer babe is the Ultimate Moon Magic Collection set from Magic Hour and Many Moons Collective ($99). It includes a large, high priestess Magic Hour Moon Candle; a Many Moons 2020 Planner; and a special moon-themed body/room spray.
5. A sweet stocking stuffer, Moon Lists' Moon Wheels ($12) are analog self-reflection tools that are great for your emotional crabby cutie.
Leo
1. Winter isn't Leo's best season, but it can be made a little easier to bear with these playful expressive Beanie Hats from Kristina Micotti ($30).
2. To fortify your Leo's spirit, consider gifting them the Bread X Butta Botanica Alma de Sol Seasonal Support Pack ($40). This tincture-and-spray set brings the energy of the Sun to a Leo who must endure these shortened days with courage.
3. Leos love their Leo pride, and an exceptional Leo whose work has been showing all over the U.S recently is Betye Saar. Get your Leo a copy of Call & Response ($35), which looks at Betye Saar's process from sketch to finished works, that will inspire them to make the art they believe in.
4. When your Leo is looking to ditch their cute and playful vibes for some bold and sexy gear, they might find this Lion Head O-Ring Collar (from $64) hard to resist.
5. Leos love you to love them. But, when no one's around, it's good for a Leo to practice some self- love. Leos rule the heart, and this rose quartz-tinged Herbivore Self Love Facial Ritual Kit ($58) is sure to make their heart shine.
Virgo
1. Virgos aren't all cleaning and organizing. They're cerebral people with a penchant for kink and fetish. Consider the gift of a personalized bookplate with any book you gift your recipient. Not any bookplate of course, but this freaky Bookplate by Nancy Spero from Printed Matter ($175), which features a figure wielding not one but two phalluses!
2. OK, but maybe the truth is that Virgos DO love a clean home. They also love to work in service to the Earth, which is their element. Any Virgo you love would be glad to find this handmade, Earth-responsible Holy Sponge TRIO: Coconut Bottle Brush, Kitchen Brush, and Compostable Dish Sponge ($22) in their stocking.
3. Author adrienne maree brown's Pleasure Activism ($20) is the perfect book to help your Virgo approach their own pleasure from a place of empowerment and accountability.
4. With the new year approaching, a great gift for your organization-loving Virgo is the Ignota Diary (around $20), a week-to-view planner rich with magic and sacred historical dates, astro-info, and rituals from writers and Zen monks alike.
5. No gift list for Virgo would be complete without a sweet little nod to their earthy nature and scent. Dryland Wilds' Desert Soliflore: Mountain ($28), a trio of wearable mountain perfumes, is "made from the resin, needles, bark, and berries from New Mexico's most iconic conifers."
Libra
1. Consider gifting your Libra a handmade Gem Essence Kit from Moon by Moon Apothecary ($36). "Gems & stones give us the beautiful medicine of structure and of deep grounding," and what Libra doesn't need that?
2. Help your Libra maintain her sense of personal power with a Respect Boundaries Automatic Knife ($160), so she can feel the sword of strength within her.
3. Libras are air signs and, as such, are empowered by learning to breathe in ways that foster their healing and spiritual growth. Libra Supreme Jennifer Patterson offers the keys to do exactly this in her new book, The Power of Breathwork ($16.99). Pre-order it for your Libra loves now, and they won't mind holding their breath, waiting for a gift that will nurture their mind.
4. Libras also love a good beauty regimen, but often they have more products than they know what to do with. Give them one product like Lauren's All Purpose Salve ($120) (in a beautiful gift ceramic jar!) to help them feel beautiful without overwhelming with more clutter.
5. Known for nurturing beauty inside and out, Libras are often overbooked socially. This beautiful Horticulture Season Calendar ($80) with white boxes for marking all their important dates might be just the ticket for keeping their days balanced.
Scorpio
1. Snakes are one of Scorpio's alternating animal states, and Bread X Butta Botanica makes beautiful small-batch Aceite de Culebra ($20), a spiritual oil for conjuring and evoking snake energy. "This oil can be used in moments of transition, shedding, and rebirth. Use this oil to call in creative energy and sacred Kundalini Energy."
2. Behold, one of the most expensive items on this list: an art quilt by Christi Johnson called Passing Through A Thousand Lives ($1,200). This re-incarnation, mystical, snake-blessed quilt is a Scorpio blessing. But, if you're not a rich man, you can settle for the artist's Illuminated Stitches book ($20), which combines "symbolism, embroidery, and ritual… presents a framework for creating sacred textiles intended for personal evolution."
3. Scorpio is all about different psychical and psychological states produced by love. And some of those states could really benefit from lubrication and relaxation. Foria offers various CBD-infused lubricants that can really do the sacred trick. Their Awaken ($48) oil combines CBD with a host of nine plant-based aphrodisiacs.
4. Speaking of waking up, Scorpios basically run on two fuels: the souls of lovers past and coffee. Canyon Coffee is a small seller currently offering a graceful Chemex Starter Kit ($72) paired with a coffee of your choice.
5. Consider getting your tantric, hypnotic Scorpio States of the Body Produced by Love by Nisha Ramayya (around $17): "In her visionary debut, Nisha Ramayya conjures an opalescent world by way of Tantric ritual and myth ...States of the Body Produced By Love weaves essays, poetry and images together to offer fierce meditations on diasporic identity, language, and resistance."
Sagittarius
1. Since your Sagittarius always has a passport ready, whether or not they're in flight, they would surely enjoy a slim and stylish Primary Passport Case ($20) made with recycled leather from Argentina!
2. When your Sagittarius is home-bound, they'll be traveling by way of book, so why not give them a book of light? Lumio Book Lamps ($120) are portable lamps disguised as books that your brainy Sag can take with them from the tent to the rental.
3. Consider gifting your Sagittarius, who loves scents, a novelty candle set of not one but 12mini pine-scented candles from Diptyque ($155). These candles, in the "spicy" (LOL) family, are each a different variation of pine, and "like a miniature forest."
4. If the sun is out, or if the Y has got an open court, your restless Sagittarius will find a lot of joy in dribbling this cheesy Chinatown Market X Smiley Basketball ($59) which combines their active nature with their secret love for tacky objects.
5. When your Sagittarius wants a different kind of flight, they might find a lot of pleasure in a Parfum Sampling Flight from Regime Des Fleurs ($40). This comes with a sample vial of Cacti, Falling Trees, Glass Blooms, Gold Leaves, and Willows scents. And, best of all, and truly empowering to your independent Sagittarius, this flight comes with $40 credit toward the future purchase of any single perfume!
Capricorn
1. Once through a Capricorn's threshold, you might find it fitting to sit at their table and offer them the Cup of Destiny book and teacup set ($24.95). Surely, they will attempt to read your leaves.
2. You might have heard that Capricorns are all stern and serious, but many of them are actually quite playful — especially when it comes to decorating their home. This Batard Bread Light ($229) from Pampshade artist Yukiko Morita is an LED lamp made from REAL BREAD, folks. An exclusive art sculpture? Yes. Bread you long for but cannot eat therefore creating a sense of delayed gratification? Correct.
3. Speaking of home décor, no Capricorn could resist the original ceramics of Caitlin Rose Sweet. Especially the No Fucks Witch Hand ($75), which is exactly how many fucks Capricorn has left by December's end.
4. Capricorn might have a stodgy reputation in most normative media, but the truth is that every Capricorn holds inside them a secret or not-so-secret witch. For the witch of the winter hearth, a Vetiver Bouquet Bundle ($14.99) is a blessed offering.
5. This might be a ceramic-heavy list, but Capricorns are an earthy sign and they find a great deal of pleasure in an Earth they can hold and use. These Black Clay Ceramic Wind Chimes ($48) are an elegant and gentle gift that will remind your Capricorn to let the winds of fate move them around and give them joy from time to time.
Aquarius
1. Aquarians are a wacky bunch, and I'll admit I decided to friend-source a gift list lest I undermine just how special our alien-stars are. Lo and behold a list that is primarily focused on two genres: smoking and sex. Big surprise. Check out this Smokers' Perfume ($88), a unisex scent that "does not cover up [the cigarette smoke] smell. Instead, Smokers' Perfume enhances all the best elements of the smell of smoke, and acts as the 'other half' of your smell to turn you into a total single fragrance composition."
2. Your Aquarius is an air sign, and when they finally drop down to Earth, they'll be ready to engage in all kinds of sexy bodily adventures. This Latex Lace Sports Bra from Busted LA ($160), which is neither actual lace nor feasibly sporty, is perfect for a feminine air sign who wants to play with form and function.
3. Because Aquarians are weirdos not without humor, I humbly offer you the only gift I chose myself for my sweethearts: a felt Pizza Rat Ornament ($6).
4. Hardly the most unusual thing on the list related to smoking, consider the Cherry Classic + Flight Kit ($119), which "vaporizes dried herbal material in a stainless-steel trench powered by a rechargeable battery (or power adapter). The LAUNCH BOX leverages the medicinal properties of the plant kingdom in the palm of your hand." This looks like an astronaut's vape, TBH.
5. Your Aquarius enjoys a psychological adventure from books just as much as they do from drugs. However, you do have the option of answering the question "why not both?" with Foucault in California [A True Story—Wherein the Great French Philosopher Drops Acid in the Valley of Death] by Simeon Wade ($22).
Pisces
1. For the year's end, and for sentimentality's ultimate conclusion, your Pisces might truly benefit from a Bread X Butta Botanica Cord Cutting Kit ($50), which "was made to support those who hope to make an energetic break from unhealthy relationships, from addictive tendencies, toxic patterns, traumatic memories, ETC. This kit will assist in breaking those energetic attachments and can help you to move on to receive new opportunities in your life."
2. You might not know this but a Pisces' favorite room in their home is almost certainly the bathroom because they need weekly, if not daily, long baths to function. This Zinc Tub Gift Set ($34.99) is a perfect, highly functional, bathing gift for your luxuriating Pisces.
3. One lesser-known thing about our glimmering star-fish is that they are often savory cooks. A fish loves salt, and your Pisces will love a Norður Sea Salt Tin Box (around $14) full of gourmet, flavored salt and resplendent with a mermaid.
4. Pisces are sentimental creatures too, and there's no way they won't jump for joy at the sight of a new Polaroid Camera. The OneStep 2 Festive Edition Starter Set ($136.66) comes in red-and-white with a pack of seasonal festive-trimmed film. Don't be surprised if next year's Christmas cards are just these festive-trimmed pics of dogs, trees, and interesting-looking garbage piles.
5. When your Pisces isn't in a bathtub, they're probably in a bed, but one can't take a bed everywhere. When relaxing is in order, an eye pillow is good for home, travel, or even a 15-minute lunch break. Check out this Amethyst (Pisces stone!) Third Eye Pillow ($29.99) that comes in a sweet little sack.
NYLON uses affiliate links and may earn a commission if you purchase something through those links, but every product chosen is selected independently.