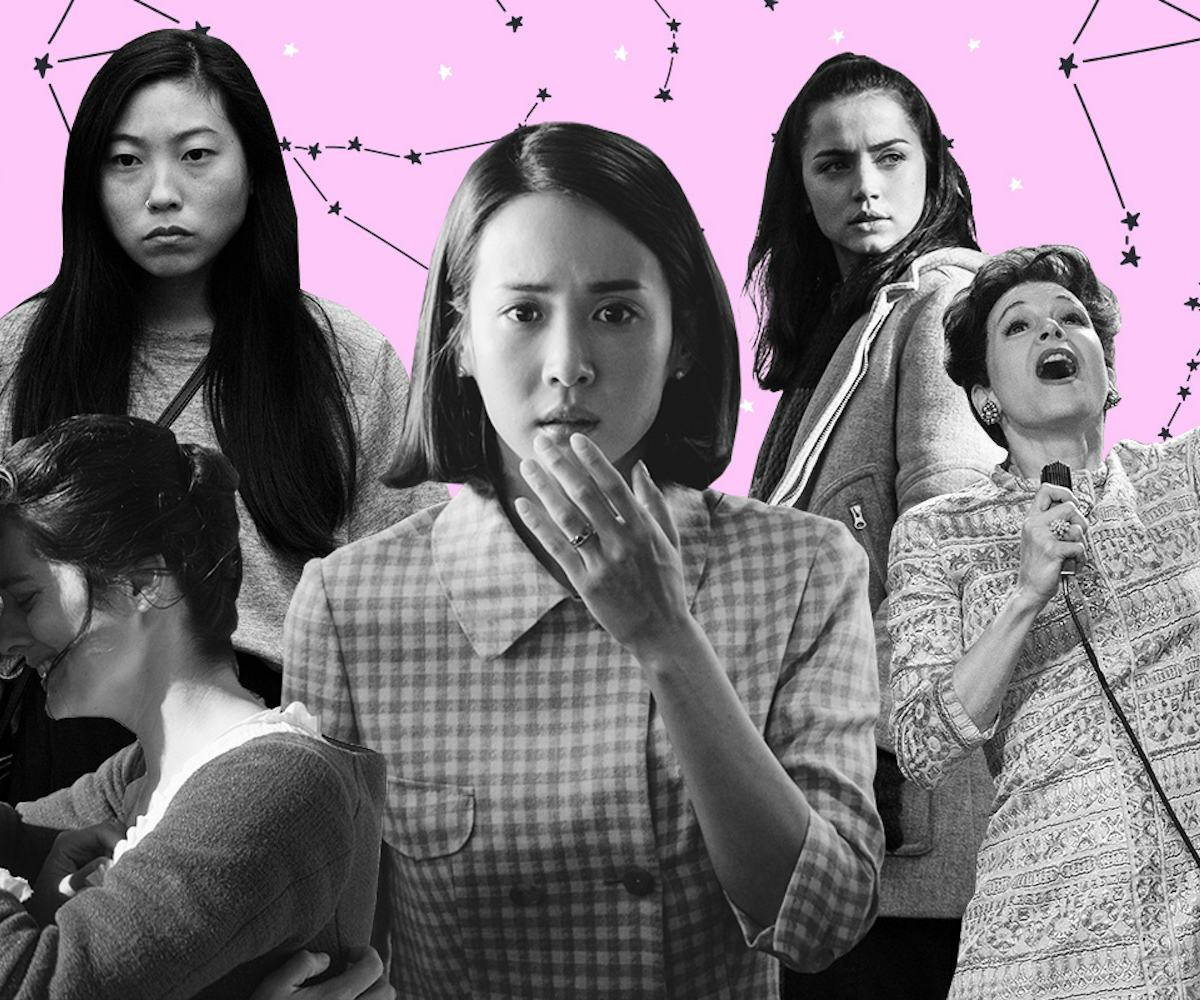 Which Awards Season Movie You Are, Based On Your Zodiac Sign
From 'Marriage Story' to 'Parasite' and 'Bombshell'
Dear readers,
With the 2020 Oscars happening on Sunday night, Feb. 9, the awards season is officially almost over — and what better way to wave it goodbye than by assigning zodiac signs to the award season films up for major nominations? But, have you really seen enough movies on the various lists to be invested in which one wins the final show? Perhaps, if you haven't, knowing the astro-vibe they carry will be just as good as actually watching them! Hey, I'm no film expert but I do what I can.
From Marriage Story, the Adam Driver- and Scarlett Johansson-starring Netflix drama about a divorce that led the 2020 Golden Globes nominations, to Parasite, the Bong Joon-ho-helmed Palme d'Or winner about a South Korean family trying to find, erm, creative ways to make ends meet, to Quentin Tarantino's latest film that takes place around the time of the Manson Family murders, Once Upon a Time… in Hollywood, there are more than enough movies to be paired with every zodiac sign. To be honest, I almost wish there were more signs, so we could dwell a little on all the movies up for consideration. Alas, there are only 12, and so I present to you: the 12 signs as some of the most talked-about films of last year.
Aries: Rocketman
Even if Elton John wasn't an Aries, Rocketman would be an Aries movie. First of all, "Rocket man burning out his fuse up here alone" is actually just a description of an Aries in their daily life. Second, Elton John's rise to fame is all about self-realization. This movie, because it is fueled by cardinal fire, details the life of a man with endless creative energy, drive, and grief for a childhood love he never received.
Taurus: The Two Popes
The Two Popes is a movie that explores the connection and worlds of two popes: Pope Benedict and Pope Francis. It is known that Taurus correlates to the Hierophant card in the Tarot (which is also known as the Pope), so you see, the match is obvious. And, if this evidence alone does not convince you, allow me to present you this quote from a NYT review which, if not written by a Taurus, was surely approved by one:
"If The Two Popes had consisted entirely of two old men talking, it might have been a masterpiece."
Gemini: Portrait of a Lady on Fire
It is only fitting that Gemini be represented by a film in the Foreign Language category. Even more so a lesbian film which has within it an absent yet impactful sibling (Gemini is associated with both siblings and the Tarot card of the Lovers). On the surface, Portrait of a Lady on Fire is all about collecting information (Gemini is ruled by Mercury, god of information), visual information, under the guise of friendship. Underneath, this is a movie that trades in codes, myths, and secret dynamics.
Cancer: The Farewell
Alright, I admit, I chose Cancer as The Farewell because it's all about family. Cancer correlates with the 4th house in astrology which is described as the house of family, of origin stories, and of the formation of an Identity. Here, the relationship between Cancer and The Farewell deepens, since so much of the film focuses on what is precious and what is lost between generations — specifically generations that are divided or in between two cultures.
Leo: Judy
Choosing the most Leo, Golden Globe-nominated movie proved troublesome. In some ways, almost any Hollywood-approved movie could be considered a Leo movie: popular, heart-warming, attention-seeking. With that in mind, it seemed right to focus on the more nefarious side of glamour and fame. The power of Renee Zellweger playing the crumbling tower of Judy Garland is not easy to witness. In Judy, popularity, attention, wealth — these are a leonine poison.
Virgo: Bombshell
Bombshell, a movie about the women of Fox news who faced down their sexually predatory CEO and the culture that supported him, has Virgo written all over it. What better movie to match with Virgo than a movie that is all about work? Not just work, but work-place dynamics. Not just workplace dynamics, but hierarchies of power, gender politics, and the trading of information. Mercury-ruled Virgo loves thinking about ethos vs. expectation, what it takes for a system to function and what it takes to change that system when it fails.
Libra: Marriage Story
I mean, it's obvious. Libra, presiding over the 7th house of partnerships and contracts and ENEMIES, had to be matched with Marriage Story. Or, should I say divorce story? This movie, which inspired a seemingly balanced amount of both praise and derision (a true Libran accomplishment) is what happens when two actors, that people have mixed feelings about, play two characters with mixed feeling and revisionist memories. Some say the supporting cast (ahem Laura Dern) do the heavy lifting. Leave it to a Libra movie to lean on its friends.
Scorpio: Parasite
Much like a Scorpio, the zodiac sign known for hunting secrets and obsession with the dark side of human nature, Parasite is a cruel force in the shape of a film. Yes, you sit down thinking you're about to watch a movie but halfway through, you begin to suspect you're not entirely sure you know what makes something a movie and not, say, a psychosomatic ritual. Whatever ingredients a movie needs to transform your sense of time and your relationship to humanity, Parasite has them. Plus, it's all about inheritance (8th house)… at any cost.
Sagittarius: Knives Out
I know that Scorpio is the super sleuth of the zodiac but, let me tell you what, there are few Sagittarians out there that can resist a classic Who Dun It, especially a crime comedy. Knives Out is the perfect mix of dysfunctional family humor (Sagittarians love laughing at dysfunction!), ensemble cast nostalgia (the feelings of a cultural collective!), and fall sweaters. Like a Sagittarius, this movie makes a lot of bad jokes, but people laugh along anyway, so it doesn't feel like a failure.
Capricorn: The Irishman
Capricorn, it is known, is considered the daddy sign of the zodiac. The Irishman, it can be said, is a movie that's all about dads. Not your regular, truck driver dad but a mean mob dad. A GOD FATHER. Alright, this movie ain't The Godfather, it's The Irishman, but Al Pacino's involved, capisci? Where there's Capricorn energy, there's money moving and public deals that underlie private ones, and this movie has plenty of both. Not to mention literal, cinematic, darkness. The very end of a long dark year.
Aquarius: Once Upon a Time... In Hollywood
The fact that this movie attends to the Manson murders is enough to place it into Aquarian territory. Aquarians, who marvel at and — dare I say — fantasize about cults, love a true story about a maniac. But, Once Upon a Time… isn't just about what happened so long ago in the Hollywood hills. It's a celebration of unlikely friendships and a rebellion against collective memory. In fact, this is a film that rewrites history, thumbing its nose at the idea that a true story must stay true.
Pisces: Pain and Glory
Is your first introduction to Pain and Glory's protagonist in a body of water? Yes. Is the length of the water scene so long you start to question your ability to endure it? Yes. Is this movie an onslaught of vulnerable artistic moments evoked and undone by time which is not linear? You bet. Does the protagonist use heroin as a kind of poison medicine to explore his memories? In fact, he does. Sounds like Pisces, a water sign, associated with the 12th house of boundless associations, surrender (dreams and drugs), and creativity is a match made in heaven. Or, a match made in a big blue pool.