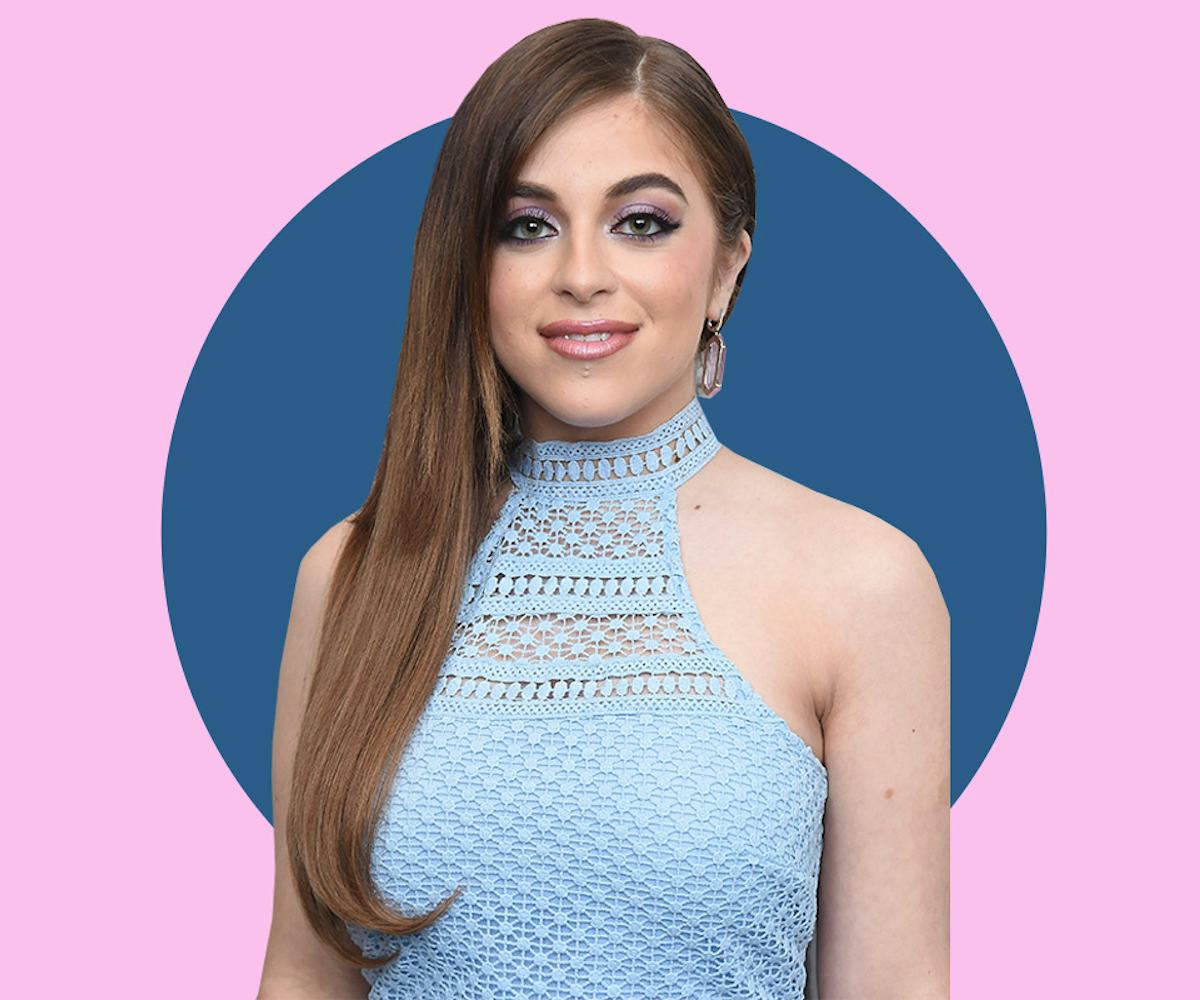 Photo via Getty
TikTok Star 'Baby Ariel' Martin On Her New Film And Handling Cyberbullies
Martin stars as a werewolf in 'Zombies 2' on the Disney Channel
Ariel Martin of Pembroke Pines, Florida is known as "Baby Ariel" online, where she is, by all accounts, very famous. On Instagram alone she has just over 9 million followers, but it's on TikTok where she really shines: with over 30 million followers on the app, the 19-year-old has turned an early knack for relatable, viral content into a full blown career as an online creator and personality. Now, Martin is turning her attention to the passion that started it all: acting. One recent morning, she arrived at the NYLON offices in a ruffled, light blue baby-doll dress and Euphoria-meets-Twiggy eye makeup, with her mother, publicist, and two young friends/associates in tow, extremely excited to talk about her new film, Zombies 2, a Disney Channel Original Movie that premiered on Valentine's Day.
The sequel to the 2018 original, Zombies, about star-crossed teenagers Addison (Meg Donnelly) and Zed (Milo Manheim) of neighboring towns Seabrook and Zombietown, Zombies 2 adds a new element to the zombies-meets-American-high-school plot: werewolves. This is where Martin comes in; she sings, dances and acts as Wynter, a "well-intentioned and sometimes over-eager" werewolf engaged in bringing everyone together: people, zombies and werewolves all.
NYLON is sharing an exclusive video of Ariel and the cast talking more about the themes of Zombies 2, and read on to hear how Ariel jumped back into acting, dealt with online bullying, and learned all the elements of a great viral video.
Let's talk about Zombies 2.
Zombies 2! Oh my gosh, I don't even know where to start. Zombies 2 is a continuation of Zombies, where humans and zombies are learning how to coexist and love each other for who they are. Eventually, they end up doing that. But in Zombies 2, there's a new pack in town. These werewolves, who have been hiding away for a long time, come in and invade the school. It's a very similar message to the first film, and a story of learning. The human students have to learn how to love us and accept us into their school and their home. We [as werewolves] have to learn how to coexist with them. The thing about werewolves, is we're very big and loud and we don't necessarily care, and we're not going to follow the rules. So it's about all of us learning how to navigate each other and learning how to love each other.
Where did the werewolves come from?
They came from a forest.
They just appeared?
[Laughs] Yes. They're from the forbidden forest, and they're searching for something that is very rightfully theirs, and they think it's in Seabrook.
What was the experience like being on a full set?
At first, I'm not going to lie, I was very nervous. I'm kinda shy, I don't know what to say sometimes, and you're going to Toronto and you're living with all these new people — it was pretty scary. But right off the bat, the original cast made us feel like family. We fit in right away. It felt like we'd known each other for years, which makes it so much easier to act together. Because we have a lot of serious scenes and serious moments, so to have that comfort with them meant a lot.
You have some acting experience, but is it correct to say this role is an expression of you wanting to move in that direction in a bigger way?
Oh, completely. What I was so excited about was, first of all, the whole message behind it means so much to me. But also just how much I would be able to push myself as an actor. That's what I want to keep doing. I want to act for the rest of my life, it's my whole passion and my whole world. To have a project that was really going to force me to grow and stretch and do things I wouldn't normally feel comfortable doing was awesome. I'm dancing and singing at the same time. I have to memorize all these dances and do them. And this character is so different from me. Learning how to become her, working on her mannerisms, how to be a werewolf, walk like a werewolf, talk like a werewolf, with fangs and ears — it's crazy.
Is there a particular type of role you feel most drawn to?
I have two sides to me. On one hand, I'd love to play a very grounded, raw, real character, like a Jennifer Lawrence-y role. I love her and what she's done, and how authentic she feels when you're watching her. And my other side is a role like Wynter, who is so different and out of the box and I can really create a person who is just — she's not real, she's a character, she's a cartoon, she's different.
Do you feel like being online for such a long time prepared you to act?
It's definitely a very different process, but I wanted to act since I was born. My mom did theater and my dad's a musician. So my whole world has been very artsy, and I was introduced to movies at a very young age. I always knew acting and singing was it. That was my goal. Being on social media has really helped a lot with confidence in myself. With social media, I had to just learn how to be comfortable going live on Instagram, recording myself with YouTube videos. For a while, I was uncomfortable with that. It was weird. I had to develop this, Okay, you know what, I can do it, I can sit in front of the camera. It's going to be okay, it's going to be fine. That has helped me with my acting too, a lot.
What pushed you to keep making content?
I think just how much I loved it. With social media, what really got to me at some points was the hate comments and the online bullying. Anybody can go on there. You can post whatever you want. You're going to have a comment about your hair or your legs. There's always something. But I loved it so much. I had to stick to what I love, stick to my goals, stick to my passions, stick to the message that I wanted to spread. Now I'm involved in this project that is talking about everything I could have ever wanted to spread with people everywhere. If I hadn't continued with what I had done, I wouldn't be able to do what I'm doing now. I had to just do it. It's hard sometimes. With anything, it's difficult.
"If I hadn't continued with what I had done, I wouldn't be able to do what I'm doing now."
If you had to distill that message, what would it be?
I would just say love yourself and love others. Take time to love yourself. I'm still not a thousand percent confident in myself. I cried about it the other day, bawling my eyes out to my mom about — I'm like, I just don't know what to do. I don't like myself sometimes, I don't get it. And she told me, she's like, "Ariel, look, I'm a mom, and I still sometimes feel that way." And I talked to my grandma, my grandma sometimes feels that way. I think it takes time to love yourself, but also learn that we're all human. We're going to go through ups, we're going to go through downs. You deserve to have your own back.
As an early creator on Musical.ly [which became TikTok], what's it been like to watch TikTok blow up to what it is now?
It's funny, I've been there since the beginning. It's just expanding. It's become a platform where you can do absolutely anything. There's a space for everyone on TikTok, which is great. I know, for me, with school and everything, there were times where I felt like I never really belonged in a certain club. I didn't know what I wanted to do. Everybody seemed to want to do cheerleading, or dance, or all these things. I didn't know where I was supposed to go. To have a platform where absolutely anybody from any place on this earth could go and do what they love is comforting and safe. And it's a home for a lot of people.
What feels so comforting and safe about it?
It feels like, no matter what, even if you sit there and stare at the camera, there's somebody out there who's going to be like, Hey let's talk about that, let's have a conversation about it. Which is cool. In school, I remember I was always so scared to be like, I want to act, I want to sing. I didn't know if anybody else would be able to relate to that. You can post something on the app and somebody, four million miles away, can see it and say, "Hey, I relate to you and I get you and I've been through that and understand." That's safe to me.
Do you feel like there's less of a culture of hateful comments on TikTok?
I wish I could say yes, but what I've noticed is that on every app, it's there. It's about finding your community of people, and it takes so much time. When I first started Musical.ly, and saw those hate comments, I would have to come home from school — people would say things at school, and I would see the comments in my fourth period or math and be like, Oh my god, I look ugly today. I need to go home. You know, so, it's about doing things for yourself and surrounding yourself with people who you know know you, and love you, and are going to just hype you up and be your best friend.
What do you think are the key elements to a viral video?
That's such a difficult question, because I'll see a very sad video going viral because we have to care about this person, and this like totally comedic, over the top video also going viral. I think for viral videos, the one thing I usually see is that they're all very authentic and in the moment. Nothing that has been planned. Take your camera, start recording, start video taping, if something sad happens, post it. If something funny happens, post it. If something crazy [happens], post it. Good viral videos are all just happening in the moment.
Zombies 2 is currently airing on the Disney Channel.