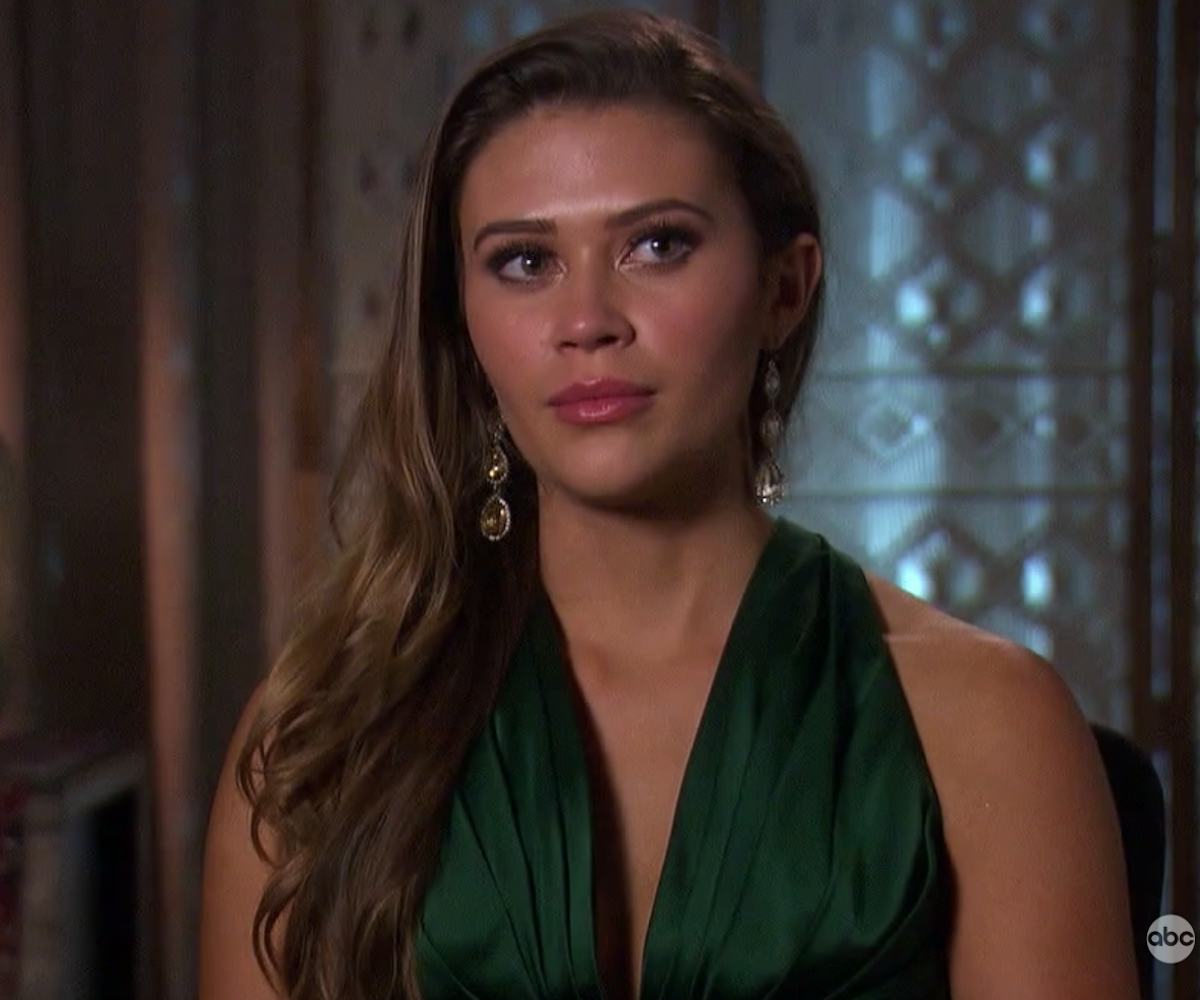 Screenshot via ABC
In A Powerful #MeToo Moment, 'Bachelor' Contestant Shares She Was Raped In College
Caelynn Miller-Keyes detailed her harrowing experience during last night's episode
Monday's episode of The Bachelor included a serious conversation between Bachelor Colton Underwood and contestant and former Miss USA runner-up Caelynn Miller-Keyes, in which Miller-Keyes opened up about having been sexually assaulted in college.
During a one-on-one date, Miller-Keyes shared that, while at a 2014 frat party during her sophomore year of college, she and two friends were drugged and raped while unconscious. "I woke up the next morning completely naked in my bed and had no memory of the night before. I had a small vision of a guy in my bed, and I just had this pit in my stomach that something really bad happened last night," she told Underwood.
"My girlfriend called and said three of us were all sexually assaulted... Not only did a guy come home and have sex with me, another guy... said, 'Watch what I'm about to do' with all his fraternity brothers around me, and he lifted up my dress. They watched and laughed and took photos." The images later were made public via Snapchat.
She then described the toll it took on her, "It took months for people... like, men would like, touch my shoulder or graze my shoulder, and I was triggered. It was awful. Like I couldn't leave my house. It was so, so bad." She also brought up the "shame and guilt that I had felt" following the incident, which she took months to open to her family about.
While this is an important moment for the show that has previously avoid contentious topics, and has even dealt with its own sexual assault misconduct allegations, Vogue rightly questioned whether or not it was Miller-Keyes' choice to have her testimony aired or whether she was pressed by producers into sharing it, and, while she has not directly confirmed this detail, Miller-Keyes has reacted to fans' support on Twitter, telling other survivors "to know your voice matters and you deserve to be heard."
Though only one of the assaulters was expelled, with the others going unpunished, Miller-Keyes says she "was determined to get justice and seek justice" after the incident.
Previously, Underwood dated Aly Raisman, one of the many victims of former gymnastics Team USA doctor Larry Nassar, who some are saying is whom he referred to when he said, "I was in a relationship in which she was sexually abused" in response to Miller-Keyes' story.
If you or someone you know has been affected by sexual assault, you can call RAINN's National Sexual Assault Hotline at 1-800-656-4673.