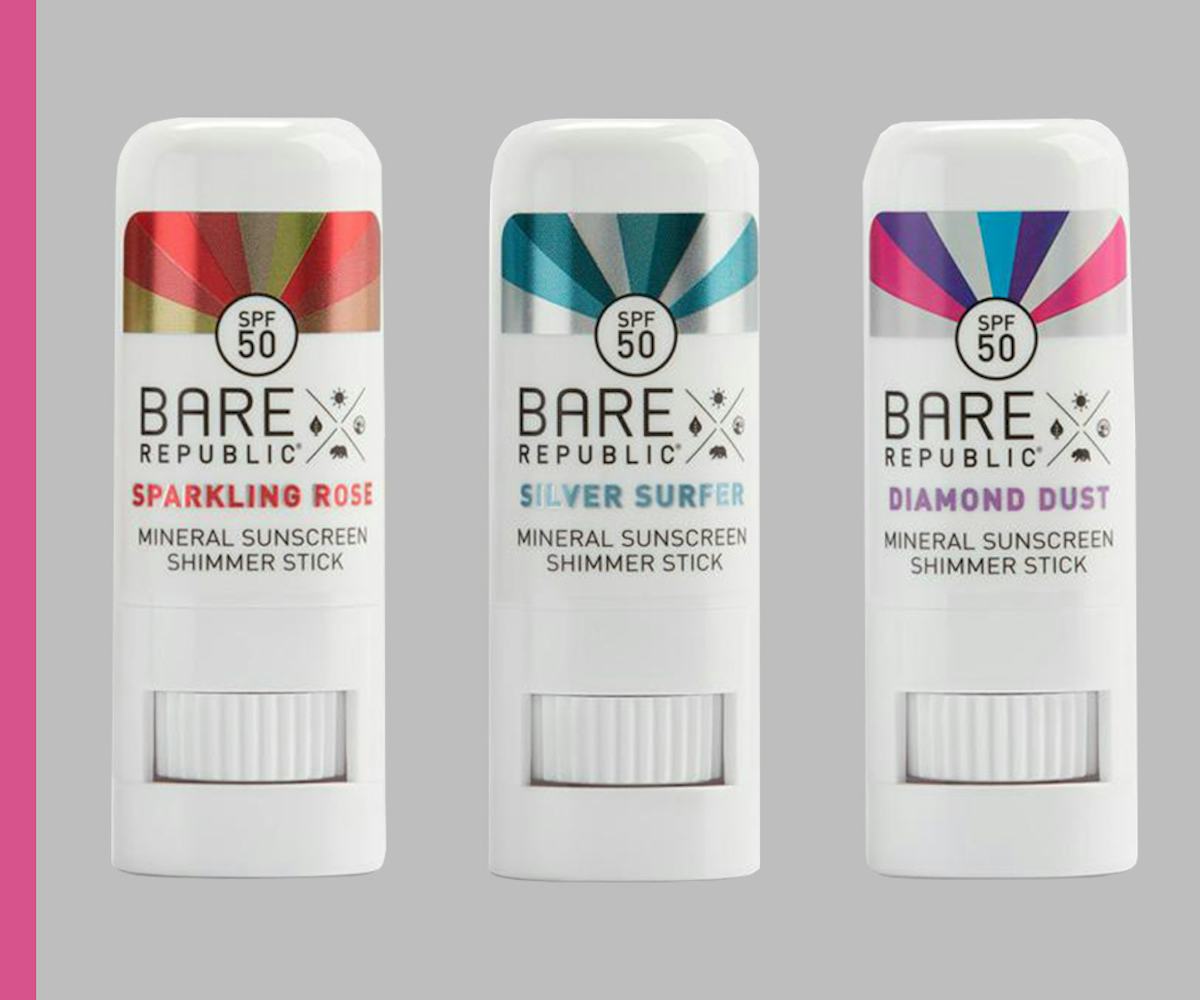 Photos courtesy of Bare Republic
These Sunscreen Sticks Turn The Beach Into My Personal Rave
Friends don't let friends miss out on all the cool, under-the-radar things they know about, like which little-known beauty brand is low-key making the best highlighter around. And because we consider our readers to be like friends, we gather together all our best finds in our Don't Sleep On This series. Check in every week to see what things we can't wait to share with you.
I never would have thought that it mattered if my sunscreen was boring or not, yet here I am, obsessed with a stick of sunscreen that turns me into a rave-ready beachgoer. I'm keeping my translucent product on the sidelines after trying Bare Republic's Shimmer Sticks, and I'm convinced that everyone should be creating makeup looks out of sunscreen from now on.
These Shimmer Sticks come in four varieties: Gold, Silver, Rose Gold, and Diamond Dust, the last of which is basically a sunscreen version of Milk Makeup's Holographic stick. A coat of one of these brings your face the gift of SPF 50 protection and a blinding amount of glitter and shine. Never mind the sun, people will need shades just to look at you—and I love that level of drama.
The formula is sparkly AF and tinted a metallic hue, so it won't exactly blend into your skin. This means that you probably don't want to use them for allover wear. Not because they don't give full coverage—they do—but you probably don't want your entire face to be silver, or gold, or sparkly rose. Unless... maybe you do, in which case, go all in! Just share the results with me, please.
After a bit of testing, I've found that I can get a beach party-ready Look™ by using these products strategically. A swatch on my cheeks, on my eyelids, or on my shoulders—usually all three—makes me look ready for a rave while simultaneously gracing my most sun-sensitive spots an extra layer of protection. I'm not just wearing them this way at the beach, either. Any of the shades work well as everyday eyeshadows, and I love the rose gold option as a blush.
But the best way of wearing them is definitely when I'm under the sun, at the beach or the pool, allowing me to have my full face of makeup stay intact while others are sweating theirs off. Now that I have this product in my bag, the horribly long subway ride from the Bronx where I live to Rockaway Beach seems manageable, seeing as I need a place to show off how cool I can look, while also being protected from the sun's rage.
Bare Republic, Mineral SPF 50 Shimmer Sunscreen Stick, $8.99, available at Bare Republic.