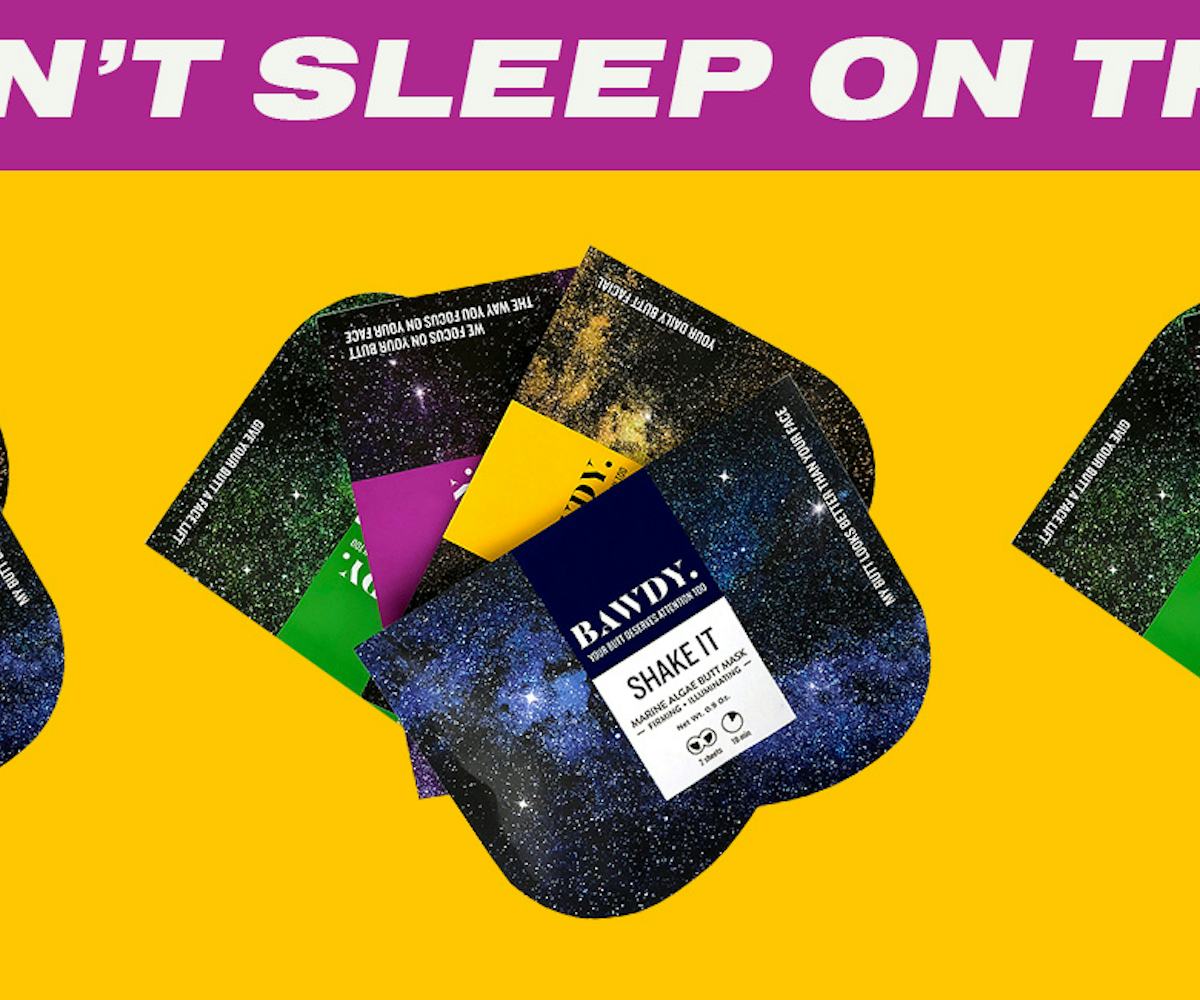 Photo courtesy of Bawdy Beauty
Butt Masks Exist And Actually They're Kind Of The Best
Butt-care is the newest form of self-care
Friends don't let friends miss out on all the cool, under-the-radar things they know about, like which little-known beauty brand is low-key making the best highlighter around. And because we consider our readers to be like friends, we gather together all our best finds in our Don't Sleep On Thisseries. Check in every week to see what things we can't wait to share with you.
Something you may not know about me: I'm a pretty big fan of butt beauty, and I'm ready for it to be the next hyped-up trend to make waves across the industry. (I'm already over you, CBD.)
Much like skin-care experts will express concern that we put too much focus on skin-care routines for our faces, while neglecting other important skin-baring areas of our bodies like our neck, hands, feet—whatever it may be—I think it's time we take a moment to focus our well-deserved attention around the corner, to our butts.
Look, our butts endure a lot. From sitting in uncomfortable office chairs for hours on end to squeezing into this season's non-stretchy snakeskin printed pants, to enduring cold temperatures on the days we thought we could get away without wearing any tights. As such, they deserved to be pampered just as much as any other part body part. So when I discovered that Bawdy Beauty was making a sheet mask—a now-staple item in everyone's beauty drawer—specifically designed for our bottoms, I was intrigued.
The brand currently has four different sheet masks with super-cheeky (... ha, ha) names: Shake It, Bite It, Slap It, and Squeeze It. All are meant to provide a specific benefit, whether you're looking to improve your bum's texture, detoxify it or hydrate it. I decided to go with Shake It, a collagen- and marine-algae infused mask that aims to firm and illuminate your derrière. While I'd like to come out and say that I'm already quite content with my ass' current firmness level, I was more so interested in the illumination factor—because who wouldn't want their butt to emit a Glossier-level glow?
While applying the two-piece mask is pretty simple—just place one of the triangular sheets included on each cheek—keeping it in place requires being completely still, lest they slide right off. So, I lay there, face down on my bed—hoodie on, no pants—as the mask that read "SHAKE IT" worked its magic into each cheek. For the 15-minute duration I was meant to wear it, I was fully relaxed.
The results? Well, my ass looked and felt pretty damn good (I mean, not that it didn't already). I rarely focus on any skin-care or body product that promise to firm and tone, but my bottom was noticeably softer and smoother. But never mind the results—it's the act of putting on a butt mask and having to lie face down and do literally nothing for 15 minutes that made this new experience so therapeutic. There aren't many things you can do whilst lying flat on your stomach, which is perfect when you're just trying to unwind after a long day.
Will butt masking become my new quiet time ritual—and maybe even my new bath? It just might.