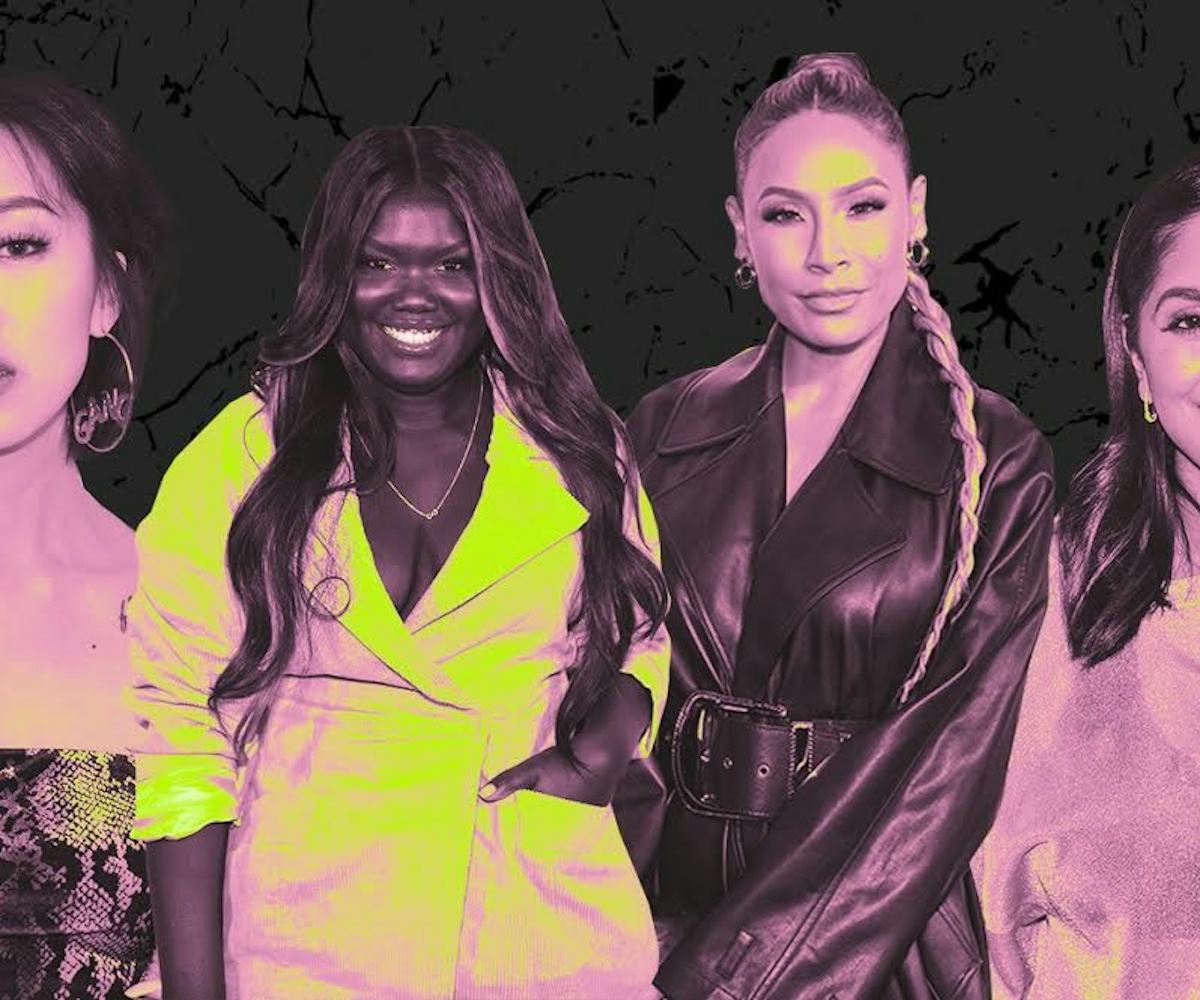 Photos from Getty Images
15 Vloggers Of Color That Your Beauty Routine Needs
In a lot of ways, the influencer industry has grown over the past decade to resemble the entertainment industry, from both impact to notoriety — and its issues with diversity are no exception, especially when it comes to the beauty vlogger space. When inking deals for product collaborations and TV shows have become the norm, it's hard not to notice the lack of representation amongst those at the top. Surely though, the issue isn't a lack of beauty vloggers of color on YouTube, as the platform is overflowing with creators of all backgrounds deserving their shine.
Though they make for a solid follow for anyone, these vloggers — whatever their background — offer tons of content relevant to people of color that can often be overlooked in mainstream beauty. From tutorials on how to achieve the best smokey shadow look for monolid eyes or do your own box braids to videos uncovering what brands accommodate darker skin tones, vloggers of color are indispensable in the beauty space and beyond.
Whether they're already filling up your subscription list, or you're looking to throw some more into your daily rotation, we've rounded up 15 beauty vloggers of color you should be subscribed to right now. You (and your next look) will only become cooler for it.
Tatyana Ali
If you're constantly rotating out new wigs, want to finally try the temporary style, or just simply like watching people put them on, Tatyana Ali is a must-watch. With new videos every week, she offers a wide range of styles — from long, bouncy turquoise lace front waves to a blunt bob (which she accomplishes in five minutes). Not a wig person? Videos of how to style natural hair and other protective styles, like box braids and faux locs, are sprinkled in too.
Amy Serrano
Based in Los Angeles, Amy Serrano has mastered the art of soft, glossy glam. Her videos give off a light, relatable vibe, as if you're talking to a friend while she does her makeup. Serrano keeps things relevant with pop culture-infused content — from tutorials on Rosalia's red carpet looks to all of Maddy Perez's iconic makeup in Euphoria.
Hayley Kim
If you take a less-is-more approach to beauty, you'll want to follow Hayley Kim. With fluffy, natural brows and glowing complexion, she believes in the mantra so much that she recently made chic merch with the phrase. Based in the U.K., Kim manages to create minimal looks week after week without them ever feeling boring or uninspired.
Hannah Mussette
From box braid and wig application tutorials to how-tos on refreshing hair in-between wash days and perfectly swooping baby hairs, Hannah Mussette is a well of knowledge when it comes to natural hair. With 3C/4A texture, Musette is constantly trying new styles and techniques, candidly taking subscribers along for the ride — good or bad. Here and there, she'll throw in a video or two about her skin-care routine, often testing new, buzzy products.
Nyma Tang
Nyma Tang's "The Darkest Shade" series, in which she tests the darkest shades of makeup from various brands to highlight the lack of shade inclusivity still so common within the industry, catapulted the South Sudanese beauty vlogger into her very own lane on YouTube, where she now has over 1.1 million subscribers. Tang keeps that same energy with more conversational content — like whether or not dark-skin women are solely loved online and how clean beauty differs for folks with dark skin — but still throws in reviews on some of the most anticipated products and light, funny challenge videos.
Desi Perkins
Desi Perkins started her channel way back in 2013 and, has since, become one of the top beauty vloggers with more than 3.3 million subscribers and counting. She's known for her cool soft glam looks, and for routinely having celebrities on her channel — she's done Kim Kardashian's makeup and has even had her makeup done by the one and only Victoria Beckham.
Alissa Ashley
Alissa Ashley pulls off that '90s R&B glam look so seamlessly and often, it's as if she wakes up that way. With 2 million followers and counting, Ashley is always creating useful content beyond your typical makeup tutorials, including how-tos on hooded eye makeup and getting salon-quality nails at home, and even gets real about breast reduction surgery.
Arnell Armon
If Arnell Armon bares a striking resemblance to Alissa Ashley, it's because they're twins — but it doesn't mean their content is identical. You'll still find plenty of product reviews and tutorials, but Armon often gives her subscribers a full look at how she gets ready, from skin-care to outfits.
Shaniah Bell
Based in the DMV, Shaniah Bell is a self-taught makeup artist who can whip up tutorials on anything from a sleek ponytail and glitter smokey eye to a wildly involved Halloween look. Her talent recently landed her a top four spot in the 2019 Benefit Cosmetics Brow Search, where she was mentored by Patrick Starrr. With a humble follower count just under 11 thousand, we suggest you hit that subscribe button now so you can call yourself an OG fan when she inevitably blows up.
Deepica Mutyala
After a video of her color-correcting her under eyes with a bright red lipstick went viral in 2015, Deepica Mutyala's following, on YouTube and elsewhere, skyrocketed. Today, the Indian-American YouTuber has over 250,000 followers, who tune in to her "brown girl approved" makeup and skin-care recommendations and reviews. The positive reactions to her videos manifested into a digital community focused on inclusive beauty in 2017, and today has evolved into a full-blown beauty brand called Live Tinted.
HeFlawless
Kenny of HeFlawless can cut crease and blend like their life depended on it, and uploads a video (or two) every week. His "Get Ready With Me" (GRWM) videos are always infused with a heavy dose of unfiltered chitchat, so you'll be entertained whether or not you actually care about the makeup.
Karen Yeung
Born in Hong Kong and raised in California's Bay Area, Yeung ( @IAmKarenO) has garnered over 1.5 million subscribers with her glowing complexion, soft color combos, and pop culture-inspired tutorials. From K-Beauty skin-care tips to drugstore makeup hauls, she's sure to make for a cool addition to your beauty guru lineup.
Jackie Aina
Jackie Aina probably doesn't need any introduction at this point, but always deserves a shout-out. Known for always giving her most honest, unfiltered opinions — be it while reviewing products, discussing a controversial topic, or calling brands out for lack of diverse shade ranges within a collection — Aina has racked up over 3.2 million subscribers by being herself. After over 10 years on YouTube, she continues to make consistently insightful and hilarious content, and every now and then blesses viewers with a new product collaboration, too.
Hana Lee
With over 200,000 subscribers, Hannah Lee's channel has grown without all the bells and whistles or over-the-top production. Her content flows between no-makeup makeup tutorials — where she often focuses on different eye looks for monolids — and candid conversations about her acne journey.
Taylor Anise
In her frequent uploads (sometimes three times a week!), Taylor Anise covers a lot of ground, whether she's vlogging an armpit wax appointment or sharing her first impression of a new product launch. With 4C curls, she fills a void in the beauty space for more content featuring thicker, more kinky hair — often walking through how she deals with shrinkage, different protective styles, and her wash-and-go routine.