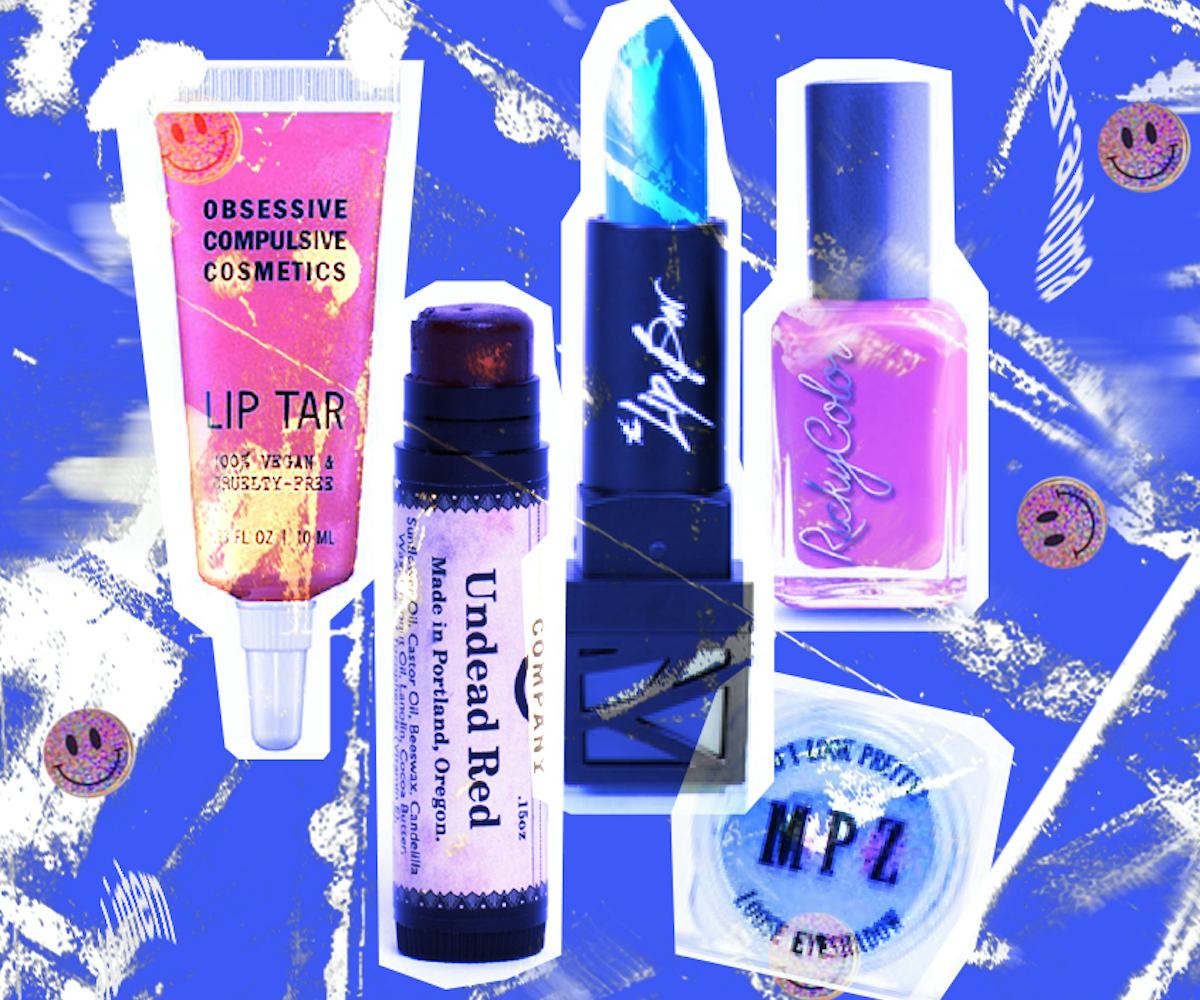 10 beauty products you'll want just for the names
what's in a name, anyway?
Let's be honest, we've all done it: Whether it's getting on the NARS Orgasm bandwagon or picking up that hundredth bottle of purple polish (Lincoln Park After Dark, anyone?), we've all gone from "maybe" to "gimme!" on a beauty product just because it had a cool name. And why not? With all the brand and color options out there, it's no surprise that we prefer our makeup with a little personality. Of course, a rose by any other name would smell as sweet—but there's no reason to settle for pink when you can have Candy Crush.
Clever, funny, or disturbingly #tooreal, here are 10 awesome products whose names stole our hearts and had us clicking "add to cart."
1. Obsessive Compulsive Cosmetics' Lip Tar in "Electric Grandma"
Once upon a time, OCC gave us "Grandma," a bright, melony coral reminiscent of our favorite church-going, lipstick-kiss-leaving lady. Electric Grandma is her rockstar younger sister, rebellious with a lovely metallic sheen.
Runner Up: Technopagan
Obsessive Compulsive Cosmetics, Lip Tar in Electric Grandma, $18, available at Obsessive Compulsive Cosmetics.
2. RickyColor Nail Polish in "Unpaid Intern"
A depressing, modern update to OPI's famous "I'm Not Really A Waitress," this nail polish understands the struggle. A sweet, milky pink that's fun and flirty while still being office appropriate.
Runner up: Insufficient Funds
RickyColor, Nail Polish in Unpaid Intern, $6.50, available at Ricky's NYC.
3. Portland Black Lipstick Company Lipstick in "Undead Red"
You know you can expect good things from a brand whose tagline is "all-natural makeup for that un-natural look." This lipstick is conveniently packaged in a Chapstick-style tube and its light, minty scent will freshen up lips while painting them the color of dried blood.
Runner up: Difficult Island
Portland Black Lipstick Company, Lipstick in Undead Red, $14, available at Portland Black Lipstick Company.
4. ColourPop Cosmetics Lippie Stix in "Feminist"
Finally, a lip color in line with your values and your budget. A super-matte, blackened purple that's sure to bring out your inner hard femme.
Runner up: Bull Chic
ColourPop Cosmetics, Lippie Stix in Feminist, $5, available at ColourPop Cosmetics.
5. My Pretty Zombie Eyeshadow in "Everything Looks Better On A Meat Hook"
Creepy taxidermy reference or a Panic! At the Disco song title? However you slice it, this warm, wearable reddish-brown with a pearly, green shift is perfect for nude-shadow enthusiasts and creatures of the night alike.
Runner up: Basically the entire collection, with shade names ranging from "Unicorn Pee" to "Law Firm Lamb Cake" and many more.
My Pretty Zombie, Eyeshadow in Everything Looks Better on a Meat Hook, $5, available at My Pretty Zombie.
6. Shiro Cosmetics Lip Gloss in "Seven Minutes in Kevin"
This gloss from the Battle of the Boy Bands collection is playing serious games with our hearts—a shiny, spicy blood red with a bit of cinnamon oil to turn up the heat.
Runner up: Nic Cage Doing the Charleston in a Bustling Speakeasy
Shiro Cosmetics, Lip Gloss in Seven Minutes in Kevin, $8, available at Amazon.
7. Darling Girl Cosmetics Glitter Pigment in "Pennsatucky"
From the Orange Is The New Black-inspired collection, this "Holy Trinity of glitter blends" is a holographic ice blue suspended in a crystal-white base befitting our favorite methhead angel.
Runner up: Balm Gloss in Toast Norma
Darling Girl Cosmetics, Glitter Pigment in Pennsatucky, $4, available at Darling Girl Cosmetics.
8. Innocent + Twisted Alchemy Eyeshadow in "Love, Due to Expire"
For the die-hard optimists out there, this dreamy Champagne pink is sure to last longer than your next relationship.
Runner up: Cavalier Abyss
Innocent + Twisted Alchemy, Eyeshadow in Love, Due to Expire, $3, available at Innocent + Twisted Alchemy.
9. The Lip Bar Lipstick in "Blue M*thaf*cka"
It's always five o'clock somewhere, and that somewhere is The Lip Bar. You've got your Cosmo, your Merlot, and then there's Blue M*thaf*cka—a vibrant sky blue that does not f*ck around.
Runner up: London Fog
The Lip Bar, Lipstick in Blue M*thaf*cka, $20, available at The Lip Bar.
10. Insomnia Cosmetics Lipstick in "Khaleesi"
For you Mothers of Dragons, queens, and everyone in-between, this gorgeous tarnished copper with a blue-green shift is sure to get you battle-ready. Available in full size for the superfan, or slimline for the commitment-shy.
Runner up: Lip Balm in Basic Bitch
Insomnia Cosmetics, Lipstick in Khaleesi, $6, available at Etsy.