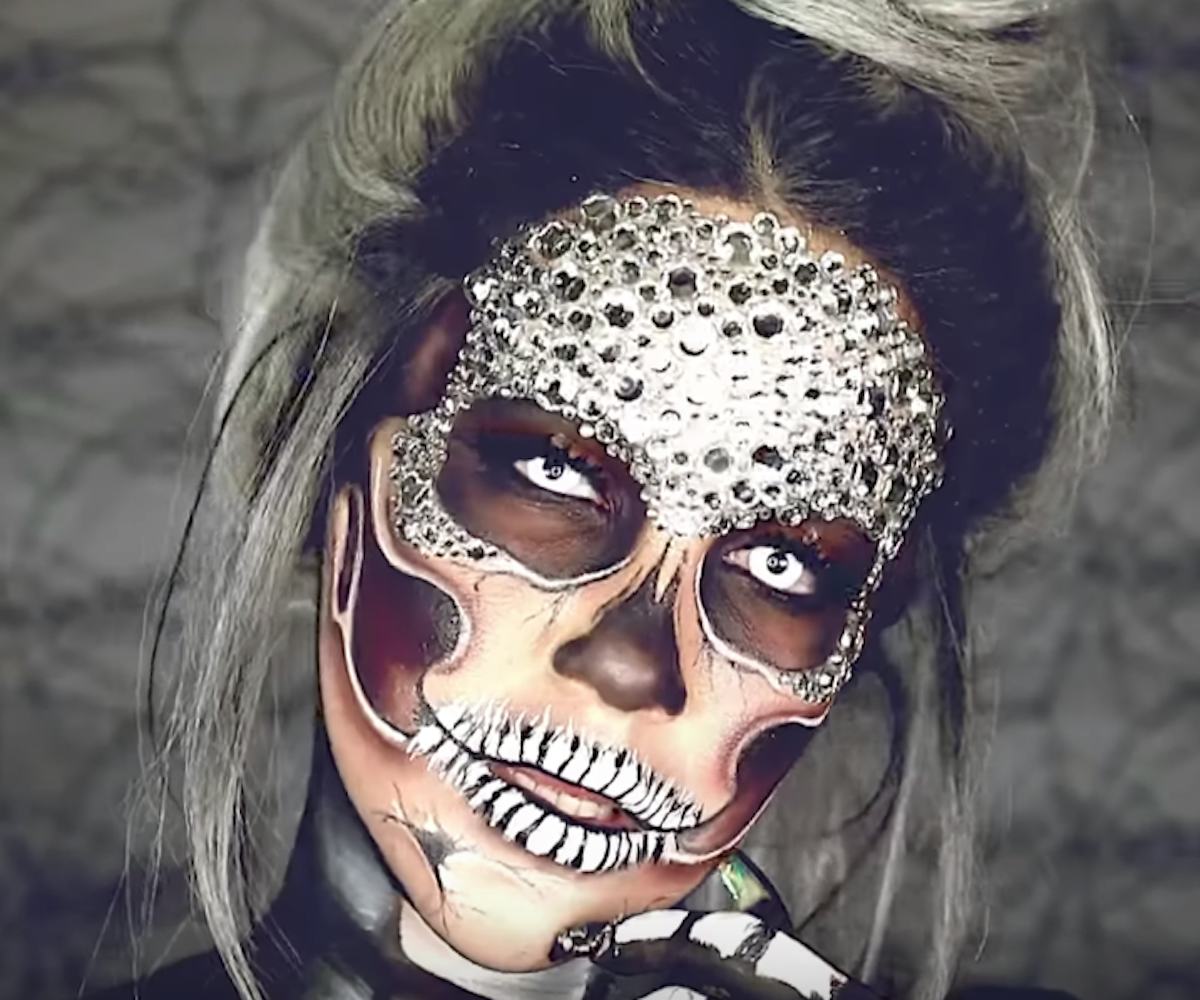 Image via Youtube
11 Of This Year's Best Halloween Beauty Tutorials
Serve some resting witch face this season
There's no arguing that Halloween is one of the best days of the year, but unfortunately, it has a habit of rolling up way too fast. If you're anything like me, you probably told yourself you were going to get your makeup and outfit prepared beforehand, way beforehand, but you just, well, lost track of time. Before you know it, it's an hour before you have to leave for that party, and you're still scrambling for something to wear.
So, how do you get through this stressful situation and show up to the event looking your best? Like in many other situations, makeup is here to help. Whether you want to go all-out or don't even plan on wearing an actual costume, makeup is a great (and, oftentimes, totally easy) way to achieve a killer Halloween look, even at the very last minute.
We scoured the internet for this year's best Halloween makeup tutorials to help you prepare for all of the festivities to come. Do you want to be cute? Scary? Sexy? All of the above? Don't worry, we've got you covered. Check out all your options in the videos, below. 
Pennywise by Jasmine Brown
A glammed-out Pennywise the Clown? Jasmine Brown's tutorial is everything we never knew we needed, and everything we want to be for Halloween. The best part? Liner and red lipstick are all you really need.
Queen of the Dead by Roxxsaurus
If you're a fan of rocking a major lash, you'll love this Halloween look. Roxxsaurus uses products you probably already have in your collection, and you don't really need a costume for this one. So, if you tend to do things last minute, this one might be for you.
Wonder Woman by NikkiTutorials
How do you make your Halloween look pop? Follow Nikki's Wonder Woman pop art-inspired makeup tutorial and you'll find out. We swear, it's like we're looking at a Snapchat filter. 
Beetlejuice by MakeupbyDenise
Lovers of Tim Burton rejoice! This Beetlejuice tutorial is a great way to channel your nostalgic side, by recreating a Halloween classic. Lots and lots of green makeup required.
Betty Boop by Dope2111
If you're going for both sexy and sweet for Halloween this year, this tutorial is perfect for you. It's also a good excuse to break out all that glitter you've been dying to try out.
American Horror Story: Cult Beehive by Madeyewlook
We'll admit, this one is a little intense, and if you happen to have Trypophobia, you should probably stay away. That aside, it's a super-realistic and well-done tutorial, and it'll definitely impress all the AHS fans out there. 
Scarecrow/Scarehoe by Sonjdradeluxe
A sexy scarecrow look? Why didn't we think of that earlier? This tutorial is all about concealer and dark liners. It's simple and great for last-minute looks.
Diamond Skull by Nicole Guerriero
Who thought a Halloween look could be so wonderfully scary and glamorous at the same time?
Demon by Desi Perkins
This might be the prettiest "demon smurf" we've ever seen. 
Rihanna in "Wild Thoughts" by Alissa Ashley
We'll never be able to slay as hard as RiRi, but we can always try, right?
Vampire by Eman
If you want to go completely costume-less, this is for you. Follow Eman's super-easy makeup tutorial, and your Halloween look definitely won't suck (pun intended).