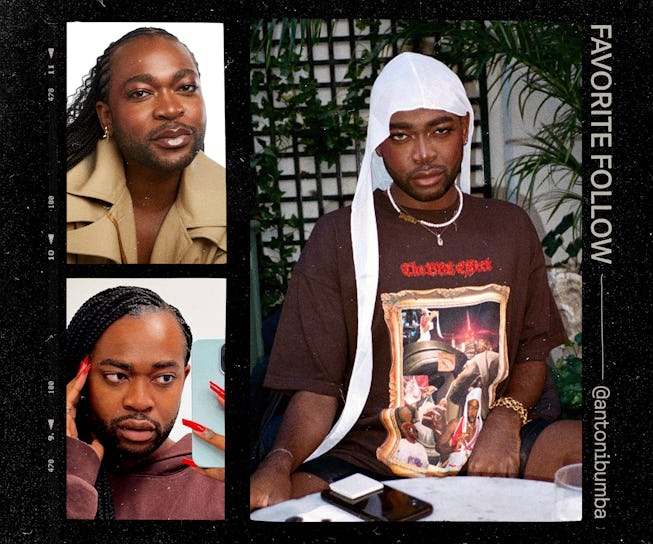 Nylon; Courtesy of Antoni Bumba
TikTok's Antoni Bumba Is Ready To Be The Next Great Beauty Muse
The viral star talks about becoming the face of the "BBL effect", boxing with acrylics on, and her future plans for beauty world domination.
If you've been on TikTok, you've likely already come across one on Antoni Bumba's videos where she brings the "BBL effect" to life via acting out everyday scenarios. In the viral series, she may be exiting an Uber, drinking from a straw, or just doing laundry— but always with the mannerisms and quirks of her characterization of someone with a Brazilian Butt Lift. People may have declared the BBL era "over" (which says a lot says about body politics), but the 25-year-old content creator says that declaring the BBL trend finished is actually in keeping with the cheeky attitude of the BBL. "It's so BBL to have 'the end of the BBL era," Bumba tells NYLON. "The BBL is a state of mind! It will never end!"
Since then, TikTok's favorite personality has become a beauty icon in her own right. Bumba traverses the beauty space with ease, grace, fluidity, and self-aware humor. In one video she'll be kickboxing with a full set of nails and in the next video she'll be coining the "BBL wave" (a flirty greeting with a lot of finger waggling). She serves consistent nail inspiration and even shows helpful behind-the-scenes practical beauty videos, like how to take contact lenses out with long acrylics. Over on Instagram, you'll find her trying out a bright orange pixie cut or recreating (and outdoing) Kendall Jenner's viral heart-shaped hair snap.
Below, Antoni speaks to NYLON about becoming the face of the BBL effect on TikTok, boxing with acrylics on, and her future plans for beauty world domination.
ON HER EARLY RELATIONSHIP WITH MAKEUP
"Beauty has always been a part of my life, and being beautiful has always been a huge part of my identity. My mom told my sisters and me that we had the most beautiful genes, and it was our job to take care of them. She also had the simplest, '90s makeup routine that inspired me to learn more about makeup. I think the first product I bought was a MAC compact powder in shade NW-50 that I used to contour. I bought it when I was 1 and I still have it. I still use it."
ON HER CURRENT BEAUTY PHILOSOPHY
"Less is more. I feel like now I use makeup to enhance my natural features, especially as I age. A little concealer, some contour bronzer, some blush, some inner corner highlight, a lip oil, and I'm out the door."
ON FINDING FRESH MANICURE INSPO
"My nail girl, Keeks, knows I love a French tip with a pattern. It's fun, interesting, and classy! Before, I would find inspiration from previous nail sets that I'd save on Pinterest, but right now it's from party dresses. I'll find an early '90's cocktail dress from some runway, and I'll tell Keeks, 'I want this'."
ON BOXING WITH ACRYLICS ON
"My advice to the people who are kickboxing with acrylics: Cut down your thumbs a little shorter than usual. Nobody's going to notice. My advice to people who exercise with acrylics, period? Slow down! Trying to reach for things too fast is what is getting you in trouble in this life. Literally and metaphorically."
ON BECOMING THE FACE OF "THE BBL EFFECT"
"It was an inside joke I had with my roommates when I first moved to New York City. My friend Shayne helped me film [the videos], and we just wanted to make the next one more epic than the one before."
ON PERMANENT HAIR REMOVAL
"When I was getting full body laser hair removal, I was thinking about lasering my beard as well, with the purpose to achieve some gender euphoria. I thought maybe my beard would confuse people and make it harder for them to understand the kind of woman I identify as. I decided to keep it because I feel that my beard is authentic to me—and that's all that really matters."
ON THE BEAUTY PRODUCTS SHE CAN'T LIVE WITHOUT
"My Tatcha The Deep Cleanse, my Nars Radiant Creamy Concealer—and I'm being so dead ass when I say that—my MAC NW-50 powder, and my Fenty Gloss Bomb."
ON HER PLANS FOR TAKING OVER THE BEAUTY SPACE
"I think in the future, my dream collab is with our mother—Miss Pat McGrath. That, and I'd really love to do tea with her. I'd also love to one day creatively direct or headline a huge NARS campaign. Like one that's globally iconic and just all over the place. On billboards everywhere! One day when I'm stupid famous, I'll pitch it to them. I really believe in that brand. I'd also really like to go behind the scenes and work with Chanel skincare. The technology behind that stuff is insane."