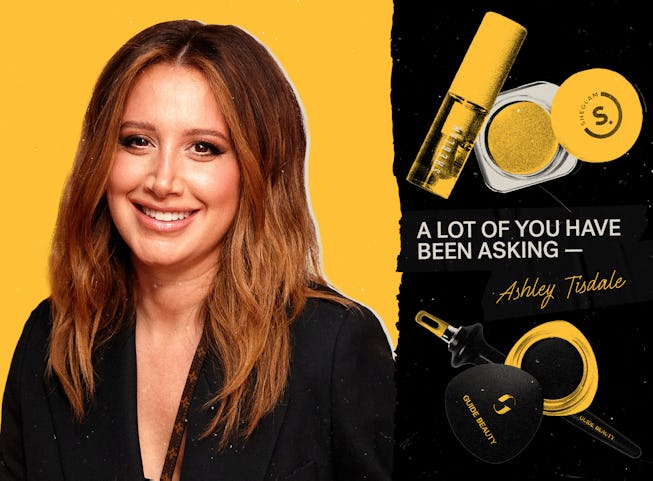 Nylon; Courtesy of SHEGLAM
Ashley Tisdale Says A $5 Blush Is The Key To Her Glow
The actress and Frenshe founder talks accessible wellness, easy makeup, and still loving Sharpay.
There has perhaps been no greater Disney villain redemption arc greater than that of High School Musical's Sharpay Evans. The character from a movie that came out before TikTok even existed found a new life on the app with one creator stating that "maturing was realizing" the supposed protagonist Gabriella was the actual villain, leading to much online debate. But internet chatter aside, the conversation thrust Sharpay into the spotlight once again—where she belongs.
Like millions of people on TikTok, Ashley Tisdale, the actress who brought the iconic character to life, still has a soft spot for Sharpay. With outfits that brought together the best of Barbiecore and Y2K fashion, it's little surprise that the character is still a source of inspiration for Tisdale. But now, she has gone on to expand her influence past that of her beloved character. In 2020 she started her lifestyle wellness blog, Frenshe, to promote accessible wellness through access to information and products at an affordable cost. She also has a line of beauty and personal care products, Being Frenshe, in addition to being a mother to her 1-year-old daughter, Jupiter.
At the end of 2022, Tisdale partnered with SHEGLAM for the brand's first pop-up in Los Angeles. After the event, we spoke to Tisdale about how to channel Sharpay energy, her new year's beauty resolutions, and what wellness means in 2023.
What was your first beauty memory?
"My first beauty memory is of my grandma's makeup drawer. She would let me play all day in it—looking back I can't believe she would let a 4-year-old play in her Chanel makeup. My grandma is who taught me all things beauty."
What's your relationship with makeup like now?
"Since becoming a mom and running Frenshe as a full-time job, I've definitely had to simplify my makeup ritual. My routine is super simple and I'm really loving the natural look. I usually do lips, eyes, and brows with a little bit of blush and that's it. I'm obsessed with SHEGLAM's Jelly Wow Hydrating Lip Oil because it keeps me hydrated the entire day."
In 2023, what does "being well" look like to you?
"At Frenshe, we believe that wellness is a journey, not a destination. There's so much toxic wellness information out there that we want to dismantle because everyone is different. Wellness is about what works best for you and what makes you feel the best. We also really want to empathize with the importance of mental health in wellness. We can't be healthy if we're neglecting our minds."
What's your 2023 beauty resolution?
"My 2023 beauty resolution is to really understand what ingredients I'm putting on my faces and if there are better alternatives. After watching Not So Pretty on HBO—we even talked to the director on Frenshe—I feel like there's still so much to learn about the beauty industry."
What are the SHEGLAM products that you can't live without?
"I've really been into the Full Coverage Foundation Balm, especially for the evening or going to an event. It gives the most amazing coverage and it's so, so lightweight. I also really like it for photoshoots because it's so natural looking and it gives that dewy glow. Also their Color Bloom Liquid Blush! My manager saw it on me and had to get it."
What's a beauty hack that's changed your routine?
"I've been super into the trending sunburn using the Color Bloom Liquid Blush. It makes it look like I just stepped out of the sun at the beach. I'm also obsessed with Guide Beauty (an accessible beauty tools company founded by Selma Blair) since one of our Frenshe contributors wrote about beauty and disability. I love their eyeliner tool, which I can use to make a cat eye in seconds."
Is there a Sharpay Evans fashion or beauty moment that you'd wear again?
"That's my girl. Honestly, I feel like she can rock anything. I kept all of my outfits from High School Musical, but I genuinely feel like her fashion and beauty secret is just confidence. Anyone can be Sharpay, you just got to own your look."