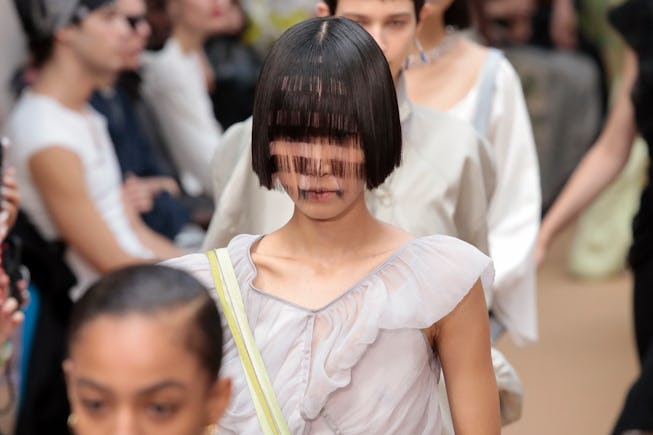 "Barcode Hair" Is Here, Looking Sleek And Scannable On The Runway
Models at the Kiko Kostadinov Paris Fashion Week showed off a different kind of supermarket sweep.
On Tuesday, the Kiko Kostadino Spring Summer 2024 show took place on the final day of Paris Fashion Week. Designers Laura and Deanna Fanning sent models down the runway in simmering greys, mermaid-style soft layering, geometric knee cut-outs, patchwork furs, and bold mismatched stripes. The show was one of the most dynamic runways of this fashion week season — with the hair and makeup following in a similar quirky style.
Hair stylist Olivier Schawalder created a barcode style for the show, creating a drastic slicked-down side part with striped hair prints on top. From soft purple to metallic orange to forest green, as models walked their hair almost appeared to be catching shine from the lighting. Upon closer inspection, you could see the stripes were actually printed onto the hair with even spacing.
Makeup artist Siddhartha Simone was the lead for the makeup in the show, sending models down the runway with unexpected two-toned lips. The rest of the makeup was natural and dewy, leaving the lips to be the star of the show. She posted a behind-the-scenes look at the lipstick on her Instagram stories, showing brown lipstick with a bright green pop at the top of the bottom lip and then grey lipstick with a similar pop of orange or purple. The result almost resembled the stain you can get from eating an ice pop.
Antoine Flament/Getty Images Entertainment/Getty Images
Antoine Flament/Getty Images Entertainment/Getty Images
Antoine Flament/Getty Images Entertainment/Getty Images
Whether you're interested in adding a soft pop of color to your hair or a surprise stain on your lips, the Kiko Kostadino Spring Summer 2024 Womenswear show should inspire us all to consider some more geometric shapes when it comes to hair and makeup. With one model walking down the runway with black and blonde "barcode hair" completely covering her face, the end of Paris Fashion Week channelled sleek supermarket scanning (and we're completely here for it).