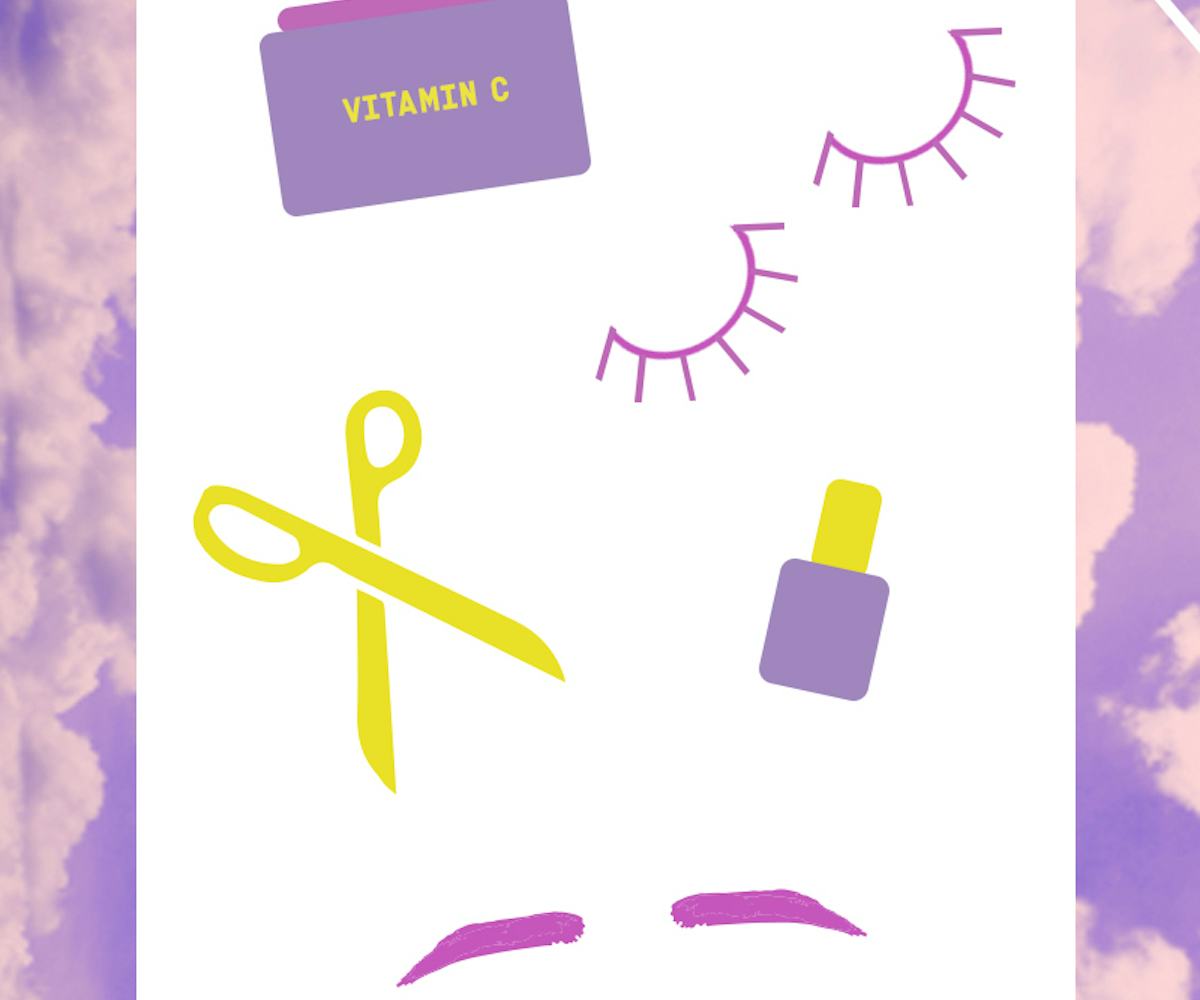 We Tested The Most Popular Pre-Travel Beauty Treatments And Found Out What Works
Gel manicures are everything
When I travel, I like to pack light. Mostly because I'm lazy and hate lugging around heavy bags, but also because minimalism makes travel less stressful. I'll pride myself on leaving my 20-pound makeup bag and straightening iron at home, but then I'll regret it when I get to where I'm going and feel underprepared and not like my finest self.
Most of the traveling I do is for work, meaning: I'm expected to show up looking somewhat polished and professional. But recently, rather than making room for style tools and cosmetics, I decided it was time to figure out some alternatives. I wanted to continue to pack light without having to skimp on my trusted beauty routine.
I did some research on long-lasting beauty services and decided to put them to the test on a super-active vacation on the humid, hot, and windy island of Maui that involved every possible element that might mess up my appearance. Some services held up better than others, but overall, I've definitely figured out a lasting pre-travel routine that will allow me to leave my usual products at home, and not only feel put together on the road but free up precious time that would have previously been spent on primping. Not having to worry about looking like a hot mess when I'm thousands of miles from my comfort zone and flat iron is a huge relief. Read on to find out all the things I tested out, and which services I know I'll be returning to over and over.
Eyelash Extension
EXPECTATIONS: I've seen eyelash extensions on other people and am always shocked by how natural they look. It's your lashes, but way, way better. At the same time, they seem like they might be uncomfortable and a little bit unnecessary—like, mascara is not that hard to put on. Still, I've always wanted to try them out myself, but could never reconcile the price tag—basic lashes typically run $130 to $210—with my social calendar, which is certainly not packed enough to justify the glam indulgence. But while my trip to the island didn't call for glam, I knew I'd be out and about all day in the heat, and in the end was so tempted by the idea of not having to wear makeup or do touch-ups, that I decided that it was worth it to try them out.
PROCESS: I went to Raon Zena in New York City. My friends go there and had recommended it to me; it's important to go somewhere you've researched, so get recommendations and look for great reviews.You don't want anyone who isn't properly trained and using completely sterilized materials touching your eyes. A few weeks of Bambi lashes are not worth going blind! When I arrived for my appointment, I was surprised that there was a mandatory consultation. I didn't realize there were so many choices: different lengths of lashes, different curves in the lashes, and different materials. I opted for a short and natural length and a thin synthetic material because I'm not about that mink lash life. They brought me into a room with a massage bed where I lay for nearly two hours with my eyes closed while a very gentle woman glued over 100 lashes to my eyelids. The process is entirely painless, except for the fact that my back was pretty sore by the time I got up. You might want to request a half-time stretch. Lying that still for that long can really wear you out. When the service was done, my eyelashes looked incredible. Full, thick, curly—yet not fake. It mostly looked like I was wearing a ton of mascara, which is exactly what I wanted. I was so relieved I didn't look like I was about to get on stage in Vegas. I felt like a low-key vixen as I left the building.
RESULTS: There were a lot more precautions than I expected. There are many things you can't do if you want to keep the lashes on for the full two weeks. Washing your face and showering is difficult because every time you get your lashes wet, you lose a few. You can't wear eye makeup because you're not allowed to rub your eyes to get it off, which was fine for me because I was having a bare-faced vacation anyway. That said, they looked amazing throughout the week. Even after snorkeling and spending a whole day underwater, there were still more than enough lashes intact to make me feel done up. However, going on a 14-hour flight where I couldn't wear an eye mask was difficult. And worrying about them while I was in the water was difficult, too. I wouldn't get them again for a beach trip because it's too much anxiety. Instead, I'd just get a lash tint, which has much fewer aftercare guidelines and is a fraction of the price. That said, I'm totally going back to get lashes for the holidays. I won't be submerged in water, and they really did look natural yet glamorous.
Gel manicure
EXPECTATION: I know, I'm really late to the gel game. Somehow I've never tried these. I'm a nail biter and I spend a lot of time doing things outdoors that would always chip my nails so I never bothered much with manicures. But I do like to have my nails painted when I'm at the beach; it makes me feel put together. However, whenever I get a regular manicure, it only takes a few minutes of sitting in the sand before I have a chip. And then I wish I never got the manicure in the first place because it looks horrible. I'm a longtime Primp and Polish customer, and every time I'm there getting a plain old manicure, I watch people pick out gels and it always looks like a super-involved process and the result doesn't look any different. I didn't have high hopes that this would be a big improvement.
PROCESS: The way you pick colors for gels seems really unorganized and outdated, and I ended up just asking for "basic red" and handing back that binder of plastic nail sheets because it was overwhelming. The first part of the process was the same as a manicure, but when it came to the actual polish, it was actually much quicker. They applied two coats of a clear gel, followed by two coats of the red polish, with 30-second breaks under the UV light between coats. And then they were dry. Just like that. I still avoided touching things for a few hours out of fear they would indeed get messed up—I couldn't accept that they were actually dry.
RESULTS: I'm never going back to regular polish. I went snorkeling, canoeing, kayaking, did yoga in the sand, made sandcastles, cleaned a boat, climbed on volcanic rocks. No chips. Not one. I'm slightly annoyed by the fact that I have to go back to get the color removed, but it's a small price to pay for flawless nails. I'm already on week two, and they're still perfect. I never imagined they'd withstand such an active trip. These are foolproof and a travel must.
Vitamin C Facial
EXPECTATION: My skin gets really dry when I travel and then by the time I get to where I'm going, I usually break out. I decided that in the spirit of trying new things, I'd get my first facial. I have really sensitive skin, and I break out if someone touches my face and get a hive if someone even looks at it. I've been using Mario Badescu face wash for years and that's never irritated my skin, so I decided going there would be the safest bet—I really didn't want to get on the plane with a rash across my face. I was a little bit worried that messing with my face before putting it through major travel and climate change would be a bad idea, which is why it's important to go somewhere trusted.
PROCESS: I told the facialist about where I was going and she decided that the European Vitamin C facial was the best bet for me. It's gentle, moisturizing, and helps prevent and treat the skin from sun damage, which I knew I'd incur. The procedure was super relaxing, but when they put a cold compress on my face after all the probing, I was sure it was to calm down the millions of hives that had surfaced. Much to my surprise, my face was calm and dewy when I walked out. No hives.
RESULTS: My skin looked incredible and I got tanner than I've ever been. Here's why: Since I usually break out when I travel, I put a lot of dehydrating products on my skin to dry it out. I'm skimpy on sunscreen because it clogs my pores and I'm not diligent about moisturizing in hot climates. Because my skin was so clear going into the trip from the facial, I was so much more willing to slather my face with lotions and serums and after-sun care. The perfection lasted about a week before my skin started slipping into its old habits, but the treatment definitely helped me through my trip. And not having to worry about covering things up when you're in and out the water is a huge relief. I'd definitely recommend a facial if you're about to go somewhere where you'll need to protect your skin—particularly in extreme heat or cold. If you're not going to be outside a lot, I'd say it's not worth the price tag,  unless you're having skin issues—in which case it can totally expedite the process of bringing your skin back to health.
Texturizing Haircut
EXPECTATIONS: I recently chopped my hair off after two decades of having hair that's down to my butt and constantly wrapped in a braid. Now that it's short, I don't know exactly what to do with it. And while my blunt cut looks great when it's styled, it doesn't hang well when it's wet. And when it dries naturally, my curls poof out in all directions. In the spirit of trying to make this a no-fuss trip, I wanted to do something that would allow me to leave the straightener and blow-dryer at home and just go au natural. I talked to Vincent Minchelli at Arrojo Salon in New York City about possible keratin treatments, hair masks, and other conditioning possibilities and, to my surprise, he told me that those types of treatments can have mixed results and I'd be much better off just adding some texture to my haircut. I was very skeptical that would do anything and scared it would look even shorter.
PROCESS: He broke up my blunt cut by adding long layers and thinning out the ends. While it looked great, and not noticeably shorter, I wasn't confident it would dry much differently. The cut was quick, and I couldn't really see what he was doing so I had to just trust that he knew what was best.
RESULTS: I couldn't really tell the difference at first. It sat better on my shoulders and was less heavy at the bottom for sure, but it wasn't until I spent a day in the ocean with no products and no brush that I realized the difference. The layers helped my hair to dry more quickly and with more defined curls. It felt so much lighter and had so much more movement. I was literally walking around swinging my head like Marcia Brady. I've been back from my trip for a week and I'm still letting my hair dry without products because I'm loving the change. I'd say this kind of cut is best for people with wavy or curly hair who are taking a beach trip and not planning on styling—especially if you don't love how your hair looks at the beach.
Brown Tint
EXPECTATIONS: My brows are really light, and when I'm in the sun, they bleach out and become invisible. As part of my whole "I don't want to wear makeup but I want to look fly" vacation goal, I decided to get my brows tinted by a brow specialist. Usually, I'll go to a multipurpose salon somewhere and get a quick brow tint. And usually, they apply the dye with a cotton swab and sort of slop it on for ten minutes, and it usually fades after a week and starts to look orange. Dye is dye, though, so going to this new salon, I didn't expect that much of a change, but I did hope that at least it would be applied more carefully because I had an appointment and they weren't trying to get me in and out the door.
PROCESS: I went to Nayoung Jeong at Beauty Artist NY, who mixed a color that was just right for me and took her time applying the dye and left it on for longer than I've come to expect at other places. It didn't burn, it didn't hurt, and when she gave me the mirror at the end I was pleasantly surprised by how neat it looked. I didn't have any sort of messy blur on my surrounding skin and it didn't shock me with its boldness; it just looked naturally pretty.
RESULTS: After a week of sun and saltwater and chlorine, my brows held their color. They faded a bit toward the end, but never turned orange. Now that I'm not at the beach and I'm back in my normal beauty routine, I have been filling them in because this dye does not stick to the skin and fill in holes for more than a few days. But it's definitely the most defined my brows have ever looked.