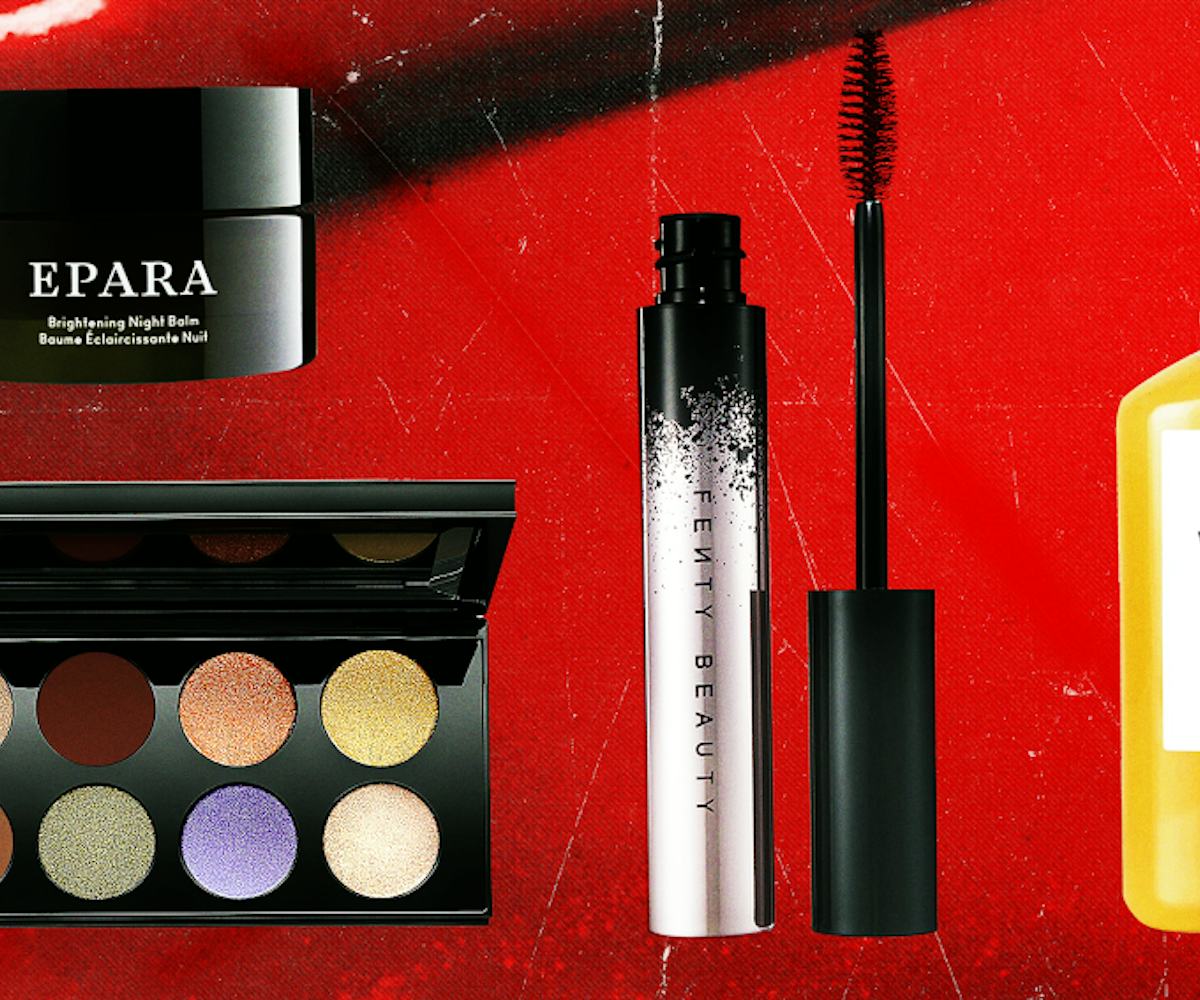 Image courtesy of brands
15 Game-Changing Products From Black-Owned Beauty Brands
From super pigments to sunscreen that doesn't leave a trace
While things are certainly still far from perfect, the last few years have raised the bar when it comes to diversity and inclusion in the beauty industry. And while we can surely thank the Fenty Beauty effect for disrupting color cosmetics by demonstrating what complete shade ranges really look like, Black-owned beauty brands have been doing the work to show up for Black folks in the beauty space for decades — and continue to do so to this very day.
Whether it's by formulating hair-care products specifically for Black hair textures, innovative makeup formulas that capture the nuances and undertones of darker skin tones, or serums and creams that address some of the most common skin issues that Black people face — like hyperpigmentation and hydration — Black-owned beauty brands know exactly what the market needs from lived experience, and because of that, they know exactly how to make them.
Today, there are more of those brands out there than ever, crafting those specific, void-filling products alongside products suitable for every and anyone, like gentle, innovative cleansers and sunscreen that doesn't leave a trace. And as Black History Month comes to a close, it's important to remember that celebrating Black people shouldn't be confined to the shortest calendar month of the year, and neither should supporting their business. Ahead, check out 15 game-changing beauty products made by Black-owned brands from every price point that make it easy to do both.
The Lip Bar Everyday Eyeshadow Palette 
The Lip Bar, Everyday Eyeshadow Palette in Brown Bombshell, $11, available at Target.
While The Lip Bar's collection heroes have always been — as the name suggests — its lipsticks, the brand's first-ever range of eyeshadow products is just as impressive. Launched in celebration of The Lip Bar's 8th birthday, liquid eyeshadows and an eyeshadow palette were released as an extension of its popular Fast Face System, which was created in 2019 to take away the guesswork out of everyday makeup routine. The latter of the launches is available exclusively at Target and comes in four different mini quads, each filled with super pigmented shades.
Jacq's Organics Revitalizing Facial Toner
Jacq's Organics, Revitalizing Facial Toner, $20, available at BLK + GRN.
Focused on tropical ingredients sourced locally in South Florida, Jacq's Organics believes in the efficacy of simple formulas, and "takes its cues from the botanical world." This toner — sold at BLK + GRN, an all-natural marketplace consisting only of products by Black artisans — is the perfect display of what the brand does best; it's formulated with refreshing botanicals, like healing burdock root, and will balance pH and purify the skin, as well as leave you feeling revitalized. Bonus: This natural option also happens to be the perfect size to carry with you throughout the day.
Epara Brightening Night Balm
Epara, Brightening Night Balm, $130, available at Saks Fifth Avenue.
After feeling like the Black perspective was missing from prestige beauty, Ozohu Adoh founded the U.K.-based line in 2017 to fill the void and focus on two major concerns for women of color: lack of hydration and hyperpigmentation. This best-selling ultra-rich and nourishing balm aims to tackle the latter, formulated with naturally-derived skin brightening actives that target imperfections, even skin tone, and reduce visible signs of hyperpigmentation. Your face will feel supple — and luxe.
Mented Skin By Mented
Mented, Skin By Mented, $30, available at Mented.
With over 200 five-star reviews, Mented has proven to deliver on its promise of an easy-to-use foundation that wears like a second skin. The stick applicator makes applying the silky foundation easy and light, while still distributing the right amount of buildable coverage. Offered in 16 shades — all within the brown to deep tone spectrum — the brand provides both a 60-second matching quiz and a shade comparison guide so you can feel good about making the complexion purchase online.
Briogeo Don't Despair, Repair! Duo 
Briogeo, Don't Despair, Repair! Strength + Moisture Duo, $49, available at Sephora.
This Sephora duo brings together two of Briogeo's best-selling products from its extremely popular Don't Despair, Repair! product line, focused on reviving damaged, tired, and brittle hair by adding serious doses of hydration to strengthen, smooth, and protect against future damage and breakage. While both products are suitable across all hair types and textures, the sulfate-free products are particularly popular for those with curls, kinks, and coils.
Epi.Logic Rosehip Gel Cleanser
Epi.Logic, True Calm Rosehip Gel Cleanser, $40, available at Brooklyn Eye & Face.
This nourishing cleanser is just one of the many notable and innovative products that debuted in New York City-based dermatologist Dr. Chaneve Jeanniton's newly launched skin-care line. With just seven (easy-to-read) ingredients, including glycerin and rosehip seed oil, the cleanser gently removes impurities in the skin without causing irritation or disruption to the skin barrier. With daily use, this formula will replenish, soothe, and stimulate healthy cell turnover for calmer, revived skin.
Fenty Beauty Full Frontal Volume Mascara 
Fenty Beauty, Full Frontal Volume Lift & Curl Mascara, $24, available at Fenty Beauty.
Sure, Fenty is known for its complexion products, and rightfully so. But the brand's newly released (and first-ever) mascara holds its own in the lineup, too. The water-resistant, long-wearing mascara is offered in one shade, aptly named "Cuz I'm Black," and features a unique, flat-to-fat brush applicator, designed to deliver Rihanna's very own full lash look.
Black Girl Sunscreen 
Black Girl Sunscreen, SPF 30 Moisturizing Sunscreen Lotion, $16, available at Target.
Knowing that everyone needs SPF — despite misconceptions about how darker skin reacts to the sun — Shontay Lundy created Black Girl Sunscreen as an option for women of color, by women of color. Infused with natural ingredients like sunflower oil, avocado, jojoba, and cacao, the vegan formula acts as a moisturizing lotion on top of protecting from the sun, and wear seamlessly under makeup. Best part? It dries clear, so no need to worry about streaky white cast on the skin.
Curl Mix Pure Flaxseed Gel 
Curl Mix, Pure Flaxseed Gel With Organic Castor Oil For Strengthening Hair, $25, available at Curl Mix.
This gentle styling gel product uses a flaxseed base, to add serious hydration along with a great hold, alongside organic castor oil — rich in protein — to help strengthen the hair and lay cuticles down for a smoother, more shiny finish. The natural, vegan product has racked up over 150 five-star reviews on its site, with customers sharing that the gel "holds waves for 4-5 days without needing any kind of refresh," and that it "ensures that twist-outs are well-defined," without leaving any residue.
Golde Clean Greens Superfood Face Mask
Golde, Clean Greens Anti-Pollution Superfood Face Mask, $34, available at Goop.
As its name would suggest, you can consider this mask a green juice for your skin, using 100 percent edible ingredients, like spirulina and mango, to formulate this powder-to-gel mask. Just activate with water, then smooth onto the face — all over, or as a spot treatment — and leave on for 10 to 15 minutes to reveal a brighter, more glowing complexion.
Uoma Black Magic Metallic Lipstick 
Uoma Beauty, Black Magic Metallic Lipstick, $26, available at Uoma Beauty.
Founded in 2018, Uoma Beauty has brought a serious element of excitement — and inclusivity — to the beauty space. Its vibrant, metallic Black Magic lipsticks are just one example of that, formulated with Brazil nut oil that moisturizes lips with essential mineral and vitamins while amplifying the lips with bold, highly-pigmented (and glitter-coated) color.
BeautyStat Universal C Skin Refiner 
BeautyStat, Universal C Skin Refiner, $80, available at QVC.
Formulated to deliver the best, most effective option available, this cream-serum features encapsulated 20 percent L-ascorbic acid that instantly absorbs into the skin at full strength. Combined with squalene, EGCG (the active in green tea) and exfoliating tartaric acid, this formula promises more even tone and texture, and a brighter, smoother complexion.
Pat McGrath Labs Mothership VI Eyeshadow Palette 
Pat McGrath Labs, Mothership VI Eyeshadow Palette, $125, available at Sephora.
With over 500 near-perfect Sephora reviews, this is one of Mother Pat's most popular palettes from the Mothership series — and looking at the colors, is it hard to tell why? Perfect for both subtle and over-the-top shades all year round, the 10-pan palette offers richly pigmented shades formulated to highlight, line, and define the eyes for endless looks.
Plant Apothecary Organic Body Wash
Plant Apothecary, Be Well Organic Body Wash, $18, available at Plant Apothecary.
Enriched with organic essential oils like eucalyptus and bergamot, this all-natural gel body wash is made of only seven ingredients that work together to lift dirt and grime off the skin in an easy lather.
Livso, Moisturizing Lotion For Dry Scalp, $18, available at Livso.
Founded by board-certified dermatologist Shari Hicks-Graham, Livso was born with the mission to relieve scalp irritation — especially for her patients with textured kinky and curly hair. This lightweight hydration formula is one of the best-selling products in the line today, crafted to deeply condition dry scalps and strengthen hair. Use it as part of your regular cleansing and conditioning routine or as a more focused moisturizer — it'll help to protect your hair, and the skin it grows out of, either way.
NYLON uses affiliate links and may earn a commission if you purchase something through those links, but every product chosen is selected independently.