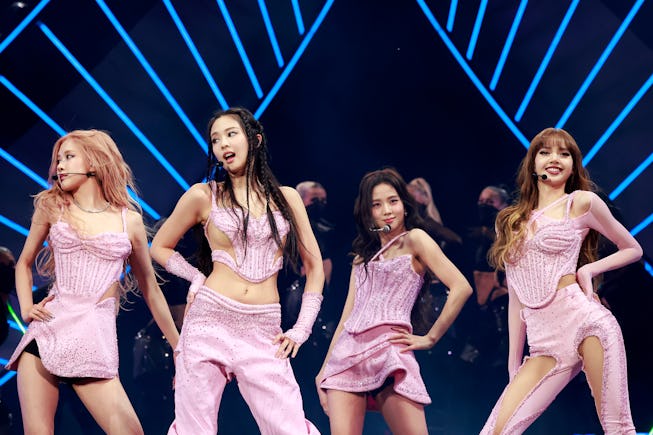 Emma McIntyre/Getty Images Entertainment/Getty Images
Blackpink and Touchland Are Dropping The Coolest Hand Sanitizer Ever
The most practical merch you can buy.
The iconic K-Pop group Blackpink has had their fair share of collaborations over the years. Collectively the group has collaborated with Puma, Samsung, and even Oreo. Individually, each group member has landed multiple fashion and beauty brand deals. But their latest collab drop is perhaps the most unexpected. The hit band has teamed up with luxury hand sanitizer brand Touchland to release a limited edition version of their Power Mist hand sanitizer featuring one of their best-selling, sophisticated scents, Blue Sandalwood.
The Blackpink x Touchland Power Mist Blue Sandalwood collaboration will be available at Ulta and on the Touchland website from tomorrow, and available at Sephora online and in-store later on, in July. The limited edition hand sanitizer is designed to be a cute edition to any bag, featuring a pink outlined bottle with a translucent black center (of course). The special edition Blackpink x Touchland Power Mist will retail for $10— making it one of the brands most affordable collab items ever.
"As a woman-owned brand, BLACKPINK symbolizes female empowerment and continues to show how confident women can be. I hope our community and their fanbase, BLINKs, enjoy this partnership as much as I do," CEO and founder of Touchland, Andrea Lisbona, says about the new collaboration in a press release.
Touchland is known for their elevated approach to the often less-than-chic category of hand sanitizer. Not only does the packaging separate Touchland's products from others in the clinical category, but they also come in nuance perfume-inspired scents. The fan-favorite scent selected for the Blackpink Power Mist is Blue Sandalwood with notes of crisp lemon, watermelon, red rose petal, shaved ginger, cedarwood, and sandalwood. The dermatologist-approved vegan formula keeps your hand germ-free and still remains moisturizing with no stickiness. Fitting neatly in your handbag, the latest collab can remind you to sanitize your hands every time you think of Blackpink (which for Blink stans will be fairly often).