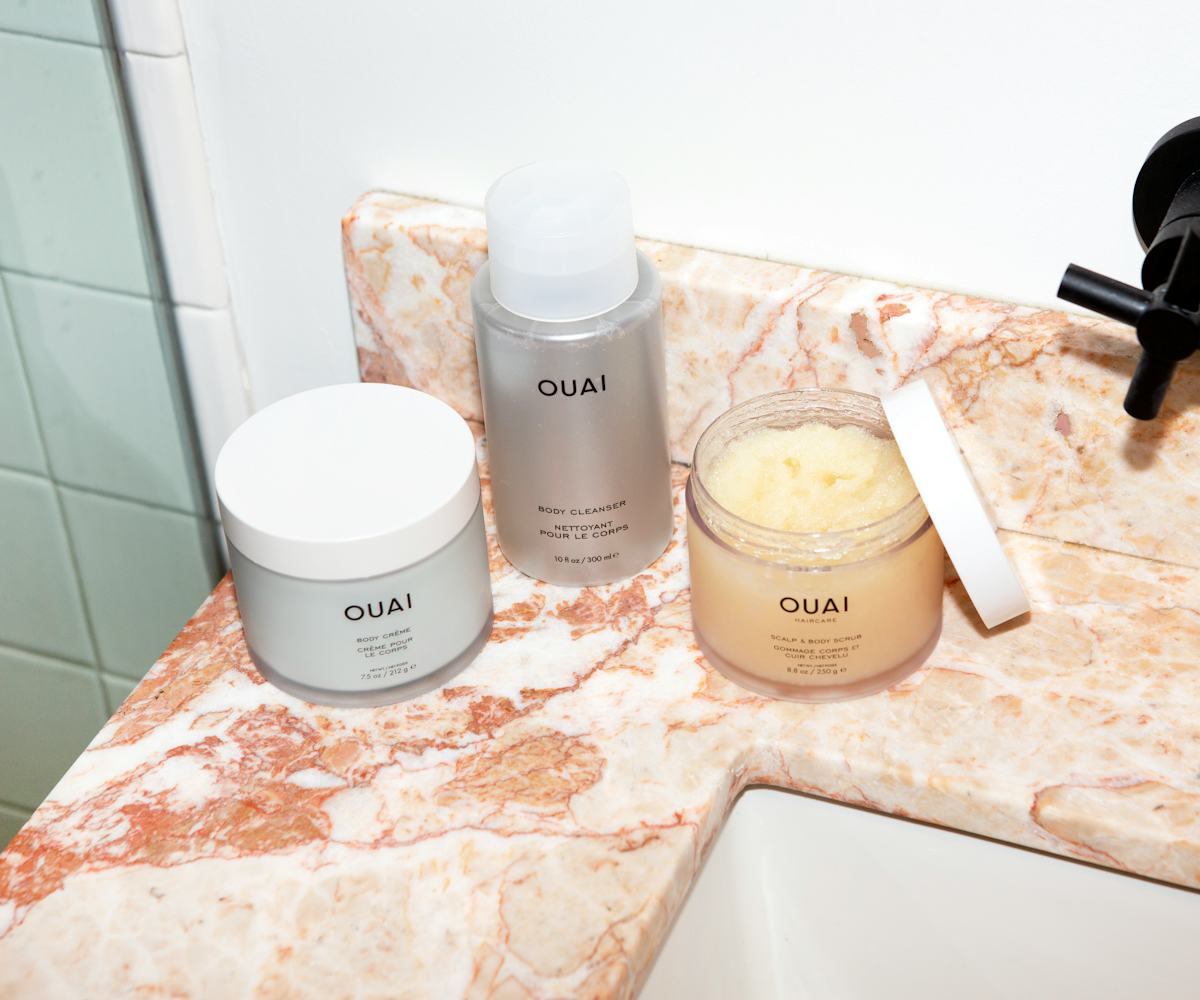 Image courtesy of Ouai
8 Ultra-Hydrating Body Washes For Dry, Winter-Worn Skin
From Ouai to Olay Body, these washes will help revitalize your skin before spring
The gray, drab skies of winter are slowly lifting, but the same might not be said of the dry, dull skin that the season has left behind. Winter puts our skin through a lot, and in case you're continuing to suffer from cold weather skin care woes like dry, itchy, and dull skin, it's time to show your skin some extra TLC. Thankfully for most, doing so isn't that hard to accomplish, considering some of the best body washes for dry skin do a lot of the heavy lifting for you, packed with ingredients that aim to brighten and boost the appearance — and feeling — of your skin.
According to Dermatologist Doris Day, winter weather typically leaves a lack of moisture in the air, and an increase of moisture in our skin. "This means that the natural pull is going to be water out of your skin, leaving you dry," Day shared with NYLON. "Even worse is when the air outdoors is cold and windy and indoors is overly hot and dry. Along with dry skin comes itching, flaking and roughness as the skin loses water and is unable to keep up with production. Taking long hot showers and using the wrong cleansers can greatly exacerbate the problem."
Speaking with NYLON, Dr. Julia Tzu, Founder and Medical Director of Wall Street Dermatology, says you'll want to look for a wash that counts added moisture as one of its benefits, along with other promises depending on your skin type. "Hypoallergenic is always important for people with sensitive skin, to prevent irritation and rashes," she noted. "However, for people without sensitive skin, a brightening effect can be achieved with washes containing vitamin C and glycolic acid." As for how to tell that your routine is working? Tzu said to be on the lookout for brighter and less-irritated skin.
Ahead of spring's official return, check out some of the best body wash options for dry, worn skin, below.
REN Atlantic Kelp and Magnesium Anti-Fatigue Body Wash
REN Clean Skincare, Atlantic Kelp and Magnesium Anti-Fatigue Body Wash, $28, available at Sephora.
Created with Atlantic kelp extract and energizing magnesium, this body wash will awaken even the dullest of skin. Featured ingredients include magnesium to increase the luminosity of your skin, along with plankton extract which helps de-stress skin and protect your body from seasonal wear and tear.
Lush Rub Rub Shower Scrub
Lush, Rub Rub Shower Scrub, $22.95, available at Lush.
This scrub contains some much-needed moisturizing ingredients. "To slough away dead skin, opt for natural exfoliants like sea salt or ground almonds," Erica Vega, Lush's Brand and Product Expert, told NYLON. "The sea salt gently exfoliates and leaves you smooth as can be." While the inclusion of brightening lemon juice and lemon oil will help to brighten up skin. Vega also suggested looking for washes that include creamy natural ingredients like avocado, banana, cocoa butter or olive oil.
Ouai Body Cleanser 
OUAI, Body Cleanser, $28, available at Ouai.
For a light scent that's still extremely gentle, this thin, watery-gel cleanser from Ouai is formulated with a blend-of skin-softening oils including jojoba and rose hip, along with balancing probiotics to leave the skin feeling soft and smooth.
Dove Deep Restoring Body Wash
Dove, Purely Pampering Coconut Milk & Jasmine Petals Body Wash, $5.99, available at Target.
Both Day and Tzu touted the benefits of Dove, noting that it's gentle enough for all skin-types. While the brand's Deep Moisture Body Wash is a long-time favorite, a new line from the brand featuring issue-specific washes includes this coconut and cocoa butter infused formula, created to help restore the skin.
Seventh Generation Not Just Body Wash
Seventh Generation, Not Just Body Wash, $7, available at Walmart.
Shea Butter is the key ingredient in this rich and creamy wash, working to help maintain the skin's natural moisture as it cleanses. The formula itself is also uniquely 100 percent biodegradable, designed to break down safely in the environment to reduce its end of life impact and to help protect waterways — so you and your skin can feel good about the choice.
Olay Body Ultra Moisture Body Wash with Vitamin B + Shea Butter
Olay Body, Ultra Moisture Body Wash with Vitamin B + Shea Butter, $5.99, available at Target.
Dr. Day noted that products, including Olay Body's Ultra Moisture combine "the gentlest surfactants available along with combinations of moisturizers such as shea butter, glycerin, hyaluronic acid, petrolatum and others to help protect against loss of natural oils from the skin and to lock in moisture while you bathe."
Bath & Body Works Mineral Body Polish
Bath & Body Works, Water Hyaluronic Acid Mineral Body Polish, $18.50, available at Bath & Body Works.
Containing both sea salt and Hyaluronic Acid, this scrub was made for reviving worn skin. And based on the numerous 5-star reviews left by customers, this is one body product that works, as one person wrote, b "It scrubs and moisturizes leaving my skin refreshed and smooth."
Glytone Exfoliating Body Wash
Glytone, Exfoliating Body Wash, $33, available at Dermstore.
Slough away dead skin cells and let your brightest body shine forward. Formulated with glycolic acid, the wash cleanses the body of dirt and debris, while also exfoliating damaged, dry skin.
NYLON uses affiliate links and may earn a commission if you purchase something through those links, but every product chosen is selected independently.