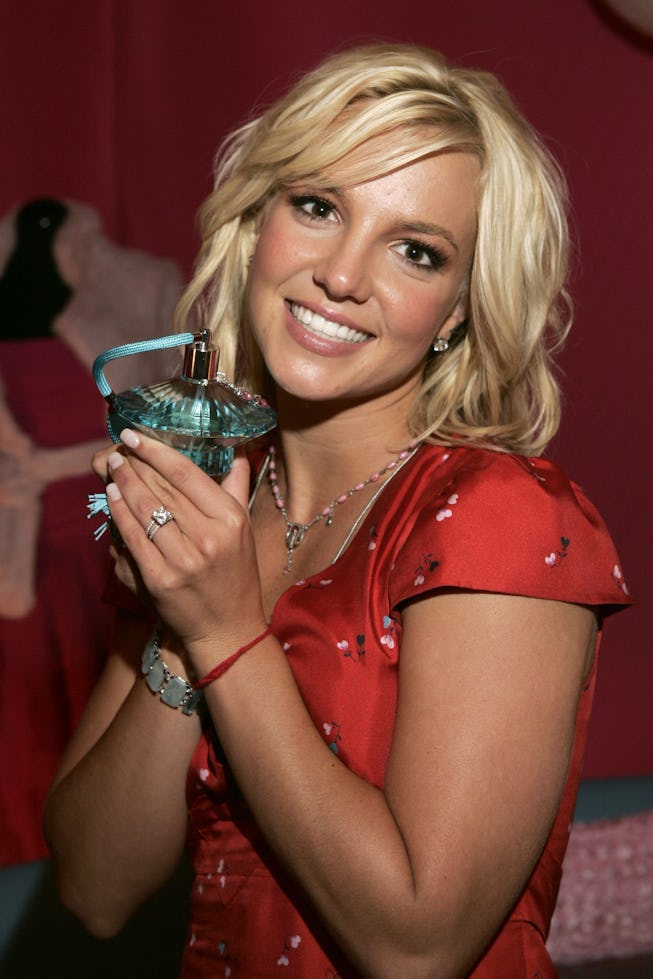 KMazur/WireImage/Getty Images
A New Britney Spears Fragrance is On The Way
Jungle Fantasy promises to be a floral green gourmand meant to "unleash your wildest fantasy." Noted!
The Britney Spears Renaissance is 365 degrees: Less than two years after winning her freedom from her conservatorship case, Spears announced yesterday that her tell-all memoir will be published in the fall. Now, the Britney comeback nobody saw coming: a new fragrance in her longstanding perfume line. Welcome, Jungle Fantasy.
It's a ripe time for Spears' perfume comeback: Perfume is undergoing a renaissance of its own lately, a resurgence powered by young fragrance heads eager for singular, engrossing scents — or to relive the nostalgia of past ones.
Per Wikiscent, Spears has released no less than 32 perfumes during her career, starting with Curious by Britney Spears eau de parfum in 2004. The original Fantasy scent was released in 2005, and now Jungle Fantasy marks the latest in the collection, which includes scents like Fantasy: Stage Edition, Fantasy: The Naughty Remix, and Maui Fantasy.
Gourmands have been huge the last couple of years (you can thank the relentless DS & Durga ads promoting their wildly popular Pistachio perfume), and Jungle Fantasy promises to be a delectable sprtiz. It's described as a floral green gourmand with top notes of watermelon blossom, violet leaf, and yuzu; middle notes of gustavia flower, water lily, and gardenia; and base notes of tonka bean absolute and cupcake accord. The fragrance invites you to "unleash your wildest fantasy and embark on an adventure into the unknown", inspired by Britney's "vibrant energy and fearless attitude."
The bottle is a variation of the hot-pink-with-green-rhinestones style of the original Fantasy scent. Jungle Fantasy looks like a glowing orb in a chlorophyll-colored gradation with glistening pink gems and a marble-like cap adorned with a pink glittery sash.
It's not clear when Jungle Fantasy will be released. There's no mention of it on the official Britney Spears Fragrances Facebook or Amazon page that serves as the company's shop. Some Fragrantica users, however, are claiming it's currently available in the UK.