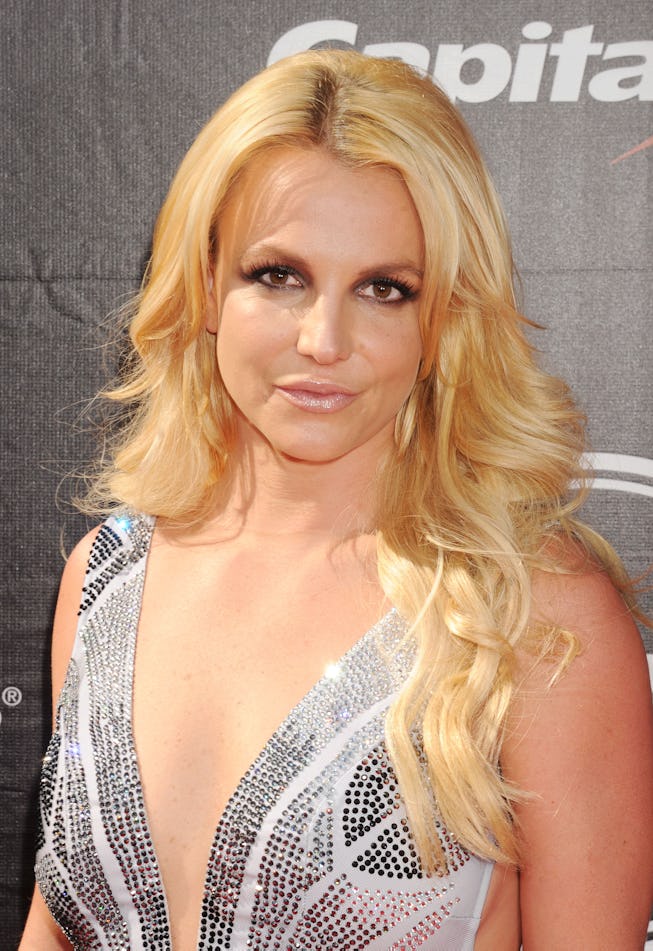 Jeffrey Mayer/WireImage/Getty Images
Britney Spears' Tell-All Memoir Finally Has A Title & Release Date
The Woman In Me arrives this fall.
Britney Spears is finally getting the chance to tell her own story on her own terms.
After nearly two years of uncertainty and delay, the pop singer has officially announced the details behind her highly-anticipated tell-all memoir, which she first said she began working on all the way back in 2022.
The forthcoming book will be called 'The Woman In Me,' and is slated to arrive this fall on Oct. 24, per an exclusive report from People. The book's cover, which was also unveiled today, July 11, features a younger photo of Spears against a stark black background in nothing more than a pair of gold shorts.
Acquired by Gallery Books, an imprint of Simon & Schuster, the memoir is expected to tell "for the first time her incredible journey (and) strength at the core of one of the greatest performers in pop music history," per a press statement, and will also "[illuminate] the enduring power of music and love — and the importance of a woman telling her own story, on her own terms."
A press release also describes the book as a "brave and astonishingly moving story about freedom, fame, motherhood, survival, faith, and hope."
Spears herself shared the news with a video to social media that contains the text: "It's coming... My story on my terms at last. Are you ready?" The book is currently available for pre-order.
"Britney's compelling testimony in open court shook the world, changed laws, and showed her inspiring strength and bravery," said Jennifer Bergstrom, Senior Vice president and Publisher of Gallery Books, to People. "I have no doubt her memoir will have a similar impact — and will be the publishing event of the year. We couldn't be more proud to help her share her story at last."
The memoir, which is reportedly worth $15 million, has been in the works over the past year and a half, and for a while it seemed possible that it would never materialize.
In addition to the lack of a formal announcement — Spears first told the world she was writing a memoir via her Instagram captions — it was revealed earlier this year that several A-Listers who are reportedly mentioned in the book were stirring up legal drama with her publisher for fear of what she had written. The Sun reported that the memoir was put "on ice" because, "Britney is brutally honest in the book — there are a lot of nervous A-listers," a source said. Thankfully that's been cleared up (and hopefully without any major changes to her original manuscript)!
The memoir will be Spears' first-time ever putting the full story of her life, career, and more recently, conservatorship battle to paper. It's expected to go in-depth into her family dynamics, team, and likely other potentially difficult personal events the public hasn't been privy to.
For the singer herself, though, it seems that writing the book has overwhelmingly been a positive, and healing experience. "I'm writing a book at the moment and as it's actually healing and therapeutic," she wrote on Instagram. "It's also hard bringing up past events in my life..I've never been able to express openly!!!"