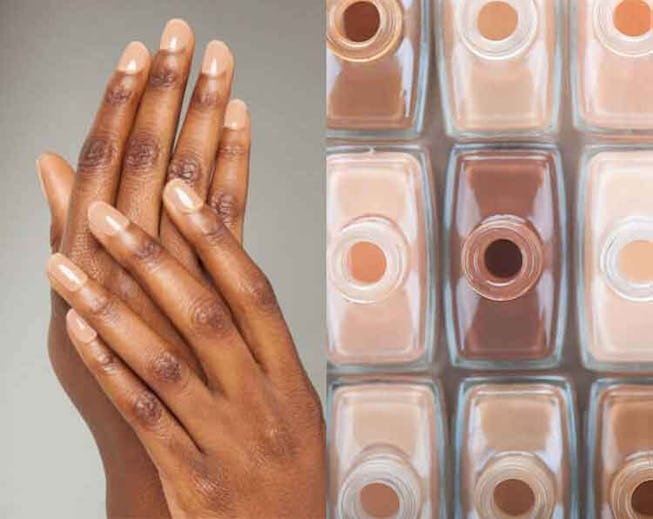 Butter London
Barely-There Manicures Are The Season's Hottest Nail Trend — & Here's The Easiest Way To Do It
Say hello to "naked" nails.
Written by Marissa DeSantis
We may receive a portion of sales if you purchase a product through a link in this article.
The shimmering glazed donut nails of summer and typical rich burgundy colors of fall have quickly (and overwhelmingly) been replaced by the naked nails of everyone's favorite quiet luxury trend. Spearheaded by former grunge girl, Sofia Richie Grainge, whose style rebrand perfectly embodied the trend's focus on understated elegance (and culminated with an epic wedding), the quiet luxury trend has since expanded to the beauty aisle. And while quiet luxury manicures can range from the classic French manicure to a sheer wash of color (think soft shades of blush or neutral gray), the ultimate way to wear the trend is to embrace a naked manicure that looks like you're not wearing any polish at all. If you weren't born with nails that naturally look glossy, Butter LONDON's Sheer Wisdom Nail Tinted Moisturizer lets you instantly achieve the look while helping to nourish and strengthen your nails in the long run, too.
The Color Choices
The hybrid nail treatment is available in five neutral colors, which were designed to complement a range of skin tones but can also be used however you like best. 'Fair,' the most recent color added to the collection, will be your lightest option with its cool-toned porcelain color, and 'Light' has a slightly warmer finish. For medium and darker skin tones, there's 'Medium,' a sheer latte, 'Tan,' a more caramel color, and 'Deep,' a milk-chocolatey shade. Regardless of your skin tone, if you're looking for a color that most mimics your natural nails, you'll want to opt for 'Fair' or 'Light,' basing your decision on whether you have more of a cool or warm undertone. No matter which color you choose, you can apply the polish directly onto clean nails, opting for one or two coats depending on how sheer you want the end result.
How The Product Works
Part of what makes this polish so appealing is that it immediately adds a healthy, gloss-like shine to your nails while also helping to improve the condition of your nails as you wear it. The secret lies in the butter LONDON formula, which combines moisturizing and strengthening ingredients with the brand's Micro Smart Active Technology to release the active ingredients at a slower rate for continued benefits. Among those ingredients are vitamin E and tea tree oil, which help with restoring brittle nails by locking in moisture. Additionally, the polish contains hydrolyzed keratin, arginine, and bamboo extract to help fortify nails so that they're less prone to peeling and breaking.
What The Formula Leaves Out
As important as what's in the Sheer Wisdom Nail Tinted Moisturizer is what's been left out. Like all of Butter LONDON's products, the polish is cruelty-free and made without 10 ingredients that are commonly found in nail polish, which are thought to be harmful or potentially irritating. Labeled as "10-free," the polish is formulated without formaldehyde, formaldehyde resin, dibutyl phthalate (DBP), toluene, camphor, ethyl tosylamide, xylene, triphenyl phosphate (TPHP), parabens, or gluten. Some of those ingredients — like formaldehyde, which is a known human carcinogen — are excluded from nearly every nail polish you can find. But ingredients like TPHP, which is thought to disrupt the endocrine and reproductive systems, and camphor, which can cause allergic reactions and even dizziness, are still commonly found in other nail polishes.
Shop The Sheer Wisdom Tinted Nail Moisturizer
If you're interested in trying out the naked manicure trend for yourself, you can purchase Butter London's tinted nail moisturizer through the link below.
This article was originally published on