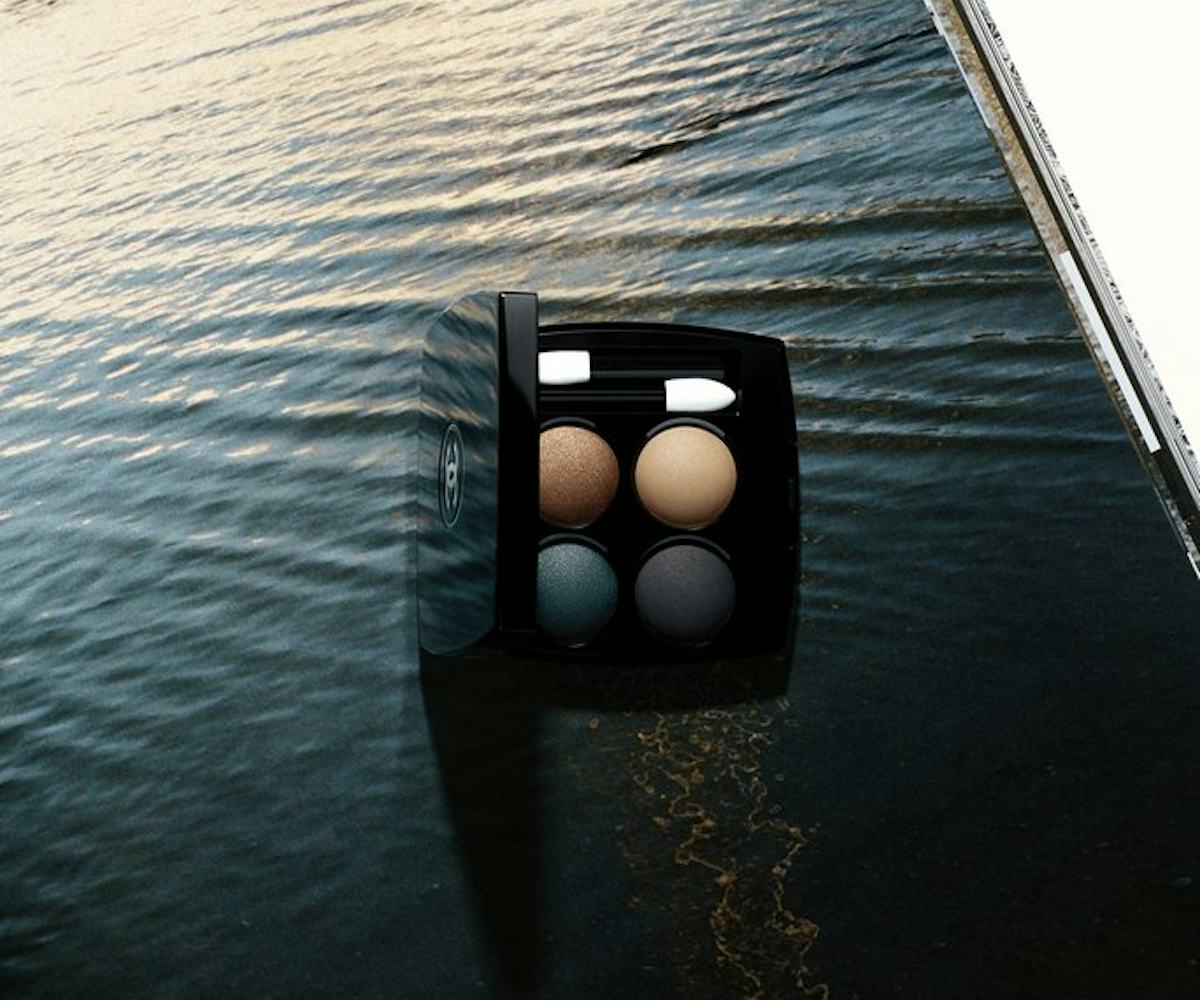 You Have To See The Travel Diary That Inspired Chanel's New Makeup
It all went down in a van in Cali
When Chanel presents something new, the iconic brand goes big. Look no further than its Fall 2017 Haute Couture runway show for evidence: It featured a towering, built-to-scale model of the Eiffel Tower! So when Lucia Pica, the brand's global makeup and color designer, came to L.A. to present Chanel's new makeup collection recently, we expected something just as big in scale. What we got was far different, and much more soulful, than we could have imagined.
Despite all the budgetary perks, all the aching glamour and luxury, that comes with Chanel, Pica chose to find her collection outside of the corner office filled with mood boards. In fact, it was born among the highways, truck stops, and rugged landscape of southern and central California. 
"I know what I like. I know how passionate I am about colors and how to pick colors and how they look good on people—I have that," she says of the creative process. "But I want to feel like I'm discovering something new. It's an exciting thing." 
After posse-ing up with a scant crew of two—renowned gallerist and photographer Max Farago (who also happens to based in L.A. and knows the roads) and film director Clara Cullen (who shot breathtaking footage along the way)—Pica packed a van with snacks and a few other essentials and hit the road. Left behind? An itinerary and notions of trend forecasting.
"We didn't arrange anything," she says. "We just took off in a big car. It was very very basic, not like a photo shoot or a big Chanel production. I wanted it to be a real, personal experience, something I would do by myself, so it was very spontaneous."
As it turns out, it's all she needed to make the most covetable makeup collection we've seen in awhile. The short trip, which took just a few days, produced both bold and serene shades, inspired by nature and urbanity; no matter where they fall on the saturation spectrum, wearability and ease are at heart. But more than just that, the road trip produced a collection the bears a soulful connection to real places and experiences.
Below, Pica shares a few highlights from the road and how they came to influence the Chanel Travel Diary Makeup Collection, available now at Chanel's website and in stores come September.
Fiery sunset shades have inspired countless eye makeup looks this summer, but when Pica caught the blazing orange in this California sunset, she opted to use it as a jumping-off point for a just-as-intense lip shade: Chanel Rouge Allure Velvet Lip Colour in "First Light." "What I really like, especially with this color, is that it looks like it has this light coming out of it," she says. "It is quite wearable for different skin tones, even though it might look too intense [in the tube]. When you put it on, it doesn't clash with the skin and wears very well."
Want to road trip from L.A. to Big Sur in a reasonable time? Take I-5, which runs through the middle of the state and offers a whole lot of nothing to look out (save a glorious In-N-Out sign near Kettleman City). But if you want to catch some of the most surreal coastlines that Cali has to offer, take the 101, which hugs up to the coastline on the way to Santa Barbara and up into Monterey county. Another pro tip: When you find something beautiful, sit and stare at it for awhile. "It's about opening up to the changes. You can look at the same thing, but seeing it at different times of the day can give a different feel, like seeing the changes in the sky—the purple pink going into orange going into brighter orange into a stronger blue. Sometimes you need to sit down and observe."
The tranquility captured in this coastal shot inspired two nail shades in the collection: Le Vernis Longwear Nail Colour in "Horizon Line," a soft green-gray shade that mimics this moon-spiked sky, and Le Vernis Longwear Nail Colour in "New Dawn," a taupe-gray that was inspired by the sheets of dissipating clouds seen in this shot.
Only an inspired makeup creator can look at Big Sur's lush landscape and see the perfect shades for a complexion palette. "You've got literally every color in here," Pica says of the image that inspired Chanel's first palette for the skin, Chanel Palette Essentielle. "The orange, the berry, the warm, the cool," she says. "It's as if it were made for me." Sure enough, the burnt shades directly translate to the concealer formula in the palette, ghost white vegetation correlates to highlight shades, and berry-tinged senna flowers are reflected in the lip and cheek color.
It's not just the shades that had to look natural—Pica was sure to create formulas that looked natural on the skin, too. "This is not your contour and highlight world," the makeup pro says of the formulas in the palette. "It's more of an answer to that in a way. You still get the sculpting of the face, but you get a fresh-skinned result. Even with a highlighter, you're still going to have an effect of catching light on the cheekbones, but everything feels more subtle and easy and natural."
In fact, the concealer shade (which doubles as a contour) is so wearable, that Pica uses it as a foundation in a pinch. "On days where I have jet lag, I put this all over my face and blend in, and it's still natural and I don't feel like I'm wearing so much makeup."
Though nature serves as a hell of a muse, Pica was conscious not to get too caught up in the dream-like beauty of things. At one point in the trip, she admitted, "I've seen a lot of nature—I need something a little more gritty." She adds, "I like the idea of opposing something romantic, something nature-based with something more gritty. When doing a collection, I need to have juxtaposition, a little bit of contrast."
To create this balance while on the trip (and in the collection), she captured photos of big rigs at a gas station and shots of the depleted L.A. River. But even its pool of water—which, in this photo, conjures colors of an oil slick—produced collection-worthy shades in Pica's mind. She and her team produced a whopping three products based on this and other images of the L.A. River: Chanel Multi-Effect Quadra Eyeshadow in "Road Movie"; Chanel Ombre Première Longwear Cream Eyeshadow in "Memory," and Chanel Ombre Première Longwear Cream Eyeshadow in "Urban." Even better: The powder and cream shadows were made to be layered without feathering or flaking.