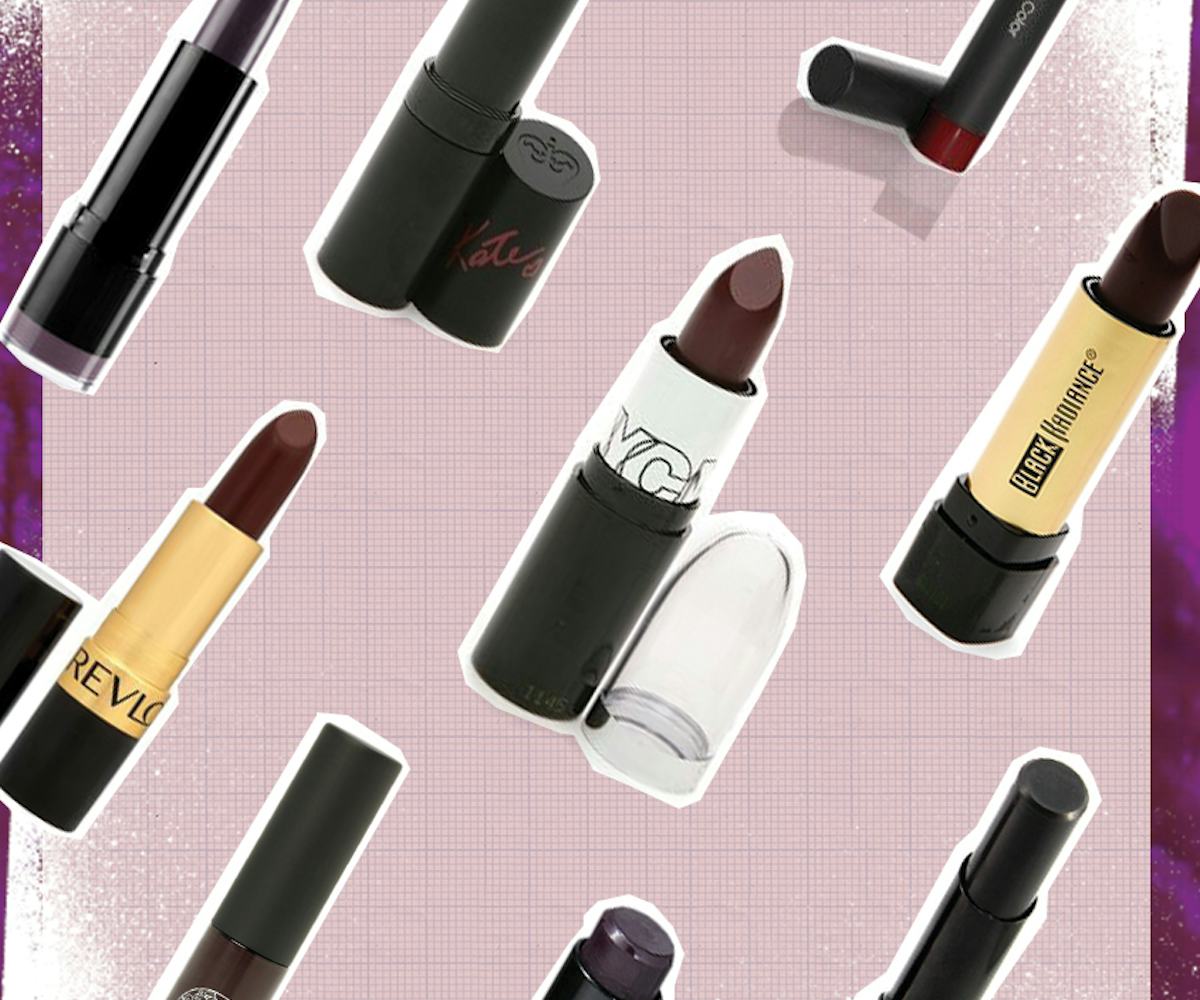 the 10 best dark lipsticks for under $5
for babes who want to look badass on a budget
Halloween. Hot toddies. Dry leaves smacking you in the face as the wind picks up. If you're anything like us, you've been wearing leather boots and big sweaters in air-conditioned rooms all summer and brewing pumpkin-spice swamp water in the Keurig at work because fall can't come fast enough. And, probably, rocking dark lipstick.
What's better than dark lipstick? Not much. It looks good when it's messy, it looks good when it's neat, with a full face of makeup or with nothing more than a negligee and a prayer. It adds instant mystery, intensity, and no one notices if you ruin it with wine. In fact, it's encouraged. As we've learned from rock goddesses Brody Dalle and Courtney Love, dark lipstick always looks better a little roughed up. And with longer nights fast approaching, there's no better time to add some black magic to your beauty arsenal.
Now, we love luxury products as much as anyone. And in many cases, you really do get what you pay for. But times are tough, and as our mothers say, there's no reason to pay top dollar for anything designed to be left on a glass, a mirror, or a person. Babes who want to look badass on a budget, rejoice: We have gone into the underworld of strip malls and drug stores to find you the best dark lipsticks under $5 for your experimenting pleasure. Pair them with messy hair and smudged eyeliner. Leather boots and big sweater optional.
Calling all night crawlers: This dark, smoky aubergine with blue undertone is not for the faint of heart. Layer Rimmel's Lasting Finish lipstick by Kate for depth, or dab it on lightly for a delicious blackberry stain. This pick also wins Sexiest Packaging Award, because Kate Moss can do no wrong.
Smells like: synthetic powdered sugar
Lasted through: the night shift in a candy store
Rimmel, Lasting Finish Lipstick by Kate in Kate 04, $4.99, available at Ulta.
A cult favorite if there ever was one. Revlon's Super Lusterous lipstick in Black Cherry is not discontinued, yet is in such high demand that it retails for as much as $17 on some websites. And for good reason—this creamy, blackened cabernet hue in its classic black and gold case will have you feeling like a film noir starlet.
Smells like: Nothing discernable
Lasted through: A full evening of summertime sadness
Revlon, Super Lustrous Lipstick in Black Cherry, $4.99, available at most drugstores. 
The brand is called N.Y.C. and this lipstick costs less than a dollar, so they understand how much you have to spend on products if you live there. Deep brown and red undertones give N.Y.C.'s Ultra Moist Lip Wear in Mahogany the perfect warmth for fall. Bonus: You get to shout, "That is mahogany!" when someone asks what lip color you're wearing.
Smells like: Chem lab Kool-Aid
Lasted through: One bottle of Malbec
N.Y.C., Ultra Moist Lip Wear in Mahogany, $0.99, available at CVS.
For the lazy among us, e.l.f.'s matte lipstick-liner hybrid in a twist-up pencil makes application nearly foolproof. Wine is a lively, semi-matte sangria shade that will wake up your face and stay put for a good while. Extra points for the chic minimalist packaging.
Smells like: the plastic its housed in
Lasted through: messily eating a pineapple
e.l.f., Matte Lip Color in Wine, $3, available at e.l.f.
Wet 'n Wild's Megalast Lip Color in Vamp It Up is the broke girl's answer to the cosmic gift that is MAC Cyber—at less than the price of a subway ride.
Smells like: Nothing discernable
Lasted through: Three local bands, plus encore
Wet 'n Wild, Megalast Lip Color in Vamp It Up, $1.99, available at Walgreens.
NYX's Extra Creamy Round Lipstick in Bruised boasts a burnt-blackberry hue with a wicked red undertone, just like its namesake. Excellent as paired with a tattoo choker and flannel overshirt.
Smells like: An unscented candle
Lasted through: Two cans of Strongbow and a Hole record
NYX, Extra Creamy Round Lipstick in Bruised, $3.99, available at NYX Cosmetics.
Hard Candy's Plumping Serum Gel Lipstick in Wanted is a sheer, daytime-perfect plummy glaze reminiscent of Clinique's iconic Black Honey hue. Frequent reapplication is necessary, but you won't mind because it feels so good to put on.
Smells like: Vanilla cupcake
Lasted through: One quadruple iced latte, sipped through a straw
Hard Candy, Plumping Serum Gel Lipstick in Wanted, $5, available at Walmart.
Dark lipstick connoisseurs, look no further than Black Radiance. Designed with deeper skin tones in mind, this line of lipsticks is a much-needed antidote to the standard-issue reds, pinks, and nudes that are typical drugstore fare. Panther is a blackened plum with a deep-red undertone and serious staying power.
Smells like: Possibly Play Doh
Lasted through: Three instant coffees and a Black Books marathon
Black Radiance, Perfect Tone Lip Color in Panther, $1.99, available at Walgreens.
Hot Topic's Matte Lip Cream is a bit like oil paint in that you can manipulate it endlessly once it's on. One coat of the Deepest Berry hue gives you a sheer wash of grayed blackberry, two coats provide a nice, dark base for layering. Though odd and unwieldy in consistency, the unique color payoff and staying power are worth it.
Smells like: Scratch 'n sniff cherries
Lasted through: Watery whiskey and a goodbye kiss
Hot Topic, matte lip cream in deepest berry, $4, available at Hot Topic.
What would this list be without a quintessential black lipstick to bring you back to your teen goth days? Even if you never go full I'm Wearing Black Lipstick, it's a great way to add depth and dimension to lighter colors, and way better than smudging black eyeliner over your lips, like you used to do.
Smells like: Floral adhesive
Lasted through: Argument with mom about being too old to wear black lipstick
L.A. Girl, Cosmetics Luxury Crème Lip Color in Dreamer, $4, available at L.A. Girl.