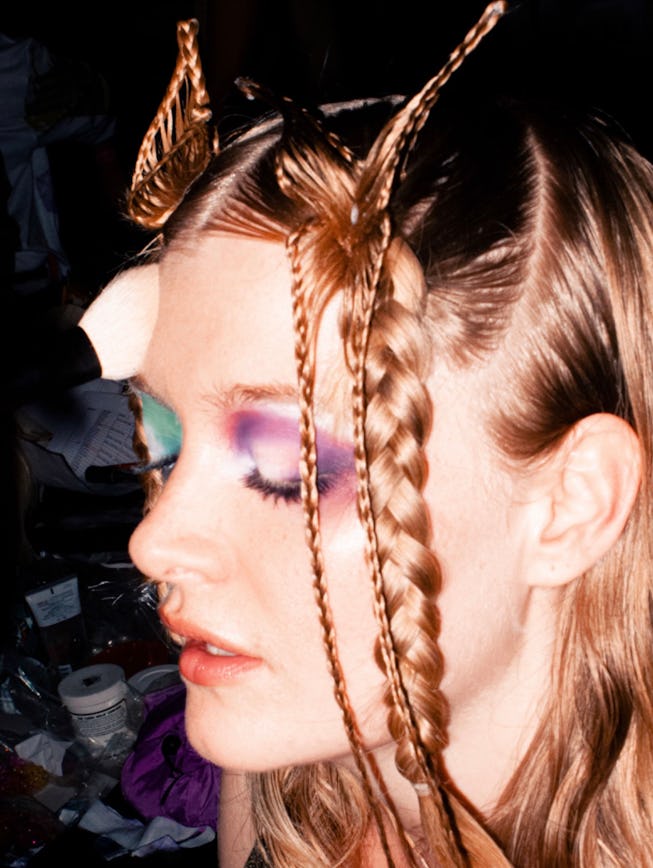 Chopova Lowena's "Butterfly Hair" Is Not What You Think
Wake up babe, a new butterfly-themed hairstyle just dropped at London Fashion Week.
The season at London Fashion Week, hair designer Kiyoko Odo might take the prize for the most imaginative and fantastical runway hair. The artist sent models at the Chopova Lowena show down the runway with "butterfly hair"—small braids sculpted into shapes of butterfly wings—looking so 3-dimensional as to appear ready to flit away at any moment. The inspiration for the hair came from (you guessed it) Y2K era butterfly clips. "The idea came from butterfly clips because I thought if I can them with hair that would look cool," Odo told NYLON. It did look cool, indeed.
Odo says she created "French lace braids" with some extensions to create the 3-D butterfly accessories. "I gelled them and added them to the model's hair," she adds. Much as was the style with '90s butterfly clips, the cool factor comes from a somewhat randomized and unique, stylized placement. Odo added multiple butterfly braids to the top of one model's head, symmetrical face-framing butterflies to another, and butterfly wings to the end of a braid also, falling down the model's back.
Alongside butterfly hair pieces, hair at the Chopova Lowena was all about maximalism. There were blue ribbons, clear and green beads, and white shells braided into hair, along with silver charms and plastic butterfly clips sprinkled throughout the looks. One model even had cut-out geometric shapes hanging from their locs.
While it's clear the Chopova "Girl's Tear, Girls Tear" Spring Summer runway hair may not be easily re-created at home (without tears actually ending up being shed). Odo's butterfly hair designs serve as a nice reminder that there's always a new way to approach an old favorite accessory. Now we wait until hair extension butterfly clips hit the market.