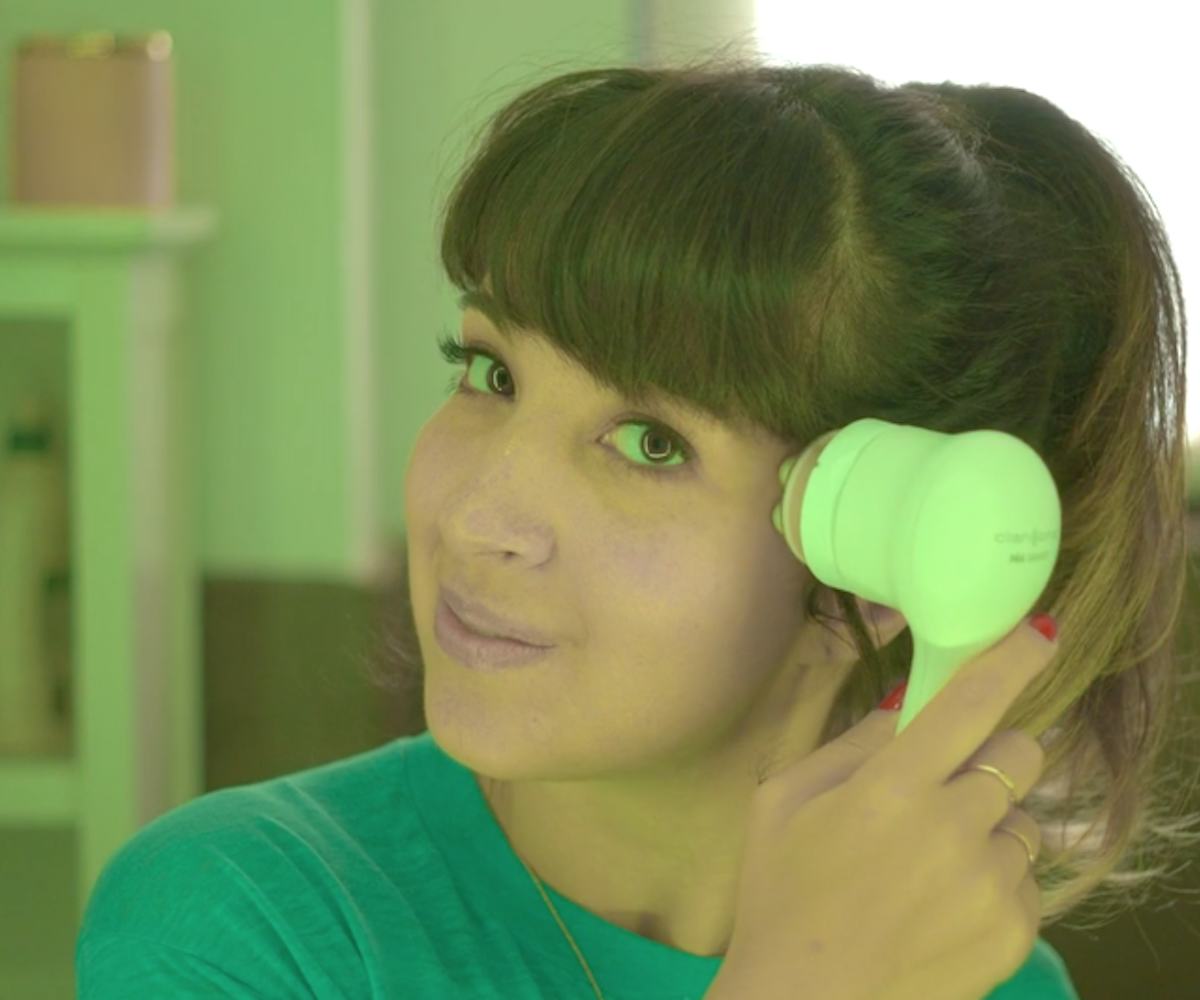 In Praise Of The Skin-Care Routine
As told by the women behind Chillhouse, Y7 Yoga, and Small Girls PR
Hear us out: Skin-care routines should be classified as sacred rituals. Even if you're not a self-identified "beauty guru," there's nothing like spending a few minutes with yourself—and no distractions. And it's a daily ritual, so no matter what unexpected twists and turns the rest of your day may hold, at least you've had one moment of calm—whether that be bright and early or right before you go to sleep. Skin-care routines are incredibly self-reflective, too: You're literally looking at yourself in the mirror for a few minutes and focusing on… just, you. Nothing else. It's a quiet moment to think about whatever.
We spoke with Mallory Blair, Sarah Levey, and Cyndi Ramirez—three women in the business of disrupting industries—who share our outlook. They use Clarisonic Mia Smart face brushes to ensure that, even if they only have a couple of minutes, their faces are getting the deepest clean possible. They make time for their routines in the morning, so that they start their day off with a clear face and mind; all three have incredibly packed schedules, and find that having one moment of relaxation before the start of their day can be vital in making sure they make the most out of the rest of it. 
As the CEO of Small Girls PR, Blair focuses on breaking out from the mainstream. Her company approaches PR in a unique way—by taking things straight to social media. She helps her clients make viral moments to ensure that the whole world is buzzing when they drop some news. And with a business centered around the whims of the internet, there's no telling what she's going to be doing on any given day. But one thing is certain: her morning skin-care ritual. She says, "It's my me-time and when I can really decompress." Plus, it's not a bad time to find some inspiration: "Actually, some of my best ideas [originate] when it's just me and my moisturizer just hangin' out," she says of her own morning routine.
Levey, the founder of Y7 Yoga, notes that she's lost without her morning refresh: "If I miss that, I feel a little scattered—I feel rushed, like I missed something." That's understandable, seeing as she created an enterprise surrounding the ritual of yoga—her life is grounded in routine. But her brand is constantly evolving—when it started out in 2013, Y7 was located in a tiny Williamsburg studio with yoga teachers hired from Craigslist, and it has since expanded into a bicoastal empire with nine locations and a clothing line collab with Year of Ours. Plus, Levey is working on a book about her work. With so many projects happening at once, it's safe to bet that Levey doesn't get that many moments to relax during the day, so the morning is her time, period.
Ramirez, the founder of Chillhouse, notes something similar about her morning routine. "A lot of times it really sets the tone for what I'm doing that day," she says of her skin-care ritual. She knows what she's talking about when it comes to self-care, too—Chillhouse is a coffee house, nail spa, and massage center all wrapped up into one. "We want to be the millennial voice for what self-care is and should be," she says of her company's mission. She's made a business based on helping others indulge in themselves, and her practice of self-care is making sure her morning sets the right vibe for the rest of the day.
No matter what your day entails, there's comfort in having at least one constant to rely on. And if it's something as simple as washing your face, then make the most of it by using your Clarisonic. Spending a couple of minutes to take care of yourself will definitely push your day in the right direction. 
Credits:
Created and Produced by Jake Strasser
Directed and Produced by Jeff Pinilla
Directed and Produced by Matt Pourviseh
Edited by Jeff Pinilla
Produced by Astronada
Casting by Ali DiEmidio
Production Coordination by Nicole DeGregoris