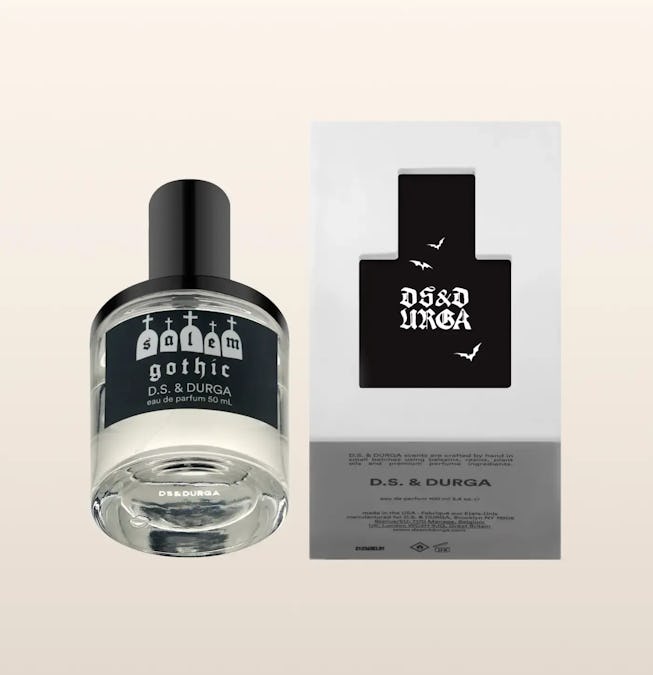 This New Goth Fragrance Includes Notes Of Cemetery Flowers
D.S. & Durga's limited edition Salem Gothic Fragrance is haunting — in a good way.
We may receive a portion of sales if you purchase a product through a link in this article.
Halloween beauty is not usually a particularly sophisticated category. It calls to mind wheels of primary color face paints and too-long strip lashes, or maybe a haphazard sprinkle of chunky plastic glittera and a trickle of fake blood. It's fun and campy, but not particularly chic (nor does it have to be.)
But while some people are content to play dress up for one weekend of the year, there's another kind of person who goes for Vamp nail polish all year round and considers black eyeliner an essential part of their no-makeup-makeup look. For them, spooky season is a state of mind—and they deserve the option of fancy beauty things too. For the most discerning of former goth teens, niche perfume house D.S. & Durga just dropped a new limited edition luxury fragrance in the spirit of Halloween. And there's not a dash of cinnamon or pumpkin spice to be found. Meet, Salem Gothic eau de parfum.
What Does It Smell Like?
Salem Gothic is described as having notes inspired by spooky haunts, including "frosty violet and lichen in the old cemetery", a cold breeze from a spooky ship yard, and sandalwood central to many witchy spells.
The fragrance opens with top notes of violet, baby's breath, and ocean—and upon first impression, it does somehow smell icy and sharp. If a fragrance cloud can have pointy edges, this is it. But just like any true goth kid, the fragrance has a soft (emo?) center that later reveals more earthy, grounded notes including sandalwood, calla lily, and lichen.
In a fragrance landscape that tends to favor juicy and gourmand fragrances meant to attract and smell good enough to eat. This is the opposite of a come-hither, cake and roses scent. Salem Gothic, instead creates an aura and a sense of aloofness. I wouldn't call it a "date-night" perfume— but maybe if your preferred date activity is ghost-hunting, it is.
Jenna Ortega at the "Wednesday" World PremiereAmy Sussman/GA/The Hollywood Reporter/Getty Images
Dior SS24WWD/WWD/Getty Images
Rodarte FW 23Sean Zanni/Patrick McMullan/Getty Images
Who Is It For?
D.S. & Durga fragrances are all considered unisex, so the Salem Gothic wearer is likely anyone whose interested is piqued at the very idea of a Halloween specific fragrance. The perfumer, David Seth Moltz says he was inspired by alternative '90s teens (having been one), growing up in Salem, Massachusetts. He envisioned the kind amateur witches that hang out in cemeteries and at Hot Topic at the mall. Despite the attention-grabbing nature of the macabre notes, the fragrance is not noxious, heavy, or self serious. It's like if Wednesday Addams went out to a rave and let her pigtail braids loose for once.
Final Verdict:
The person who wants to buy Salem Gothic (me), probably already knows they want it from looking at the bottle alone, with the label spelled out in tiny headstones. But from the first spritz, it makes a big impression being both moody and exciting at the same time. It's unlikely you already have anything else that smells like this in your fragrance wardrobe, but you'll fell incredibly cool once you do.
Salem Gothic is available now at dsanddurga.com for $250. But be warned, the new fragrance is one of the brand's highly coveted, limited edition "Studio Juices", so I suggest acting quickly before it magically disappears.