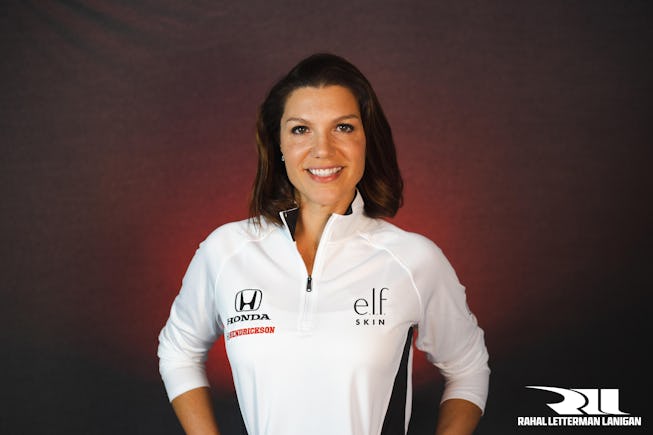 Courtesy of e.l.f. Skin
E.L.F. Skin Is Teaming Up With Indy 500 Driver Katherine Legge
The racing star will represent E.L.F. Skin on and off the racetrack.
We may receive a portion of sales if you purchase a product through a link in this article.
With Memorial Day weekend almost upon us, e.l.f. Skin is gearing up to join racing driver Katherine Legge at the Indianapolis 500. Legge will be representing the beauty brand, both on and off the racetrack, moving forward. "Motorsports is possibly the only professional sport where men and women can compete on an even playing field," Legge says in a press release. "Representation matters, which is why I'm thrilled to align with e.l.f. SKIN, a brand that champions these same values."
Professional athletes have a variety of high-performance skincare needs, including skincare that can withstand speed and sweat. As a vegan athlete, Legge has created a vegan and cruelty-free routine with e.l.f. Skin products, including her favorites: Holy Hydration! Makeup Melting Cleansing Balm, Pure Skin Moisturizer, e.l.f. Blemish Breakthrough Acne Fighting Spot Gel, and Suntouchable! Whoa Glow SPF 30. These products can help combat the environmental stressors that come with driving year-round in hot, sweaty conditions.
Legge is the only woman entered to compete in this year's event, becoming the ninth woman to ever compete in the Indy 500 in 2012, and again in 2013. "From our first conversation with Katherine, we quickly realized our shared commitment to supporting women in male dominated-fields," Patrick O'Keefe, Vice President of Integrated Marketing Communications, e.l.f. Beauty, said in a press release today. "Katherine is the only female driver at this year's largest single-day sporting event in the world — the Indy 500 — and we're ecstatic to be along for the ride, helping her with every eye, lip, face, and skin concern."
Legge posted about the partnership on Instagram, wearing a track top with the e.l.f logo on it. "First line of business is to tell y'all how proud I am to be partnering with the uber cool @elfcosmetics. I mean who doesn't want great skin at 200+mph?!," she wrote as the caption. If you'd like to support Legge (and her all-vegan e.l.f. Skin routine), the Indianapolis 500 is scheduled for Sunday, May 28 at 11 a.m. (ET) on NBC.