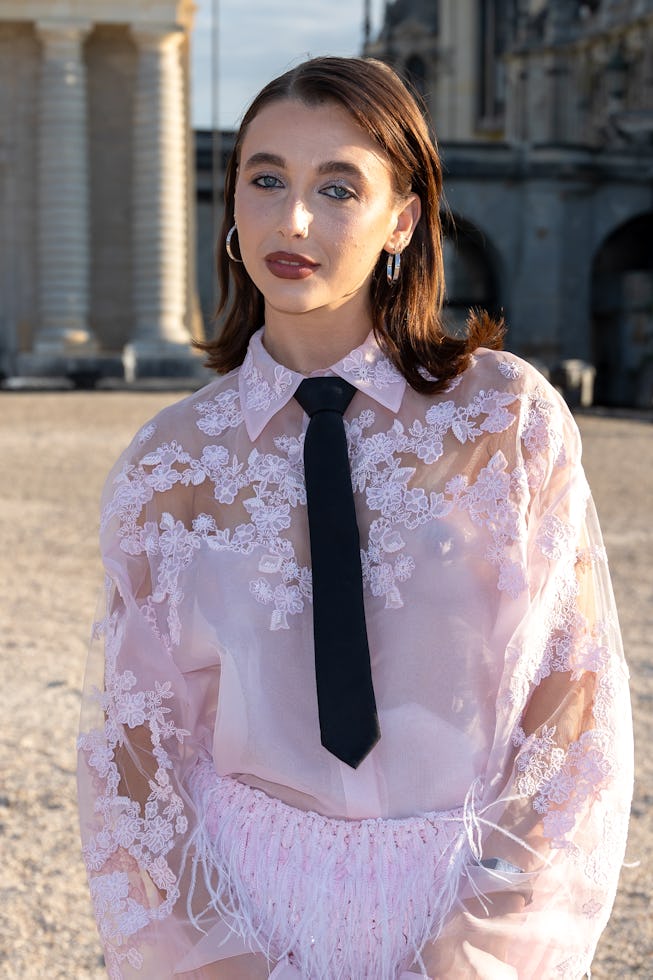 Emma Chamberlain Bleached Her Brows For Paris Fashion Week
The internet and fashion personality got an edgy makeover, including nearly imperceptible eyebrows.
Emma Chamberlain fans will know that the YouTuber and fashion personality isn't afraid of trying on a bold look. Whether it's bleaching and cutting a bob for the 2022 Met Gala or showing up to the Acne Studios show at Paris Fashion Week this year with messy hair and smudged party girl eyeshadow, she's proved herself to be more than willing to commit to a high concept look. Her most recent makeover? Alien-esque nearly imperceptible bleache brows for The Business of Fashion Gala during Paris Fashion Week at Shangri-La Hotel Paris over the weekend.
Emma arrived at the gala with her hair slicked back into a middle-parted bun and wearing a geometric sparkly floor-length gown. For her glam, she wore blue, emerald, and teal eyeshadow. Resembling the colors of peacock feathers, her eyeshadow was blended under her lash lines and up to her brow bone. With her eye brows bleached to nearly the same color as her skin, the effect was a completely bald brow look.
In true Emma fashion, she shared the look on Instagram, with a low-res relatable selfie post-event back at her hotel, wearing a robe and glasses, with her hair and makeup still fully intact. She also seems fond of the bleached brows already, keeping them for the Louis Vuitton Womenswear Spring/Summer 2024 show in Paris two days later. For the fashion show, she also wore her hair pulled back for that show but with loose face-framing pieces, flesh toned eye makeup, and oversized glasses.
Marc Piasecki/WireImage/Getty Images
The bleached eyebrow trend has been circulating for the past two years, with celebrities like Bella Hadid, Kristen Stewart, Kim Kardashian, and Maisie Williams. At this point, it's a right of passage in the fashion industry, so it was only a matter of time before Emma Chamberlain joined in. Only time will tell if her barely-there bleached brow will last beyond Paris Fashion Week.