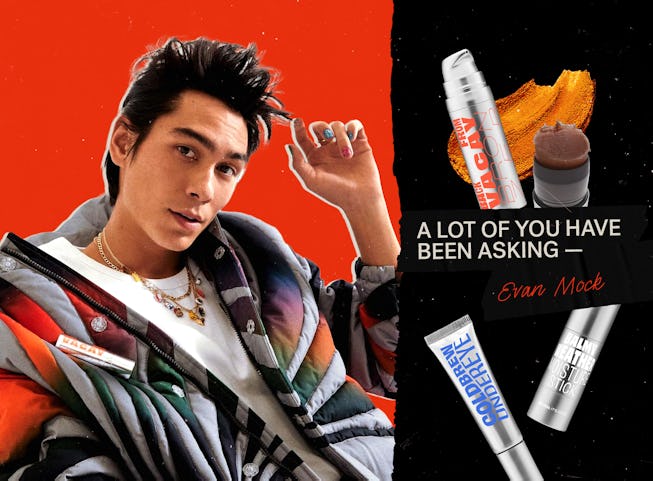 Lais Borges/Nylon; Good Weird
Evan Mock Wants Everyone to Get Weirder With Their Beauty Routines
The actor talks surfing, sunscreen, and becoming the creative director of new genderless beauty brand, "Good Weird".
Evan Mock has built a career out of making often unexpected leaps and bounds across industries. After spending his childhood surfing and skateboarding on Oahu's North Shore, Mock managed to go from skater-turned-model to becoming a model-turned-actor, breaking out in the HBO Max series Gossip Girl as the trepidatious Aki . Now, Mock can add yet another job title to his resumé. He's the creative director of the just-launched genderless beauty brand, Good Weird, working alongside the co-founders Stephen Yaseen and Jon Wormser. Yaseen says that Mock was a muse for the brand since the very beginning. "We've always been drawn to Evan's bold fashion statements and originality," he told NYLON. "Likewise, Evan was drawn to Good Weird's belief that beauty is for all."
It's true that before the launch of Good Weird, Mock had already established himself in the fashion and beauty industries in his own right. He became well known for his street style and pink buzzcut— which he had before it was a part of his look for Gossip Girl. The actor and creative director has since grown out his hair (even trying out a rat's tail for NYFW) and often posts his own unique skate-meets-high-fashion style on Instagram. Still carrying his love of surf and skate culture close to his heart, together with Good Weird, Mock hopes to make beauty approachable and accessible to everyone.
Below, Mock talks surfing, sunscreen, and bringing "Good Weird" energy into your beauty routine.
What's your earliest beauty memory?
"I've been surfing ever since I was young, and something I recall very vividly is putting sunscreen on every day. That practice is still instilled in me now. It's a big step in my daily routine."
Do you have a beauty philosophy?
"I live by cold showers. I'm pretty active and always on the move, so they're a great way to keep me refreshed when I wake up. I also love a good under-eye patch for when my skin is feeling dry or dull."
What's a Good Weird product that you can't live without?
"It has to be the Balmy Weather Moisture Stick. It's never not in my pocket. What's fun is that it is multipurpose—you can use it as a blush or just for some extra dewiness on your face—but I actually like to use it as a lip balm."
Why was it important to you to be involved in a genderless beauty project?
"Beauty is for everyone, and Good Weird embodies that in every sense. Good Weird encourages you to be unapologetically yourself, which is something that I was really drawn to on a personal level. I also think it's important to make beauty approachable and accessible for everyone, and I'm excited to work alongside Jon and Stephen to bring that to all communities."
You became known for your pink hair but have since dyed it back. Is there a haircut or color you'd love to try but haven't yet?
"I'm content with my natural hair for now, but it's been nice to be able to style it in different ways and shapes."
Is there a skincare hack that's changed your life?
"Sunscreen is a big staple for me. It's helped my skin stay protected and pristine, especially in hot weather."
Do you have any advice for men who feel intimidated by the beauty space?
"Don't be afraid to explore the beauty aisle and find what works for you, even if it's just one product. Beauty really is and should be for everyone."