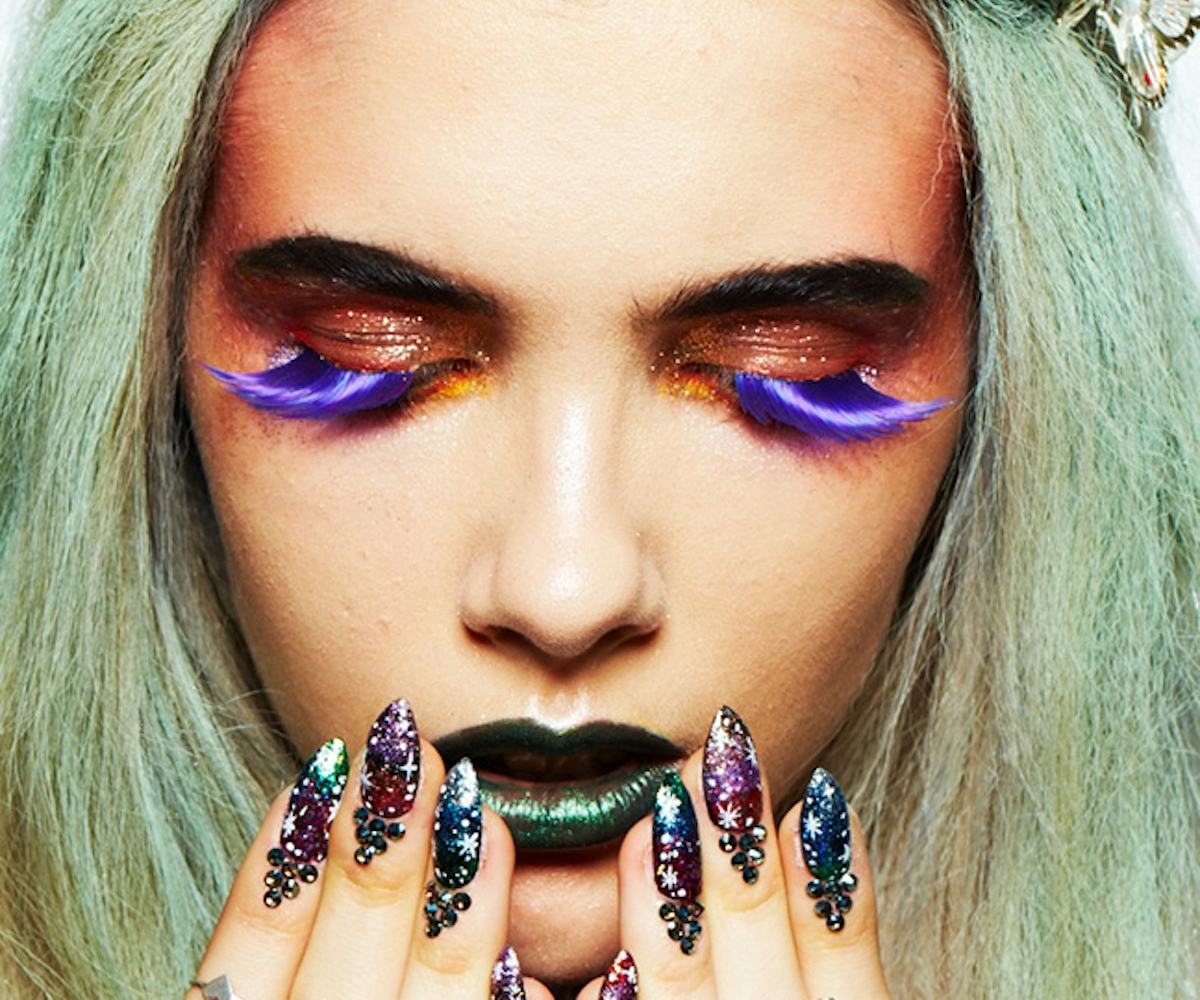 Photo by Brooke Nipar
everything you need to know about eyelashes
tinting, extending, & conditioning
There's perhaps no greater addition to the human face than eyelashes. They protect our eyeballs from life's pesky airborne debris and reduce the intensity of the sun's harmful rays (think your own personal pair of sunglasses for your eyelids). Also, they're just so pretty. And while we can't all have the lengthy eyelashes of say, a desert camel, the beauty industry never fails to provide us with cool ways to enhance 'em.
If you're wondering what to do with your eyelashes this time of year, start here. We spoke to a couple of the industry's leaders on tinting, extending, conditioning—and even falsies.
Tinting
The thought of dyeing a set of eyelashes might sound like one too many chemicals (and a whole lot of discomfort), but there are actually a few DIY ways you can do it. Try Godefroy's 28-Day Permanent Eyelash Tint Kit, for example. It's fairly easy to use, and has instant results. 
Or for the extreme DIY-ers out there, take it back to the basics with Byrdie's at-home trick. All you need is water, a clean mascara wand, Henna powder, cotton balls, and some petroleum jelly.
Conditioning
Conditioning your eyelashes is just like conditioning the hair on your head. Turns out, one of the best things you can do for your lashes is condition them on the daily. It will help increase lash strength and flexibility to create more resilient lashes that can withstand the bombardment of tools, chemicals, and adhesives. Try RevitaLash's Nouriche Conditioner ($130)—it's a pretty penny, but a little bit goes a long way and you'll thank us later. (Tip: They've got one for brows, too!)
Or try Wink for a more wallet-friendly version. It's all-natural using omega-3s and omega-6s (along with castor oil, which is said to aid in darkening the lashes) and works for your brows as well.
Extending
Let's face it: There are a million different marketing strategies out there that we can all admit to falling for when it comes to getting longer lashes. But in reality, there's no such thing as instant lash growth without an outstanding set of falsies. While some faux lashes can damage your eyelids over time, brands like Thrive Causemetics have developed false eyelashes that are formulated without any parabens, harsh chemicals, or latex, and can be worn up to 30 times with proper care. (We like the Jackie.) And for every pair sold, the company donates a pair to a cancer survivor in need.
"The faux lashes that were in the marketplace at the time didn't offer a solution as the lash strip base did not adhere to lashes without the support of a woman's natural lashes. I wanted to develop an easy-to-use solution for those women and through our proprietary lash strip base, our lashes flex and move with the contours of a woman's eyelid shape to work whether women have lashes or not," Karissa Bodnar, Thrive's founder and CEO, explained. Think TOMS Shoes, but for beauty.
Any more questions? Comment below and let's see what we can come up with next.