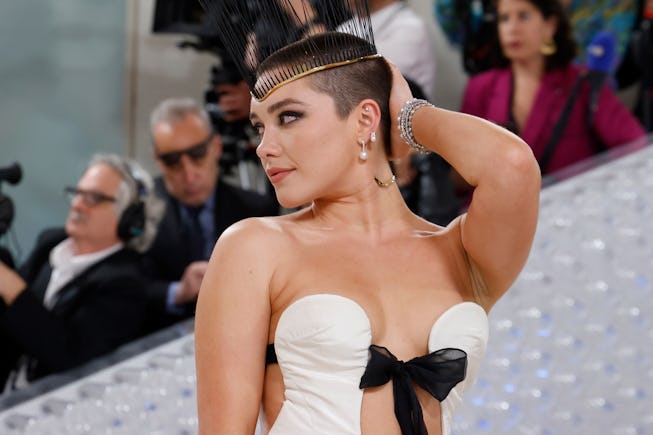 Taylor Hill/Getty Images Entertainment/Getty Images
Florence Pugh Dyed Her Hair Pink for Valentino
The actor's buzzcut is brighter than ever in Paris.
If anyone knows how to mark an occasion with a dramatic hair change, it's Florence Pugh. The actor debuted a brunette buzzcut at the Met Gala this year and has previously experimented with micro bangs, a short mullet, and hair color changes from brunette to red to blonde in a matter of months. On Wednesday, Pugh showed up at the Valentino Haute Couture Fall/Winter 2023/2024 in Paris with bright pink hair.
Pugh sat front row at the show, taking place at Chateau de Chantilly, in a sheer pastel lavender gown with a ruffled collar, a large black bow on the back, platform pumps, and a black studded purse. Her buzzcut, which has now grown an inch or two, had dark roots with pink hair dye at the ends, paired with pink, dewy makeup, and diamond earrings.
Over the years, Pugh has proved herself a fan of not only a short hair moment but a sheer dress moment, as she wore again for this ocassion. Last year, she wore another sheer dress to the fall 2022 Valentino couture show, taking to her Instagram to respond to the backlash around her visible nipples. "I've lived in my body for a long time. I'm fully aware of my breast size and am not scared of it," she wrote in the caption. "What's more concerning is…. Why are you so scared of breasts? Small? Large? Left? Right? Only one? Maybe none? What. Is. So. Terrifying."
Pugh is continuing her commitment to having fun with her hair and we're here for all the color changes — she did dip dye her long hair purple in 2021 after all. With her new short hair Barbie pink for the summer, we can't wait to see what cut or color the star will go for next. Considering she's now color-matching her hair with her outfits, the options are endless.