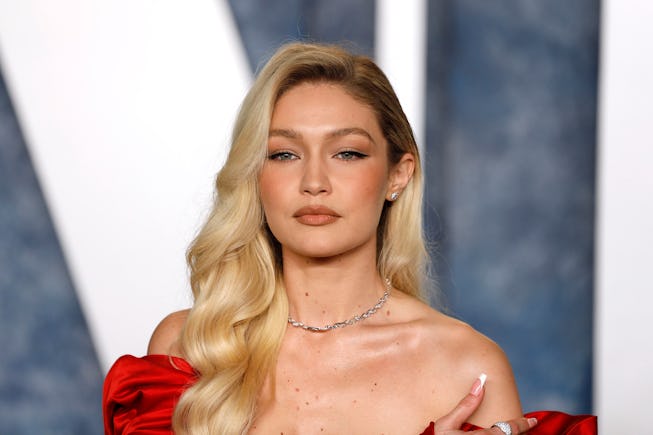 Robert Smith/Patrick McMullan/Getty Images
Gigi Hadid's Birthday Makeup Was A Pink Spring Dream
Taking rosy cheeks to the next level.
Regardless of a verbal group of men on TikTok hating on "birthday makeup", everyone knows that birthdays are the best day of the year for having fun with extra bold makeup. Clearly, Gigi Hadid got the memo for her look at her 28th birthday celebration. For Gigi's birthday on April 23, her makeup artist Patrick Ta posted a photo of her birthday glam to celebrate. "To Experience Your Heart First Hand Is A Gift. I Love You So Much. Happy Birthday My Sweets @gigihadid," he wrote.
The makeup look itself was bright and rosy to match her glittering pink flower statement earrings. Hot pink blush all over her cheekbones towards her temples was the focal point of the look, which was completed with bubblegum pink lipstick. Eye makeup was minimal, with little more than mascara and her brows were brushed up. Gigi's hair was slicked back into a wrap-around bun with spiky pieces sticking out, by hair stylist Laura Polko. The overall effect was a spring dream.
Gigi also posted another birthday weekend makeup look in an Instagram video, wearing less blush, more black mascara, and red lipstick on a trip to Disneyland. "More from my *dream bday weekend* soon…. but @patrickta and I had so much fun (& laughs) making this, to say: Thanks for all the birthday love I've felt from here at Disney and all over the world. 💖 My heart is full of gratitude," the model wrote as the caption.
It seems Gigi Hadid is a fan of over-the-top birthday makeup and so are we. After all, your birthday should be all about you and what makes you feel good. For Gigi, that seems to be bright pink blush or deep red lipstick, and we're here for both (along with all the cute Disneyland merch).