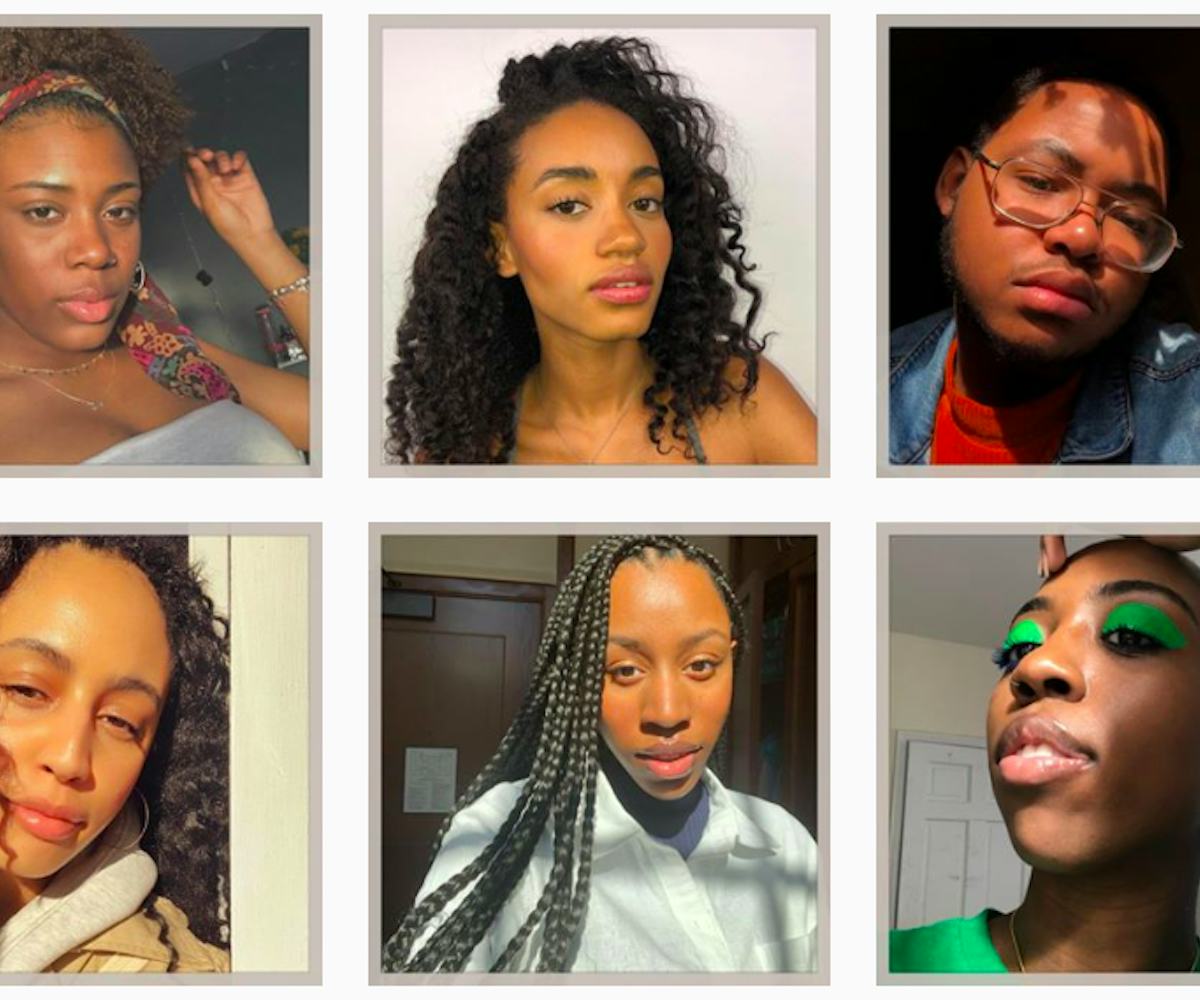 Screenshot via @glossierbrown
Glossier Brown's Instagram Community Pushes For True Diversity In Beauty
And it's enacting real change — online and off
by Christine Jean-Baptiste
Devin McGhee — an Atlanta-based grad student and creator behind the quickly growing Instagram account Glossier Brown — discovered Glossier the same way everyone else did, by scrolling through social media. At the time, the inimitable beauty brand only had two "dark" shades of its Perfecting Skin Tint. The product reviews were filled with testimonials of women who were "lighter than a brown paper bag," she explains to NYLON. "To get the perfect shade that truly worked for me, I had to mix different shades together." It's an unfortunate reality for many Black women when it comes to finding the right complexion shade, regardless of which brand they're shopping from.
But despite the limited color range back in 2014, Devin says she liked how the products looked on her skin, which is why she kept sharing her opinions on her personal Instagram account. Her posts caught the attention of not only women of color curious about how the products would or could work for them, but the team over at Glossier, too. She soon became a Glossier Rep — the brand's affiliate program — but quickly realized there was more potential to speak to the community she had inadvertently built. Enter Glossier Brown.
"I created the Glossier Brown community because I felt like it was a way for us to share tips and tricks as to what works for women of color using the products," she said of the account. With nearly 6k followers, the account became a home base, a Wikipedia, and a mood board for all women of color who were also Glossier customers and fans; a chance for them to see every dewy, creamy product on a number of nuanced Brown and Black skin tones.
"It's a huge resource and inspiration," Says Siyma Karim, 26, and follower of the account, "It's dedicated to showcasing people of color using a product that isn't always advertised in such a way. Glossier definitely uses more WOC models as of now, but it is very different from how people may use a product in real life."
Thanks to submissions, Glossier Brown ensures all kinds of women are featured on the page, with varying skin textures and undertones — McGhee's intention from the start. "I wanted to use real, everyday people. People who were not me, and people with different undertones. So I repost people's photos, so you can look on the page and possibly find somebody that looks like you," she said.
But it is more than just makeup for the creator. Through the posts on the channel, McGhee is transparent with her followers about the products that work for her skin tone, as well as the ones that fall short. "When you use your voice, you make a difference" she explains. "I have a duty to keep it real with other people that look like me because I know the struggle to find beauty products that will work for people that look like us." The creator says that by staying true to that idea, she's not only been able to gain her follower's trust, but she's been able to hold brands accountable, too — whether that's Glossier or any other popular beauty brand.
"Devin has been an important part of our Glossier family for many years, and it's been incredible to see the community and trust she has built with Glossier Brown," Kim Johnson, Community Manager at Glossier, tells NYLON. "We're grateful to her for the thoughtful ongoing dialogue that she has with both her audience and with Glossier."
That dialogue often includes criticism, and understandable disappointment, when products miss the mark in terms of inclusivity. It was a point of contention back when Glossier only had two dark shades of its only complexion products (in January 2019, the brand relaunched the Perfecting Skin Tint and Stretch Concealer with an extended shade range), and even more recently with the launch of Skywash eye shadow, the brand's first launch of 2020.
In a post made to the account, McGhee shared photos of herself wearing all seven shades of the matte shadow, which applied ashy and patchy onto her lids. "Many of you have reached out privately, asking for my honest opinion (& expressing your own disappointment), so I figured sharing here would be best," she started, going on to touch on each of the shades. "If your skin tone is my color or deeper, 70 percent of this collection may not work for you."
The post is now filled with dozens and dozens of comments thanking McGhee for her transparency. (Though, for the record, she has been recommending Brown and Black girls try shades Echo and Terra — they're "bae" according to McGhee.) Refreshingly, her transparency is welcomed on both sides.
"Inclusivity is one of Glossier's core values and incredibly important to our product development team," Kym Davis, Head of Product Development at Glossier, tells NYLON. "We do extensive testing throughout the process to ensure that our products and shades work across a broad range of skin tones. We're always learning and improving, and we're grateful to customers for pushing us to do better, whether that's through reformulations, shade extensions, or informing future product launches."
"I'm proud of this little community I've built," McGhee says of Glossier Brown."It's organic and it's authentic, and it's something that I love. It also gives me the confidence that I need to kind of chase my own dreams. Like if I can do this for somebody else's brand, I can't imagine what I can do for my own."
And as for that very own brand of hers — it's very much on the radar for the 29-year-old. Following the passing of her father, McGhee started working on her own skin care company, inspired by recipes she would make in her kitchen. The project felt like therapy at the time, but she soon realized that creating something of her own was a real option — a culmination of feeling tired with watching the beauty industry treating women of color like an afterthought. All she needed now was somebody to listen.
"Women in general, and then specifically women of color, have fewer opportunities as far as when it comes to finding investors and people to back them," she explains, "We just need to be given opportunities. I just need the opportunity to sit at the table."
McGhee encourages her followers to support beauty brands created by women of color, just as much as they support popular companies like Glossier. "I feel like we shouldn't have to wave our hands in the air to be included," she says, "Let's also support the ones that are already doing the work."
McGhee continues to empower the community she's brought together, ahead of the Glossier Brown's first-ever community event at Glossier's Atlanta pop-up. But surely, her journey influencing — and bettering — the beauty community won't stop with an Instagram account.