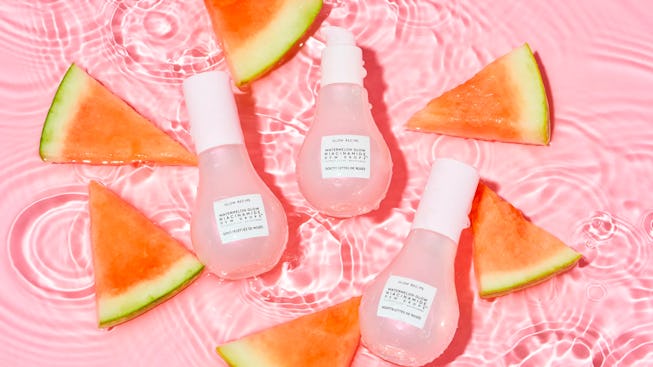 Courtesy of Glow Recipe
Glow Recipe Is Holding An Open Casting Based On Inner Beauty
It's the beauty industry's first anonymous campaign casting.
Fans of the Netflix show Love is Blind might be interested in finding out if model castings can be blind, too. That's what skin care brand Glow Recipe aims to achieve with the industry's first-ever anonymous casting. The brand is on a nationwide search to cast 10 models in a new campaign for their in-demand Watermelon Glow Niacinamide Dew Drops, opening up the casting to all Dew Drops fans—which will be many people considering that the product recently went viral on TikTok. The decision for the casting will be blind and based entirely on personality and inner beauty. The open casting is up now, and you can apply on the brand's website.
Glow Recipe posted about the open casting on their Instagram over the weekend, expressly stating that you don't need to have professional modeling experience to apply for this opportunity. "We've done open castings before, but we're especially excited to launch our first-ever Dew You Anonymous Open Casting," they wrote in the caption. "We believe that true beauty comes from within, and that anyone can star in a beauty campaign. We'll be choosing passionate Dew Drops lovers based solely on their personality and inner beauty without seeing what they look like."
The brand is partnering with our Diversity Advisory Board and Alex Love Consulting, an organization dedicated to fostering diversity, equity, and inclusion, to ensure that this process is as unbiased as possible. They also want to ensure that the final selection features diverse members of the Glow Recipe community. "We will be prioritizing diversity in our final selection, not traditional beauty standards⁠," the brand writes.
The casting is open to all Glow Recipe fans in the continental United States, 18 years or older who are comfortable speaking to camera. The shoot will take place soon on June 6th and 7th in New York City. The brand will cover travel and lodging for those outside of the New York Metropolitan Area⁠ and all chosen models will be compensated for their time. Applications are open now through to May 3, so be sure to act fast on the opportunity that can potentially take you from a fan of a brand, to the face of the brand.