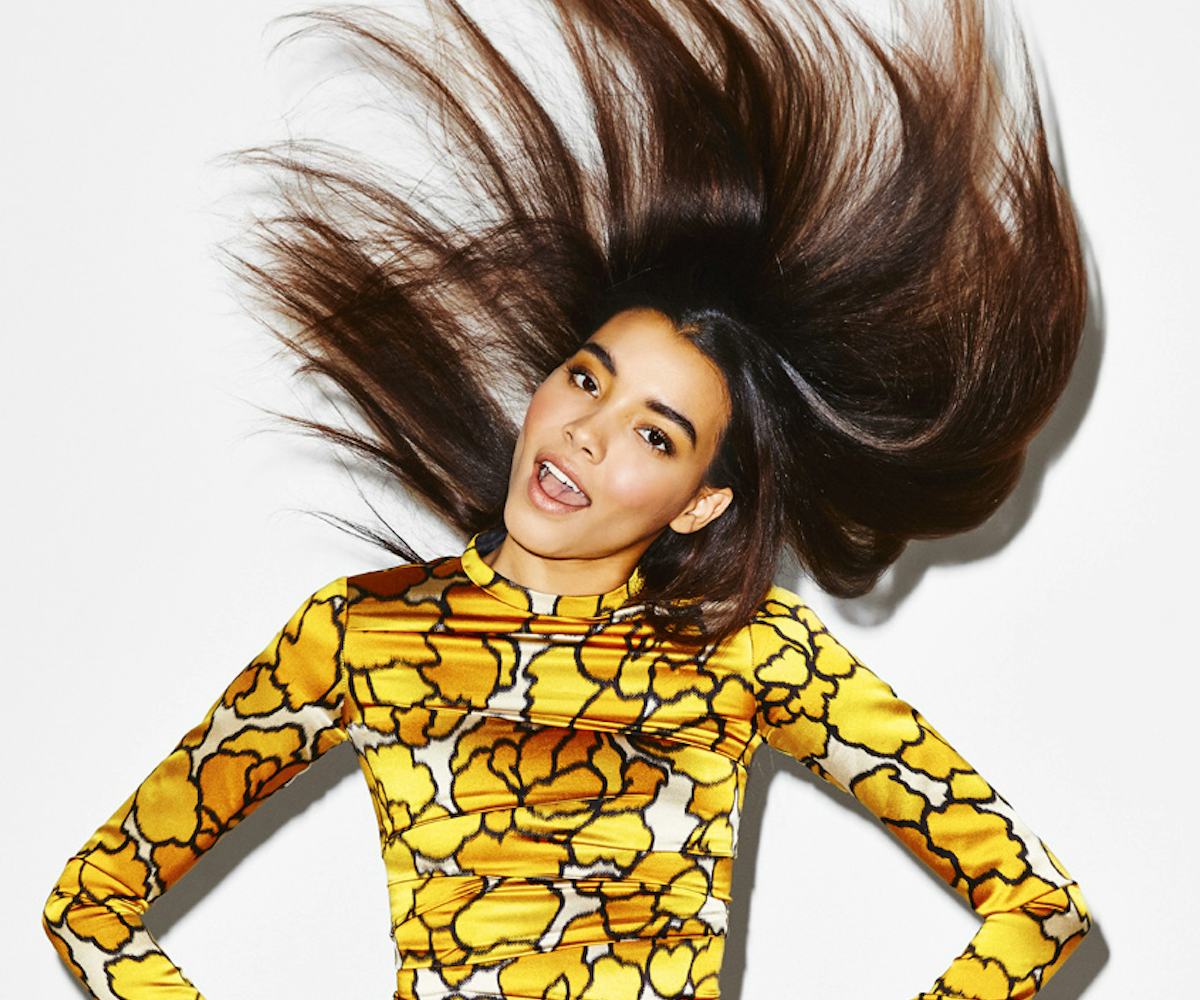 photo by aaron richter
here's how to fake a summery glow all winter
no fancy vacation required.
"What'd you do over the holidays?" No matter how trite and boring a question, people always ask. And as you dutifully tell them about your ramen-dominated staycation or having schlepped to Podunk, Nowhere to visit the fam, you see the pity in their eyes as they stare you in the face and anticipate their turn to tell you how ridic Vail has become since Colorado legalized weed.
Well, not this year, my friend. This year, you'll radiate such a warm, sunkissed glow that that your complexion will do the talking—and it will say, "this is what a week of yoga in the sand, swimming in the sea, consuming fresh juice and shagging a hot island boy looks like."
We can't think of a better way to combat a co-worker who brags about her life apres ski or the boyfriend who dumped your right before the holidays than to post a few #yachtlife pics from Instasham and turn up looking clear eyed and golden skinned. So with the help of a few dermatologists and celebrity makeup artists, we've devised a step-by-step plan for achieving an apres beach complexion without ever having booked a plane ticket.
THE SKIN CARE
Create Bright, Hydrated Skin to Sleep On
Getting summer skin in winter takes a lot more work than, say, summer skin in summer because the earth's elements are working against you. Cold weather and wind do enough to dry skin. But ODing on radiant heat—something inevitable when out and about--sucks the life and moisture from skin even more.
To transform tight, dry skin into bright, healthy skin, start the night before your back-to-the-grind debut with some serious exfoliation and hydration. Dr. Debra Jaliman, a 5th Avenue dermatologist in New York and author of Skin Rules, suggests applying a peel the night before you fake your summer look, to exfoliate dead skin cells and brighten the skin. Try the skin smoothing ReVive Glycolic Renewal Peel followed by a gentle, anti-inflammatory moisturizer that can do double duty for the face and the eye area, like Tammy Fender Intensive Repair Balm. Prep your lips by applying a vitamin and oil-rich balm, like Dermalogica Renewal Lip Complex, and summon the hydrating power of a humidifier. "If you live in a city like New York where radiant heat is used everywhere, then your skin's best friend in the winter is a humidifier. If you moisturize skin and lips and seal the moisture with seven to nine hours while sleeping, then it makes a huge difference in helping prevent dry, cracked skin," Jaliman says.
For Summer Skin, Ditch Your Summertime Cleanser
After a night of dreaming, finish priming your skin for the summertime look. Start with what Jaliman considers the most important step: cleansing. "Oftentimes in winter, patients come to me wondering why their skin is peeling, cracked or feeling tight. It's because they're using the cleanser they use in summer, which is too drying," she says. Dr. Joshua Zeichner, a dermatologist and director of cosmetic and clinical research at Mt. Sinai Hospital in New York City and Jaliman suggest using a gentle cream-based cleanser that won't strip the skin of this natural oils and includes hydrating ingredients like glycerin, hyaluronic acid and oils, like Diptyque Nourishing Cleansing Balm which is also stocked with antioxidants (vitamins A, C and E).
Jaliman recommends cleansing with a sonic cleansing device (like the Foreo Luna, a silicone sonic brush that doesn't require replacement brush heads) to get a deep, but gentle, clean.
Brighten and Hydrate [Or Prime Your Skin for Creamy Makeup]
At this point in the game, your skin should look brighter than it did 24-hours before, thanks to the glowing after-effects of the peel. (Bonus—this glow happens to be a dead ringer for the kind we might get from a last night spent with the our imaginary—shh—vacation fling.) After cleansing, it's now time to kick that brightening effect into overdrive with an antioxidant serum (with vitamins C and E) to prevent collagen damage, lighten dark spots, and brighten the complexion overall, Zeichner says. If your skin is dry, try the antioxidant-packed NYR Organic Wild Rose Beauty Elixir. If your skin is oily, try Tata Harper Concentrated Brightening Serum, which is creamy enough to do double duty as a moisturizer, too. Next, hydrate the skin around your eyes with a gentle peptide eye cream (for dryer skin) or serum (for oilier skin) that doesn't cause eye makeup to run, like Eve Lom Eye Cream or Olay Regenerist Eye Lifting Serum. Finally, apply a broad spectrum SPF moisturizer like Boots Botanics Protecting Day Cream Age Defense Sunscreen.
THE MAKEUP
Pass on Powders
Now that you've got your skin is hydrated, bright, and rocking a natural glow of its own, it's time to fake your way to just-from-the-tropics color. Sarah Tanno, a celebrity makeup artist at Exclusive Artist Management who has created looks for singers like Katy Perry, Fergie and Lady Gaga, says the key to faking sun-drenched skin in a believable way is this: "Make it look healthy by using cream-based products that are hydrating and leave a glow to the skin."
"Forget about brushes," she advises. "By applying these creamy products with your fingers, your body heat will warm the products and help them melt into the skin, making them easy to blend."
Bronzing Like the Sun  
A telltale sign that your island glow is actually courtesy of the makeup counter? Using a heavy hand with the bronzing powder—a rookie mistake that makes complexions look dirty, not vibrant. To avoid this makeup fail that has befallen so many dingy-faced celebs, start with Tom Ford Shade and Illuminate, a bronzer and highlighter palette that's easy to apply and goes on sheer and is one that Tanno says, "Will make you look like you woke up on a beach."
Use the darker contour shade as a stand-in for bronzer by swiping your fingers just under the cheekbones and lightly across the protruding parts of forehead, where the sun would naturally hit your face, then blend. Finish by applying highlight shade by lightly tapping a small amount on the top of the cheekbones, down the center of the bridge of your nose and above the cupid's bow of the lips with your finger for a natural fresh summery glow.
Illuminate For a Heightened Glow
To push the effect further, tap a sheer liquid warmth-maker (like Rouge Bunny Rouge's As If It Were Summer Still ... ) along the cheekbones or add brightness to cheeks by tapping Armani Fluid Sheer in #6 to apples of cheeks and/or lips. (Tanno says the versatile Armani product can also be used in #10 to create an even deeper glow or #2 to illuminate browbones). Both products are incredibly light and buildable, making them great tools to faux a glow without looking overly shiny.
Curl Your Way To Bright Eyes
When tackling your eyes, remember, less is more. Resist the urge to define eyes with lots of bronzy shadows, which can make the look appear too done (and totally fake). Instead, keep it simple by curling your lashes to make eyes appear wider. Both Tanno and makeup artist Misha Shahzada, who works with models like Kendall Jenner, Kelly Mittendorf and Hilary Rhoda, highly recommend the Kevyn Aucoin Eyelash Curler for the job because it best fits a wide range of eye shapes. "Start from the very root of your lashes, and hold down for a few seconds, pulsing the curler gently. Then begin pulsing the curler from root to tip very gently," Shahzada instructs.  
Keep It Natural
Make the eyes appear even bigger by lining the waterline with Sigma Inner Rim Brightener in Polished, a soft pencil that won't get cakey when eyes water and helps camouflages the appearance of tired eyes. Next, smudge a bit of MAC Eye Kohl in Teddy into lash line. "It's a rich brown with a hint of shimmer to help define and open the eyes," Tanno says. Finish by applying a few ultra-light coats of mascara that's equipped to really define each lash, like the artfully-packaged Make Defining Mascara, which separated our lashes into more than we knew we had.
Brighten Lips Without Drying
Lip stains work wonders to elevate your natural lip color to a healthy pink. But in winter, stains can sink into crevices and draw attention to deep lines in dry lips. To dodge the dry lip look, exfoliate your lips with Fresh Brown Sugar Lip Polish, Shahzada suggests. Next, Tanno recommends trying the surprisingly hydrating NARS Stain Lip Pencil in a bright shade like Yu or Luxembourg to inspire the kind of makeout-ready lip we take for granted on hot summer nights.
Set Your Look—And State of Mind—With A Dash of Sea Life
Shahzada and Tanno both suggest setting the look with a mist spray. We figure, what better way to do it than with a formula that delivers an oceanic scent? True Nature Botanicals Pacific Face Mist, which is made with sea fennel and sea kelp, not only sets the dewy look but deliciously channels summer nights by the surf. Because if you're going to convincingly carry a just-from-the-tropics aire, the best place to start is with yourself.