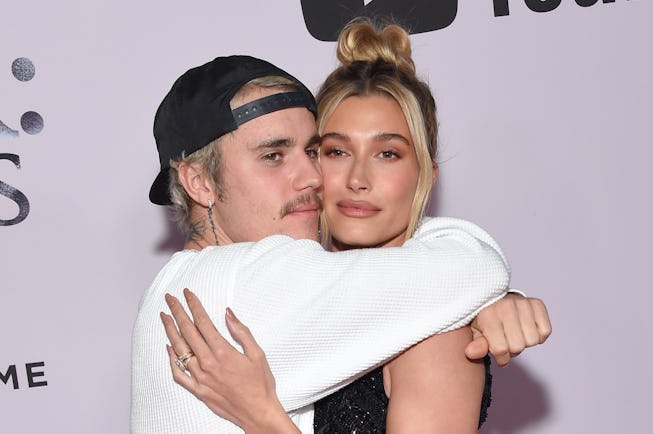 LISA O'CONNOR/AFP/Getty Images
Hailey Bieber Created A TikTok Makeup Challenge Inspired By Justin
The #PeachesMakeupChallenge has arrived.
The Bieber family is taking over TikTok. Following in the footsteps of other great makeup challenges, Hailey Bieber has created the #PeachesMakeupChallenge, a TikTok movement inspired by her husband Justin's latest song.
In case you missed it, Justin Bieber is officially back with new music. His single, "Peaches," has already taken over the Billboard charts, and inspired a Bieber matching tattoo moment, and now, it's spurred a neutral-colored makeup trend on TikTok.
It all started when Hailey worked with a makeup professional on a peachy makeup routine. "My #Peaches inspired makeup tonight by Adam Burrell... show me yours! #PeachesMakeupChallenge #makeup," she wrote.
As the name of this challenge would suggest, a peach-colored makeup routine is the goal. Hailey wore the color on her lips and eyes, and others participating in the challenge have followed suit.
Featured looks have included inner eye corners adorned in peach coloring, peach lids paired with white lines, and a bright neon moment with hints of softer hues. One user skipped the coloring cue, and instead adorned their face with the song's title. Another TikTok challenge participant took their inspiration from one of Hailey's previous Met Gala looks, but made it peach.
Check out the original video in the challenge, below, plus keep scrolling for some videos from peachy participants, too.