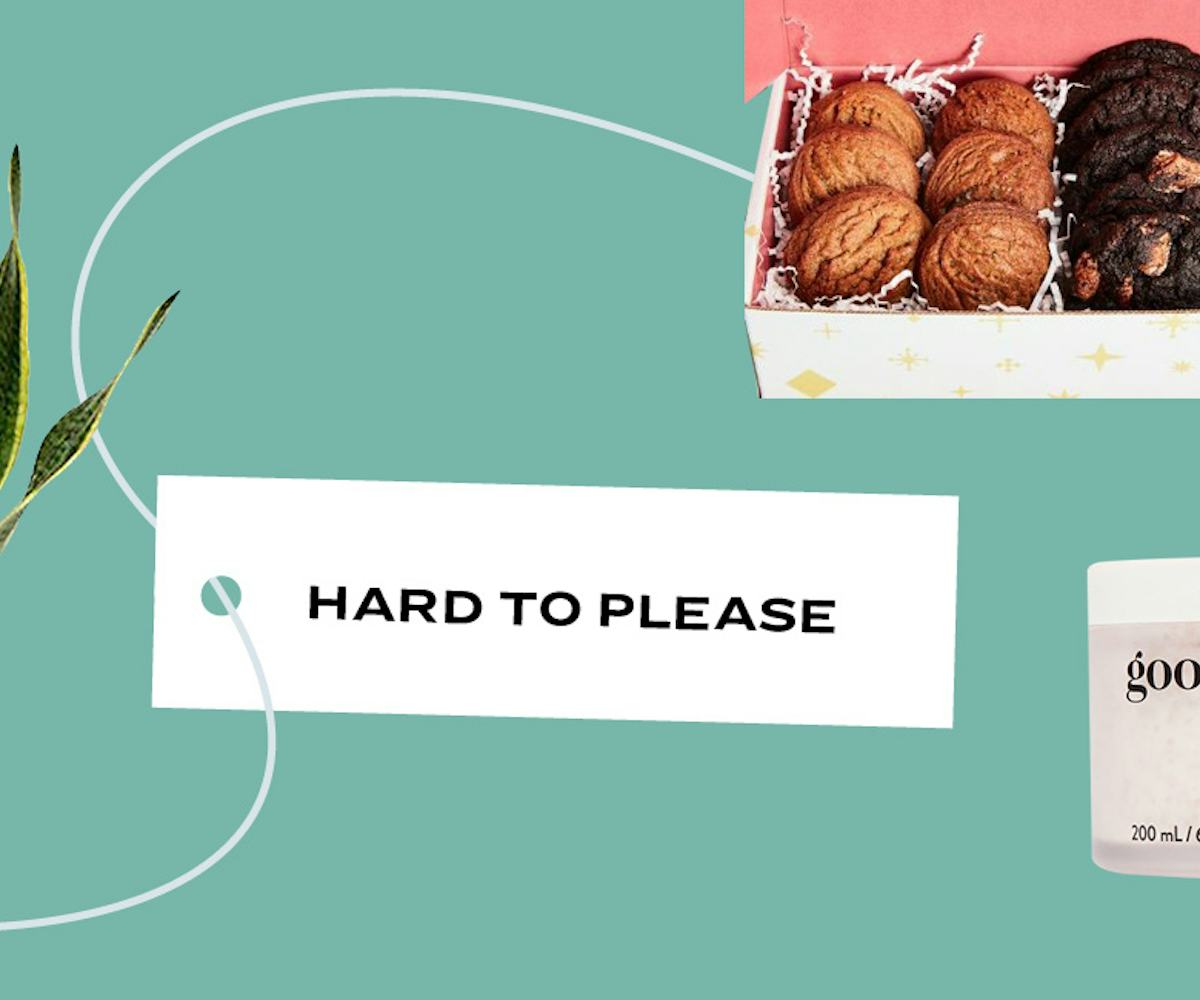 Unwrapped: What To Get The Hard-To-Please People You Know
'Tis officially the season for gift-giving. For us, that's a full month in which we'll be providing gift ideas for everyone on your list with our Unwrapped holiday gift guides. So make your holiday shopping a breeze this season, and let us help you find gifts for all the people in your life.
Hmm, there's really not a lot of time left to buy Christmas presents, so it's interesting that you're waiting until now to shop for ~the hardest-to-please person~ on your list. But, you know, we get it. Shopping for this person can feel masochistic! You have to work so hard to get a genuine smile from them. Ugh. But since getting that smile is worth the trouble, we've decided to make things a little easier for you by making some suggestions that are bound to please anyone. And if you don't see anything on the following list that makes sense? Buy them a book! Here's a customized list of the best books for everyone in your life.
One of the most powerful performance experiences we've ever seen was seeing the Alvin Ailey dance company perform at New York's Lincoln Center earlier this year. We're still haunted by "In/Side," a viscerally moving solo dance performed to Nina Simone's "Wild Is the Wind." Move someone you love by getting them tickets to Ailey this year.
Alvin Ailey, tickets start at $29, available at Alvin Ailey.
Honestly, everyone should be wearing more caftans in 2019, and this is the kind of clothing item that pleases literally everyone who receives it, because it's exactly what we all want to be wearing all the time: something flowy, comfortable, and effortlessly cool-looking.
9Seed, Tangier Caftan in Pacific, $221, available at Mille.
Perhaps this person is hard to please because they don't have enough sweet things in their life? Remedy that with what are hands-down the best treats in New York City: Ovenly's sweet and salty peanut butter cookies. This box comes with a half-dozen of those, as well as another half-dozen of its Hot Chocolate cookies, all guaranteed to put a smile on the face of anyone who tries them. Plus, they're gluten-free, should your giftee have dietary restrictions.
Ovenly, Gluten-Free Cookies, $34, available at Ovenly.
So, while Ovenly is a bakery that's based in New York, but ships all over the country, Permanent Bake Sale is run out of New York City, and is pretty site-specific. Here's how it works: Dayna Evans bakes gorgeous loaves of bread every week and sells them for $10, with all the profits going to incredible charities like Survived and Punished, which helps people who've been incarcerated due to gender violence. Evans has raised thousands of dollars this year for a variety of worthy causes, and you can help raise more money by giving the gift of delicious bread to someone you love! (Note: Evans is done selling bread this year, but make a little bread IOU for your hard-to-please friend! What a fun thing for them to look forward to in January!)
Permanent Bake Sale, bread loaf, $10, available at Permanent Bake Sale.
In keeping with the altruistic gift-giving philosophy, do consider figuring out a charity that means something to your friend or family member, and set up a recurring donation in their name. Some suggestions are: The Catskill Animal Sanctuary, Planned Parenthood, the ACLU, the NAACP, and the Alzheimer's Foundation of America. Or, make a donation to Donors Choose on a project that they'd be happy to have helped fund.
Donations, prices vary but be generous (!)
You know what makes us pleased? Besides knowing that our money is going to worthy causes? Well-moisturized skin. Seriously, this winter is only just beginning, and our skin has been wrecked. Or, it was, until we tried these two miracle-working creams that, when used in tandem, in just one (1) day, transformed our faces from snake-y and peeling to smooth and plump. We love it! And we think anyone will. So get them for someone!
Alpyn, PlantGenius Melt Moisturizer, $60, available at Credo and Dermalogica, Intensive Moisture Balance, $69, available at DermStore.
- This slide is sponsored by Waterpik -
Waterpik's Hair Wand is designed to make sure that every single bit of product is rinsed out of your hair before you step out of the shower. This multitasker also gives a wonderful scalp massage to relieve muscle tension while it works, and, let's be honest, that's something we could all use right about now. Your regular shower head could never.
Waterpik, Hair Wand, $69.99, available at Waterpik.
Give the gift of life in the form of a plant! Who doesn't love life? Or plants? And this particular plant, the Snake Plant, is very hardy, so even if your hard-to-please person doesn't have a green thumb, they should be fine. Just make sure to give it along with one of the beautiful, handmade, coiled rope buckets, which can hold a plant! (Also, bonus, if the plant should meet an untimely end, this rope bucket is gorgeous and can be repurposed into just about anything.)
Mokun, Desert Flower Bucket, from $54, available at Moriah Okun and American Plant Exchange, Snake Plant, $19.99, available at Amazon.
Tech gifts always feel a little bit like you've given up, and are just trying to get something universally appreciated instead of personally desired. But, you know, whatever works when it comes to pleasing that hard-to-please person! And the Google Home Hub can be used to do all sorts of things, but our favorite is its utility as a photo album since we love seeing all our selfies reflected back at us.
Google, Google Home Hub, $129, available at Google.
Or perhaps you want to go a little more analog? We get it. How about this handsome Moleskine Weekly planner, which will make keeping 2019 a pleasure to organize? Throw in some of our favorite pencils, and this is the perfect git for someone who never fully got into bullet-journaling, but still likes writing things down, long-hand.
Moleskine, 2019 12-Month Weekly Planner, $24.95, available at Amazon and Palomino Blackwing Pencils, $24.95, available at Amazon.
Whether or not you—or the person you're buying this gift for—are fully on-board the whole detox train, one area of the body that undeniably suffers from build-up and needs to be thoroughly cleansed is your scalp (particularly if you're over-reliant on dry shampoo). So this salt scrub shampoo is a perfect, sure-to-please gift, since it ably cleans hair and scalp, and leaves users with a lovely, lingering scent of rosemary, geranium, orange, and peppermint. Lovely!
Goop, G.Tox Himalayan Salt Scrub Shampoo, $42, available at goop.
NYLON uses affiliate links and may earn a commission if you purchase something through those links, but every product chosen is selected independently.