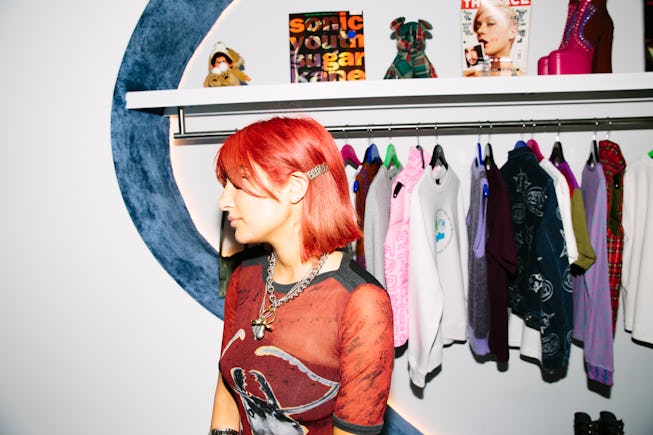 WWD/Penske Media/Getty Images
Heaven By Marc Jacobs x Bleach London Hair Dyes Are Here For Your Punk Makeover
If you're looking for a new ultra-bright hair color, look no further.
If you've been looking to make a major change to your hair color—some green chunky highlights or pink raccoon stripe, perhaps?— the hair dye collab of the year has dropped just in time for your punk makeover. Heaven by Marc Jacobs just announced the brand's collaboration with the UK-based salon and online retailer Bleach London. Known for their DIY ultra-vibrant semi-permanent hair dyes and bleach and tone kits, Bleach London is lending their hair color expertise to further accessorize the ultimate cool girl fashion line.
The two brands have released new limited-edition, semi-permanent hair colors, in a metallic candy pink, a luminous slime green, and a vibrant orange-red. The dyes are already available on the Bleach London and and Heaven by Marc Jacobs websites.
Heaven and Bleach London both posted the news on Instagram this morning, with a campaign consisting of before and after photos of people's semi-permanent makeovers. The looks include a red spiked style, green bangs, pink hair with green ends, multicolor locs, and hair art on a platinum-shaved head.
All three dyes were designed exclusively by Bleach London for Heaven, keeping their usual vegan formula with added UV protection and "no bleach, ammonia, or hydrogen peroxide". "For best results, use on bleached light blonde hair, or on your natural color for a more subtle tone," they state on the Heaven website. That means, while your hair will look punk-rock, it won't be damaged in the process.