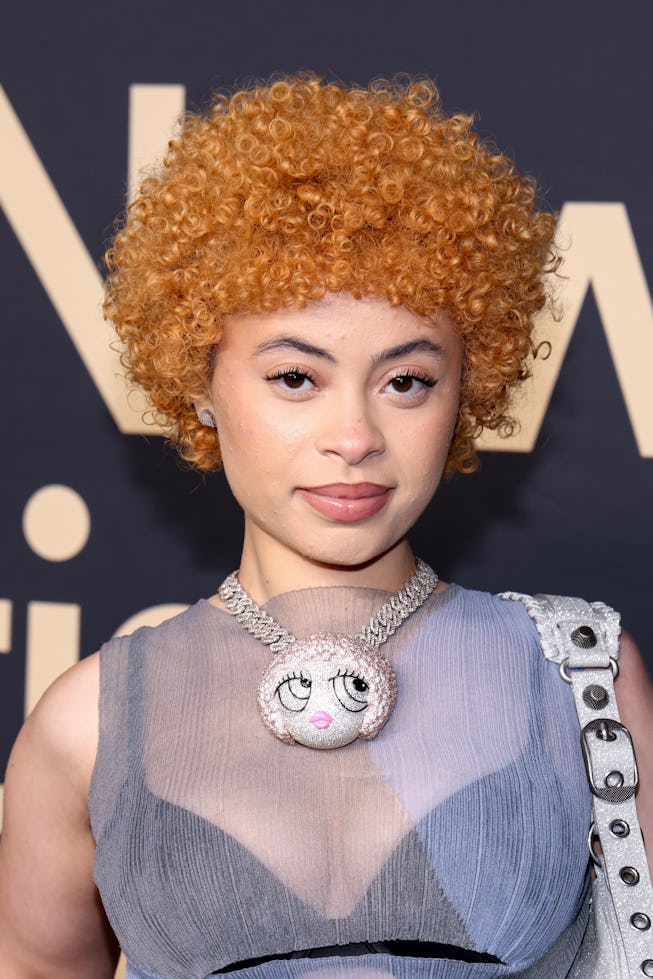 Mark Von Holden/Variety/Getty Images
Ice Spice Matched Her Eyeshadow To Her Signature Hair Color
The "people's princess" made a case for spicy orange eyeshadow at the iHeartRadio Music Awards.
We may receive a portion of sales if you purchase a product through a link in this article.
At this point, everyone wants to party with the Bronx-raised rapper Ice Spice. After going viral multiple times on TikTok, the icon has gathered a large loyal fanbase (a.k.a. "the spice cabinets"). Considering her name is Ice Spice, there's little surprise that the "Munch" artist seems to be obsessed with the color orange. She's become known for her signature orange afro (and for carrying her purse with her everywhere she goes), recently taking her hair color from turmeric orange to a brighter paprika red. But last night at the iHeartRadio Music Awards, she also made a strong case for matching your hair to your eyeshadow. Her orange eyeshadow perfectly matched the signature shade of her hair and is sure to set off an Ice Spice orange eyeshadow trend.
Ice Spice arrived on the red carpet at iHeartRadio's annual award show Monday, March 27 in a zebra print dress and black heels. She then took the stage with Pink Pantheress to present Taylor Swift with the award for Song of the Year. To take the stage, Ice Spice wore an full-length orange mesh dress with silver stilettos. She completed the look with a white fluffy bag, her red hair (of course), and coordinated sunny orange eyeshadow.
Joe Scarnici/Getty Images Entertainment/Getty Images
Jeff Kravitz/FilmMagic, Inc/Getty Images
While orange isn't the most common eyeshadow shade, Ice Spice's latest look proves it to be a strong contender to for the hottest spring eyeshadow shade, besting the usual pastels. Using a strong orange pigment around the corners of her eyes, the artist had a gold shimmer running along her lash line, elevating the look. She also wore brown lipliner and a beige gloss, making her eyes the star of the show. Ice Spice posted her moment with Taylor on Instagram. "Orange is your color 😍," commented one fan.
This year alone, Ice Spice has been spotted front row at Coach's fashion week show with Lil Nas X, performed at Rolling Loud, released Boy's a Liar Pt. 2. with Pink Pantheress, and even spent the day dancing with North West on TikTok. Even Nicki Minaj called the rising star the "people's princess", making it clear that anything that Ice Spice touches blows up. Time to stock up on orange-toned eyeshadow and declare this summer an Ice Spice summer.
Get the look: