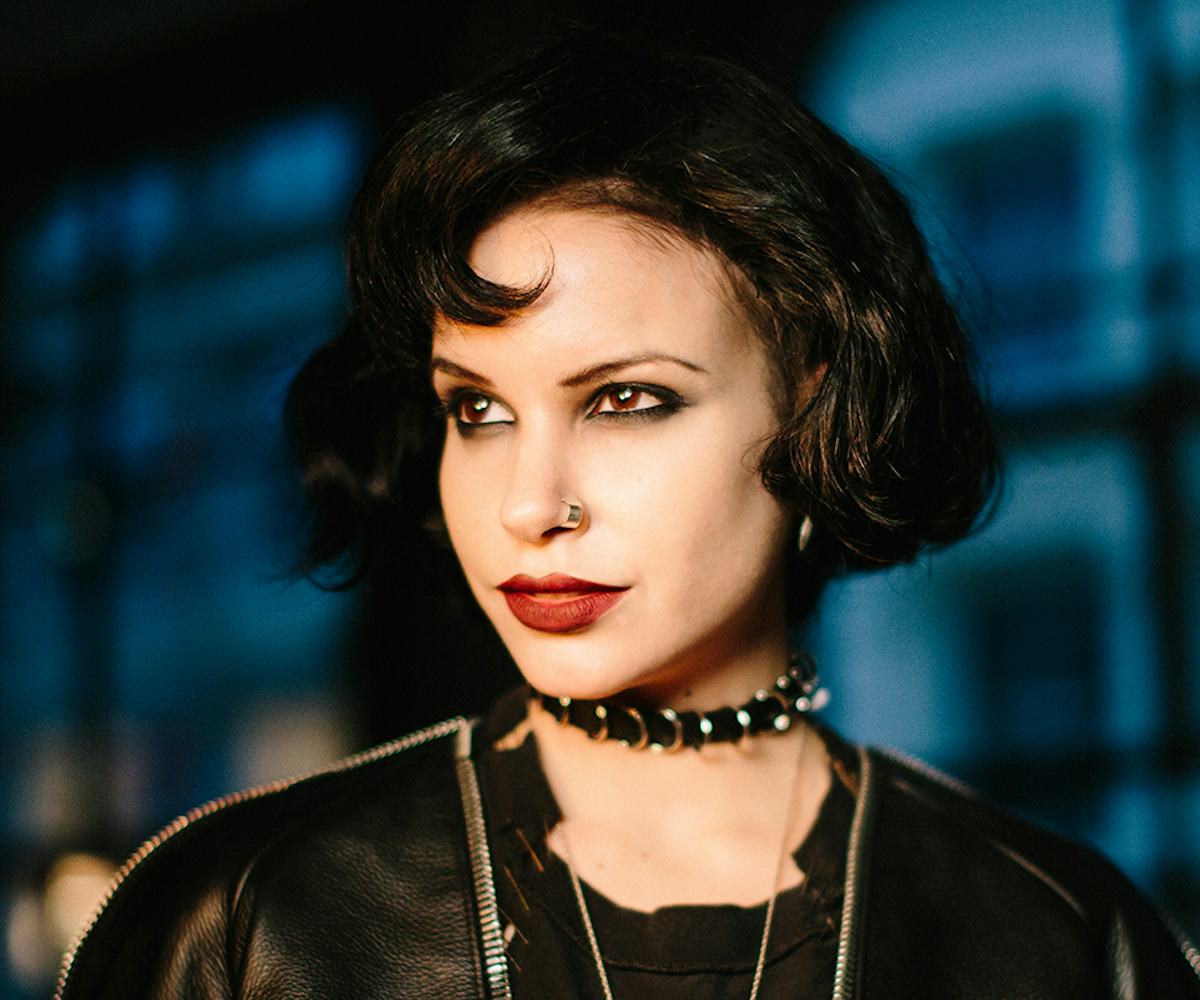 Photo by Drew Levin; Styled by Heather Dunphy; Makeup by Leilani Sunglao; Hair by Evanie Frausto
5 Iconic Movie Beauty Ideas To Try This Halloween
Presented in partnership with Rimmel London
The time has come to rack your brain for a Halloween costume. Panic mode is but a couple weeks away and we know one of your New Year's Resolutions was not to wait until the last minute to get a costume, right? (Probably just us...) But why fret when Hollywood's iconic favorites provide ample Halloween inspiration—especially when it comes to adventurous beauty looks.
With the help of Rimmel London, we brought to life five of the most iconic movie beauty looks, old and new. You can rest assured knowing you won't be among the hoards of people donning some version of a Pennywise the Clown outfit this year because you'll be living your truest, most Instagram-worthy Halloween fantasy. All it takes is a little imagination, some experimentation, and some thinking outside the box. The trick is to treat yourself. Now, as The Craft's Nancy would want us to do, let's get witchy.
Photographer:Drew LevinStyled: Heather DunphyMakeup: Leilani SunglaoHair: Evanie Frausto
Models: Sami, Gema, Tiffany Hendricks, KhrystyAna, Samirah
Directed by: Ren Potts
Brand Partnership Director:Meredith Davis
Wonder WomanIf ever there were a more timely (and, let's face it, kickass) costume this year, it's Wonder Woman. Strong, agile, and poised, Wonder Woman is the superhero we both need and deserve. All that the look requires is a classic, siren red lip. As for those combat skills? Well, good luck.
• Wonder Woman's look is all about the bold, red lip. To keep the focus on that, apply a light foundation all over and fill in your eyebrows, accentuating the high arches with sharp lines.
• A nude shadow is all you need over the eyelid before softening it with a bronze/brown shadow above the crease for depth. 
• For liner, smudge a dark brown shadow along the lower lid. 
• Apply ample amount of mascara to your lashes without clumping it. 
• Use bronze contour to accentuate your cheeks, forehead, jaw, chin, and nose–it's sharp and strong features you're after. Next, apply a peachy blush on the apples of your cheeks. 
• Finish the whole thing off with that classic red liquid lipstick. Bam. You're ready to save the world.
Rimmel London, Stay Matte Liquid Lip Colour in 'Fire Starter,' $4.97, available at Walmart.
The Neon Demon The real demon of Nicolas Winding Refn's movie is youth itself. Jesse is a model's model, easily adapting her look to the bizarre and glamorous. Nothing, however, is more iconic than her futuristic fashion fairy look. That neon pink, saturated blues, and alien white eyeshadow? Eat. It. Up. Oh... wait...
• The Neon Demon look begins with your applying a full face of matte coverage with highlighter on your cheekbones.
• From there, cover your eyelids with a light/nude eyeshadow, blending a magenta liquid lip color along the crease line and on the apples of the cheekbones. 
• Set everything with a dusting of powder. 
• Take a black eyeliner to the lash line and extend the line outwards under the eye crease. 
• Cake on the mascara and then apply the same magenta liquid lipstick to your lips. 
• Finish the look off by using a magenta eye pencil to outline the gem placements before taking a Q-tip with lash glue and Pros-Aide adhesive to apply the dots. 
Rimmel London, Stay Matte Liquid Lip Colour in 'Heartbeat', $4.97, available at Walmart.
Queen of the DamnedName a more fiercely independent and powerful vampire. We'll wait. No, really; Queen Akasha is the bloodsucking, hard rock-loving, bejeweled vampire of our dreams. A little lip gloss complements a sharp-as-fangs eye look.
• Channel your own Akasha by applying natural foundation coverage and mapping out your exaggerated eye shape and brows with a soft pencil.
• Fill the eyes in with a smokey shadow before rimming them with black eyeliner. 
• A dark brown pencil is perfect for filling the eyebrows in. 
• Dab highlighter on your cheeks, forehead, chin, and nose for added drama and apply a slightly more orange-tinted nude lipstick before adding some shine with gloss. 
• Vampire teeth and green contacts complete the look.
Rimmel London, Stay Matte Liquid Lip Colour in 'Mocha,' $4.97, available at Walmart.
The CraftDrink of your sisters and take in all the powers of Manon by channeling your inner Nancy Downs, complete with an oxblood lip and all black everything. Witchy attitude not included.
• For this look, Leilani fully covered the face with a foundation one shade lighter and set it with matte powder.
• To achieve that '90s eyebrow vibe, a thin liner was drawn over the model's natural brows. 
• She then smudged dark-to-almost-black smokey eyeshadow past the crease line and along the bottom lid before lining the entire rim of the eyes and waterline with a black eyeliner, smudging it at the end. 
• To tie the whole look together, she filled the lips in with a deep, dark burgundy. 
Rimmel London, Stay Matte Liquid Lip Colour in 'Midnight,' $4.97, available at Walmart.
The Bride Of FrankensteinThe higher the hair, the closer to the electrical field in the sky. How else do you think the Bride of Frankenstein got those chic white streaks? Manic Panic? Not back then. A deep plum lip and gloss is all you need to get ghoulish and gorgeous all at the same time. Bonus points for a sharp-angled brow!
• To get this look, prepare the face with full-coverage foundation and a concealer and set with matte powder.
• Using an eyeshadow that's one or two shades darker than the skin tone, blend the color above the eye crease to create depth.
• Take a thin black eyeliner along the lash line and flick it upwards at the outside of the eye. 
• Curl the eyelashes and coat them with volumizing mascara. 
• The fun part comes with blocking the eyebrow tips with a glue stick, covering them with foundation, and setting with powder. 
• Use a thin pencil to map out the angled brow shape before filling them in, using the edge of a card to perfect the straight line. 
• Take a dark purple lipstick to the lips and set it with gloss. 
• If you're really feeling the drama, exaggerate your contour under the cheekbones for depth.
Rimmel London, Stay Matte Liquid Lip Colour in 'Plum This Show,' $4.97, available at Walmart.