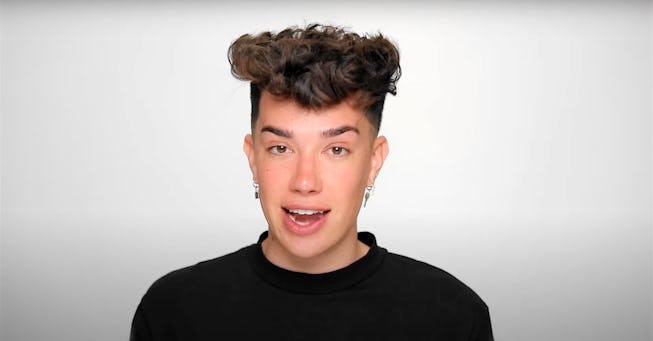 James Charles Addressed Underage Texting Allegations In New Video — UPDATE
He's announced he's taking some time away.
Content warning: This post discusses allegations of grooming and pedophilia.
Editor's Note: This article has been updated to reflect a video from James Charles uploaded on April 1, 2021 that was created in response to all allegations from a fan, made on Tuesday, March 30. This article was also updated to include a previous statement from James Charles, made on Monday, March 1.
In a video uploaded on Thursday, April 1, James Charles had addressed the allegations that he was texting underage fans. In the fourteen minute clip, Charles says, that he f*cked up. "These conversations should have never happened," he says.
Charles acknowledges that he did not do the research in finding out the true age of those he had spoken with. "I need to say sorry," he said. "I fully understand my actions and how they are wrong."
Referencing some of what had occurred when he uploaded the video "No More Lies," Charles calls it a "much deeper problem." He attributes his action to desperation, saying, "I had the mentality that I could use my Explore page and my For You Page as a dating app, and eventually, I would just happen to find the right person. But that's just not how dating works."
He closes the video by saying, that he hopes to do better in the future. "I'm going to change," he says. "I'm making a promise... that I will be way more careful." He apologizes to the victims, his fans, as well as friends and family, and announced that he will be taking some time away to listen, learn, and reflect.
Prior to when the video was uploaded, a 16-year-old boy has alleged that James Charles was communicating with him through social media, Vulture points out. A now deleted TikTok, which was created by a fan, showed alleged screenshots from conversations with Charles.
According to the TikTok, the fan had shared some of his conversations with Charles on his Snapchat Story. When Charles saw the boy was posting their messages publicly, he questioned the decision, and then accused the fan of lying about his age.
The boy denied that he hadn't been forthright about his age, and as social media notes, other TikTok videos on the boy's page made reference to the fact that the fan was 15. The TikTok does not make clear how long the two were speaking, but Charles had wished the fan a "Happy Birthday" in November 2020.
The allegation comes after Charles has previously responded to reports that he allegedly groomed a 16-year-old fan. On Friday, February 26, Charles posted a note on Twitter, acknowledging that he felt the need to address a video circulating on social media, which featured a fan accusing Charles of alleged grooming behavior.
Charles called the allegations "completely false," writing, "Last week, I came across someone on my Instagram explore page, saw he followed me, and added him on snapchat." He alleged that the following morning, he woke up to "several snaps" from the person, who reportedly expressed excitement for the YouTuber's work. Charles also claimed that the person sent him "lewd" photographs of himself in the shower.
According to Charles, he asked the fan how old he was, and the fan allegedly replied that he was 18-years-old. "I started flirting back," Charles wrote.
Charles continued, writing, "In the excitement of meeting someone I thought could be potentially great, I didn't ask for a copy of his ID or passport. It's now clear, based on the video he uploaded, he was taking photos of me with another device, and had an ulterior motive from the beginning. Later in the day, he said a few things that made me question the validity of his original age answer and when I asked him to confirm his age once again, he admitted he was 16."
After learning the person's true age, Charles alleges that he felt "really uncomfortable," and he offered an apology to the fan for flirting. Charles claimed that the fan "insisted on continuing talking, saying it could be our little secret." The YouTuber reportedly responded that he was not comfortable with this, and after the fan got upset, Charles made the decision to unfriend him.
Charles stated that the two had not spoken since the social media encounter. "I'm not victim blaming him or victimizing myself either, simply sharing what happened, and what happened was not okay. After false allegations like this in the past, I would never knowingly engage with anyone underage and put my life on the line for a few snapchats. Because of situations like this, instead of taking someone's word for it, I now will ask to see the ID or passport of every guy I have a conversation with," Charles wrote.
Since posting the Twitter note, Charles had not made any further social media posts or comments regarding the situation. However, on Monday, March 1, he responded to a fan, who had tweeted that the YouTuber would be unable to "notesapp" his way out of the reported allegations. "I'm not trying to get out of anything. No matter what happened, it was unacceptable, embarrassing and I should have taken the extra steps to research the person I was talking to. There is no excuse. Fool me once shame on you, fool me twice shame on me. This is on me," Charles wrote.
As pointed out Vulture and The Daily Beast, Charles was accused of reportedly sending unsolicited nudes and sexual messages to straight men back in 2019 and in January 2021; he has denied the claims.