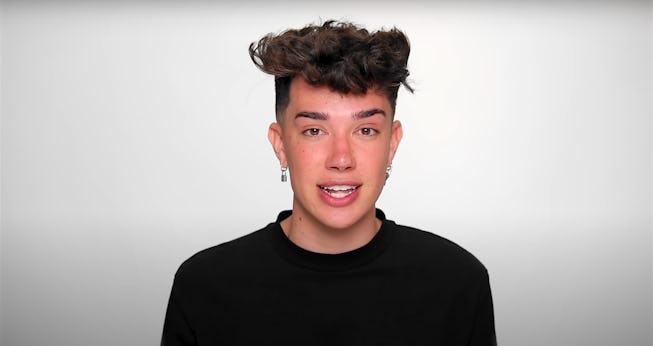 YouTube
James Charles' YouTube Channel Has Been Temporarily Demonetized
YouTube confirmed the decision.
YouTube is the latest company to take action in response to the sexual misconduct allegations against James Charles. Following a decision by Morphe Brushes to end its business relationship with Charles, YouTube has confirmed with Insider and The Verge that ads on Charles' channel have been temporarily paused.
As first reported by Insider on Monday, April 19, YouTube made the decision to temporarily halt Charles' involvement in its Partner Program. Under the Partner Program, YouTube creators can make revenue from ads that appear on their channels. For now, that is no longer the case for Charles. YouTube did not confirm an end date for the ad suspension, The Verge notes.
Explaining its reasoning for the removal, YouTube pointed to its creator-responsibility policy. The policy requires certain actions of creators that wish to earn money from their channels and be a featured creator on YouTube. Among those requirements is a promise to not participate in behavior that can potentially harm the YouTube community.
"Remember that as YouTube creators, you should remain responsible both on and off the platform. If we see that a creator's on- and/or off-platform behavior harms our users, community, employees or ecosystem, we may take action to protect the community," YouTube writes in an accompanying support page.
The move comes after multiple underage fans came forward accusing Charles of sending them inappropriate messages. As pointed out by Vulture and The Daily Beast, the allegations were made after Charles was previously accused of reportedly sending unsolicited nudes and sexual messages to straight men in 2019 and January 2021; he denied those claims.
In February, a 16-year-old fan accused Charles of grooming behavior; Charles denied those claims, Vulture reports. One month later, multiple underage fans came forward accusing Charles of sending them flirtatious messages even while reportedly knowing they were underage.
In response to the allegations, Charles made a YouTube video, confirming that he had texted two underage fans. "I need to say sorry," he said. "I fully understand my actions and how they are wrong." Apologizing to the victims, as well as friends and family, Charles then announced that he would be taking some time away.
Since then, Morphe announced an end to its business relationship with Charles. In a statement made on Friday, April 16, the company said, "In light of the recent allegations against James Charles, Morphe and James have agreed to end our business relationship. It is and always has been Morphe's goal to create a positive, safe, and empowering space where all beauty lovers can freely share their artistry and passion for cosmetics, and Morphe is committed to furthering that goal."
Addressing Morphe's statement, Charles made his own comment regarding the decision, writing, "I've loved every moment working together, and am beyond grateful for what we've created together. That being said, I reached out to them and we mutually agreed to wind down our James Charles x Morphe collaboration, which is my only project with them."