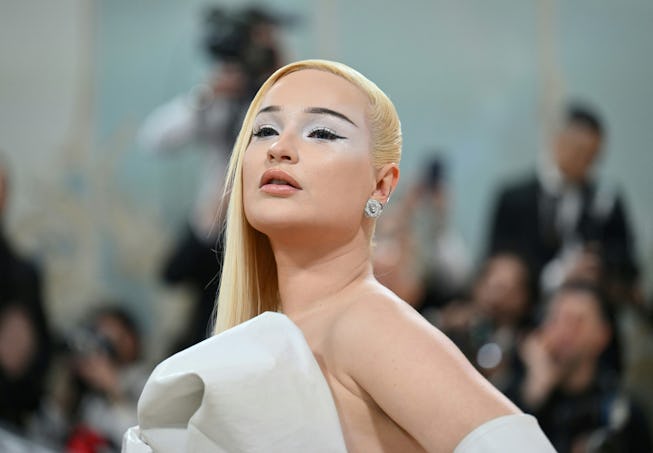 ANGELA WEISS/AFP/Getty Images
Kim Petras' Ethereal Eyeshadow Brought Angelic Vibes to The Met Gala
Gilbert Soliz shares with NYLON how to get the singer's otherworldly look.
At this year's Met Gala celebrating "Karl Lagerfeld: A Line of Beauty", it was undeniable that the unofficial color palette was black and white. While thick black eyeliner and black bows of all shapes and sizes definitely had a big presence on the steps of the Met, Kim Petras brought a different kind of energy with a soft and angelic look. Her makeup artist Gilbert Soliz talked with NYLON to give us the full breakdown of the ethereal makeup moment.
To go along with her sculptural white bubble dress and matching gloves by Marc Jacobs, Petras wore sparkling white glitter eyeshadow all over her eyes and face. "We pulled inspiration from the dress...The black and white aesthetic of the dress was really the jumping off point. We decided to balance the look by creating a soft angelic overall look which featured a sheer frosty wash of white along the entire length of the eye and temples," explains Soliz. He took references directly from Lagerfeld to produce a look that was totally on theme. "We looked at a lot of the Chanel runway shows and loved how Karl used Black and white in beauty so we wanted to pay homage to that." To create Petras' makeup look, Soliz used all MAC Cosmetics products, that he trusted to last through the night (and to several after parties.)
ANGELA WEISS/AFP/Getty Images
Taylor Hill/Getty Images Entertainment/Getty Images
Although the Met Gala is an event that lends itself to costume, Soliz was sure to factor Petras' unique style into the equation. "We always want it to feel like Kim," he explains, "she has a signature brow that we love doing that's bold and defined, yet we always play it up and push where and when we can." The ethereal color palette was also familiar to Petras' aesthetic as they've often used white as a primary color for her eye makeup looks, but the Met provided an opportunity for extra play. Per Soliz, "We always look for new ways to reinvent it since it always looks so good on her."
In order to create the look, Soliz first prepped the skin using Prep + Prime Natural Radiance primer ("so it looks radiant and lit from within) before applying an all-over full coverage base. Petras' wears shade NC20 in the Full Coverage Foundation, which he sets in place with translucent Studio Fix Pro Set + Blur Weightless Loose Powder. He then sculpts out the cheeks using the Powder Blush in Mocha. Because the eyes are the focal point, "everything else is subdued and minimal to help balance out the overall look," says Soliz.
If you think white shadow can't demand the same attention as brighter or darker shades, this look delivers a case to make you think again. "Even though we're using white as the statement color, we're using it all over, so it really captivates and makes a big impression," says Soliz. He used the Connect in Colour Eyeshadow Palette in Unfiltered Nudes to first define the eyes before applying the white shadows. He then used White Frost and Gesso eyeshadows to build "a 'wash' all over the eyes from lash line up and past the brow and extended it out towards the hairline". Then using Pigment in Pure White he added another layer of color and dimension to the high points of the faace. For the black winged lined, he traced out the wing using the Colour Excess Gel Pencil Liner in Glide or Die to line Petras' eyes, before going back in and perfecting it with Liquid Last 24 Hr Waterproof Liner for longer wear. The last step for the eyes is adding the sparkle, of course. He used Reflects Glitter in Pearl all over the entire eye area.
Finally to top off the look, Soliz applied a peachy neutral lipstick. "MAC Satin Lipstick in Myth was the perfect shade that complimented and created an angelic ethereal finish to the lips," he shares. The overall result? A beauty moment fit for a fashion angel.