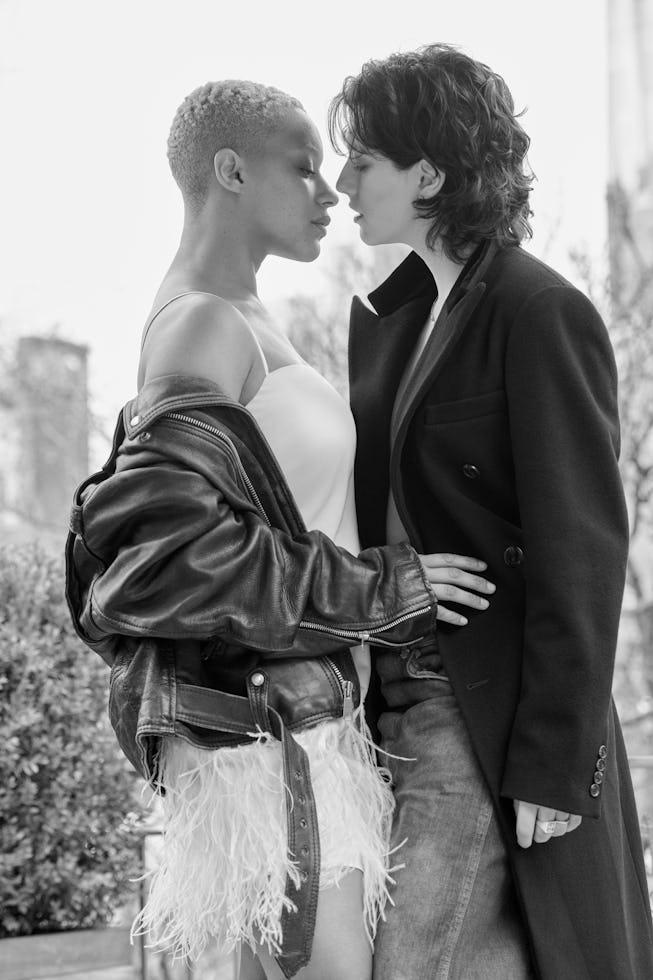 Courtesy Ralph Lauren Fragrances
King Princess and Quinn Wilson Star In Ralph Lauren Fragrance's Valentine's Day Campaign
NYLON talked to the real-life couple about Romance, both the concept and the fragrance.
We may receive a portion of sales if you purchase a product through a link in this article.
What does being in love smell like? Well, Ralph Lauren has been attempting to capture its essence since 1998, when the brand first launched their Romance eau de parfum. Now this Valentine's Day, Ralph Lauren is revamping the iconic fragrance—giving us all the gift of stirring memories of the scent of blossoming love in the process. And who better to star in the campaign than real-life lovers King Princess and Quinn Wilson?
With top notes of punchy and forward mandarin essence and pink pepper, middle notes of a bouquet of flirty rose, jasmine, geranium, and an earthy patchouli dry down, Romance unfolds like a love story drawing you in slowly. King Princess and Wilson describe the scent as "classic, intimate, woody," "floral," which they say in unison, "feminine," and "fresh."
Sure, King Princess and Wilson are one of the hottest celebrity couples today—not only have they amassed a huge amount of influence over music and culture at their young ages, but it's apparent from hanging out with them even for a few minutes that they're also very in love. They finish each other's sentences, they dance, they hold hands, they seem to share their own special language.
It's not the first time the couple has shared their chemistry and adoration for Ralph Lauren; they both starred in the brand's holiday campaign alongside Gigi Hadid, Angus Cloud, and Blake Gray for Ralph Lauren's Holiday 2022 fragrance.
NYLON caught up with the couple on set for the new Romance fragrance campaign about their ideal Valentine's Days, their beauty icons, and what romance means to them. (The fragrance, as well as the concept, of course.)
King PrincessCourtesy Ralph Lauren Fragrances
Quinn WilsonCourtesy Ralph Lauren Fragrances
Who are your beauty icons? What celebrities do you look up to in the beauty landscape?
Quinn Wilson: RIP Betty Davis, 100%, forever and ever. No one will top Betty Davis. Period.
King Princess: For me, Princess Margaret because she was just so fierce. Like 12 packs a day and Saint Tropez. Lots of men. Iconic. Jennifer Coolidge, obviously. Eddie Vetter or like Chris Cornell. So it's a very gender fluid answer I feel.
How would you want to spend your ideal Valentine's Day?
QW: Well, you'd get me a thousand roses—you know I love my flowers. Write this down. I would love to be somewhere warm. I know that Valentine's Day doesn't scream vacation, but like, we've never had vacation, so run it.
KP: I would like to be at our house playing PS5.
QW: So like, every day, like what we do every day? You heard it here folks. I want a vacation and roses and she wants PS5.
What does romance mean to you?
KP: Romance means comfortability. It means messiness and dysfunction, but also friendship and camaraderie.
QW: I was gonna say friendship, sisterhood. Like, it kind of is. It's a weird sisterhood.
KP: What does Oprah say? She said "the mother I never had, the sister I always wanted, the friend everyone should have. She was talking—
QW: About Gail.
KP: Yeah, she was talking about Gail.
QW: Romance to me means waking up to you every morning. It's true. You're always so sweet in the morning.
KP: Thank you.
QW: Because you're sleeping.
KP: Damn.
QW: Love you.
KP: Love you too.