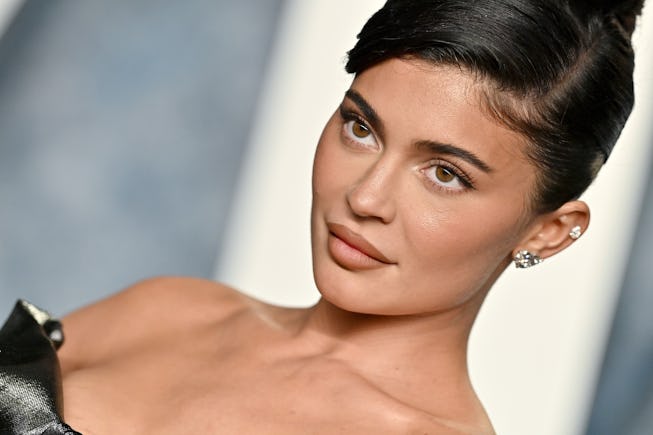 Kylie Jenner Is Trying Out '00s Eye-Covering Emo Bangs
The star wore the throwback style front row at the Acne Studios show at Paris Fashion Week.
At this point, the front row at Paris Fashion Week has officially become the place for celebrities to try out new hairstyles. Zoe Kravitz cut micro bangs for the Saint Laurent Womenswear Spring/Summer 2024 show. Hailey Bieber has been parting her short hair to the side. Now, even Kylie Jenner has decided to switch her hair up. Instead of wearing her layers as face-framing sections in a middle part, like she has been doing for years, the star wore her hair extra long and tousled with long, shaggy bangs for the Acne Studios Ready To Wear Spring 2024 held at Observatoire de Paris yesterday.
Kylie wore a long-sleeved and full-length dress to the occasion, with large sunglasses (that she kept on the whole time) and brown lip liner with gloss. Her ultra-long hair was styled in an "I just woke up like this" way, with her side bangs sweeping across her face in a wispy swoop. The result was an emo-style fringe that is reminiscent of Y2K Tumblr days (King Kylie is that you?).
Peter White/Getty Images Entertainment/Getty Images
Jacopo Raule/Getty Images Entertainment/Getty Images
Kylie has been parting her hair to the side in upos in recent months, with an occasinaly blowout bang, but this was her most casual, bed head look yet. The timing also follows Naomi Campbell being spotted bringing back sweeping side bangs for London Fashion Week. The look was reminiscent of her in the mid-nineties, à la the Laura Biagiotti Spring 1996 show in Milan and the 1995 Met Gala. So everyone best prepare for the full return of ubiquitous side bangs.
Over the past year, her sister Kim Kardashian has also been experimenting with a side part, after teens on TikTok declared the side part and side bangs dead, deeming the hairstyle peak millennial culture. With Kourtney Kardashian also posting sweeping side bangs recently on Instagram, it seems almost all the Kardashians are now on board for the return of the emo side fringe. After all, their mother Kris Jenner has been rocking choppy side bangs for years.